Pls credit the sources and all translators/sites when reposting. Do not re-edit or hotlink the graphics.
Credits to Honeyeee for some of the photos
Click on the images to enlarge.
My fascination with Kim Hyun Joong and SS501 has changed my life. I've done so many firsts in my life that I could hardly bare to keep count. But here are the major ones: first time to join a fans club; first time to setup a blog for a group of idols, first time to go overseas to watch a concert and first time to go on holiday with a diff set of friends and no family. I have gained new friends and met so many people from different parts of the world all because of 5 boys. My love for this 4D leader has even brought me cherished friends whom I will hold forever in my heart. Some of you may know that I do come to this playground for leader fans quite often:
www.lovekimhyunjoong.com
. Though I've been pretty busy to be talkative there the past few months, I'd be back in the swing of things a little after May.
I do meet-up with the princesses and few of the starlings from that forum quite often for the past few months. Well, last month I celebrated my first TS birthday with them and they got me a very beautiful present and a great tasting Oreo cheesecake baked with so much love. I guess with a lot of times together they have known what are the things that would make this old gal very happy.
My sister and I love skull things even before getting to know of Hyun Joong and I do love to put leathery things on my wrist on non-working days. Imagine my joy in seeing this wonderful piece of artwork all for me. Then this sweet, joyful and harworking dongsaeng, Joanne presented the cheesecake that she baked herself. Oh the joy and love this fandom has brought to me is just priceless! To happiebb, emz, miyo, blanca, jacintha, cin, may, agnes, carollalala, superstar, kate, kadd, germx, honeyeee, stacey and joanne: Hugs and kisses and huge, huge THANK YOU.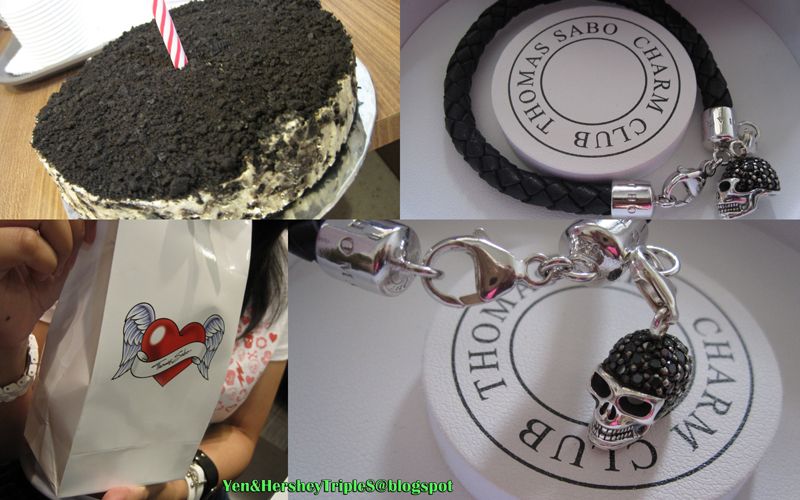 Last night, I went out again with a few princesses and noona starlings to celebrate another starling's birthday. But to my surprise, happiebb handed me a small card and asked me to make 5 guesses whom do I think it is from. Me being such a daft person and very poor at making guess failed with the 5 chances. I even guessed it is from Leader! whakakaka Like that's ever gonna happen. Poor thing me can't open the card, so BB unnie gave me more clues and still missed! Finally, she said someone who's not in Singapore and I've known for a long, long time. So the only person who BB knows and I know for a very long time is my sister, Hershey! Me really a daft person. Well, I opened the little card and saw this.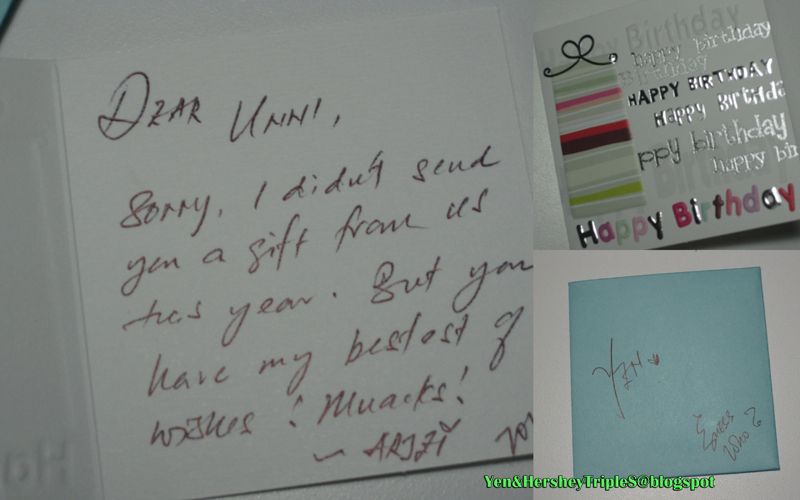 Oh well, no gift from my favourite sister this year... that's okay 'cause she normally sends it a bit earlier so that I could receive it just in time. And I'm simply the type of person who goes gaga over presents anyway; a simple card will do. So we had dinner at Dian Xiao Er and moved to Brotzeit, a German Bar, to eat dessert - go figure why there. Then Miyo, who just came back from a holiday trip to Japan and Korea handed Happiebb a little pouch. Unnie BB opened it and showed that it's the coveted Limited Edition SS501 Silver Necklace to commemorate the Hallyu concert last 25th April. Well, she took it out of the pouch but still in a plastic covering, showed to everybody and all oooed and ahhed to see such a rare beauty. She asked whether I'm jealous or not, I replied no and asked if I could just have a good look. She passed it to me and we took it out from the pouch so we can take photos. Then I decided to even take it out from the plastic container so than better photos can be taken, then we heard a gasped and BB asked why I opened it. Oh gosh! to my dismay I really don't have any words, what's done is done. But then she said, I can touch it 'cause it's mine anyway.
Yes! That piece of merchandise I've been wishing and hoping to have since it was announced is actually mine and Hershey's gift for moi. It's not actually one of the bestest SS501 merchandise but since it has a date inscription (everybody who follows me and my sister in Twitter knows when is my actual birthdate) and something that the boys have worn and limited edition, I really, really want to have one. Since the hallyu website has announced days before the concert that this necklace is already sold out, I didn't pushed my luck to ask some Japanese TS to purchase one for me on concert day. Well, as luck would have it, they actually allocated some necklaces to be specifically sold during the concert and someone queued to get one for me.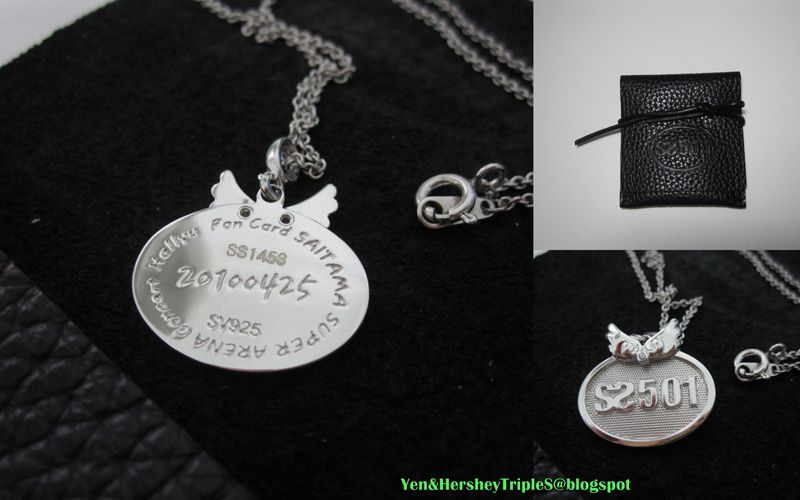 Well, I guess I have to give huge THANK YOUs to the four people involved:
Hershey
,
Happiebb
(for coordinating everything),
Elley
(who queued up and bought the necklace at Saitama arena), and
Miyo
(who met up with Elley in Japan and brought it to Singapore).
Thank you everyone who has greeted me over at Twitter. My first birthday as a TripleS has been very memorable indeed. Oh, in case you wanna know what's the serial number, it is the title of this post:
1453
.