Pls credit the sources and all translators/sites when reposting. Do not re-edit or hotlink the graphics.
Credits to SBS site + (English translation) ode@ss501ode.blogspot.com
With the Dream Concert already ongoing fiercely with all the passion of each and every fandom shouting their lungs out with appearances by SS501, Super Junior, MBlaq, CNBlue, Fcuz, Rain, 2PM, Zea, Shinee, SNSD, Wonder girls, Tara, After school, 4minute, hyori, f(x) etc, you have got to catch it tomorrow next wk on TV, don't you think?
*edit* It's been changed ystd afternoon from the original May 23rd broadcast to a 'Confirmed' schedule on 30th May (next Sunday) @ 4PM through SBS Inkigayo.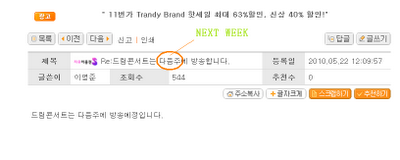 Broadcast schedule:
Day: May 30th, Sunday (5월 30일, 일요일)
On: SBS tv channel
Programme Name: Inkigayo (인기가요)
Time: 4:00pm (GMT +9)
Outline: Dream Concert broadcast + side miscellaneous