Pls credit the sources and all translators/sites when reposting. Do not re-edit or hotlink the graphics.
Credits to june@newsen.com + SS601.com + (English Translation) xiaochu @ Quainte501.com
SS501 HyunJoong, Sexy Eyelids that Noona Cries For
Group SS501's return to the music scene with new album 'DESTINATION' is nearing and from 24-May onwards, pre-order can be made through online music shops.
This album is a large scale world project with America music producer Steven Lee, who has won many Golden Disk awards as well as composed and arranged all songs in 'REBIRTH' album, working with SS501 once again this time.
In addition, this album contains photos of BEFORE concept with the members' natural image and SPECIAL EDITION album that contains AFTER concept with their transformation into matured image wearing world trending Europe styled suits. With a concept of good and evil sado masochism (SM), without any fabrication, the clean image and intensity while sexy image in white & black images will make up the NORMAL album. We will be able to see SS501's diverse images with these other type of appeal.
On 24-May, pre-order for 'SPECIAL EDITION' will be available through online music stores such as yes24, Kyobobooks, Interpark, Aladdin, etc. They are planning for random customers who bought through yes24 to attend the autograph session on 28-May.
Meanwhile, SS501's new album will be released by end of May and prior to that, they will perform in Dream Concert on 22-May.
SS501 YoungSaeng, Explodes with Black Charisma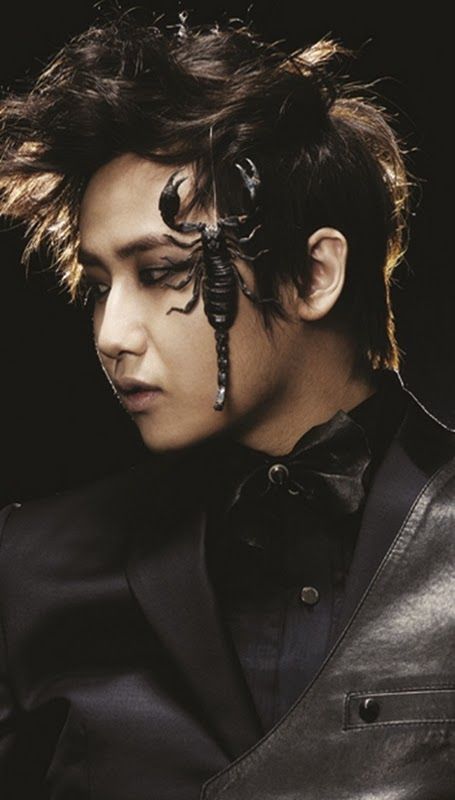 SS501 YoungSaeng, Explodes with Black Charisma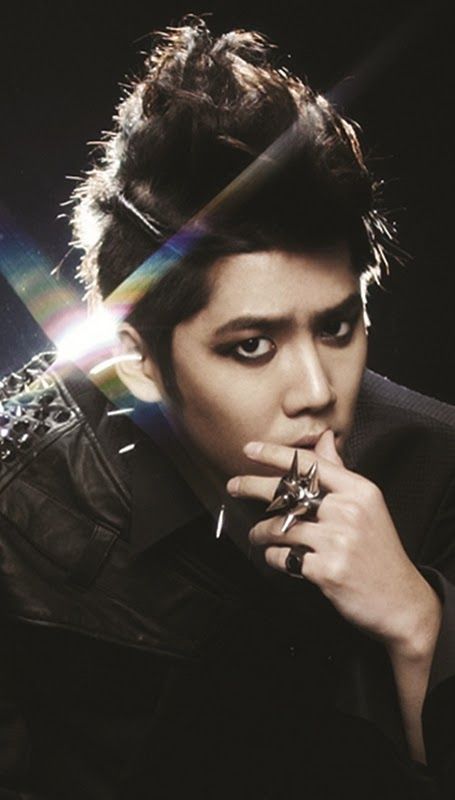 SS501 JungMin 'Oppa is back'



SS501 HyungJoon, Egoistic Sharp Nose
Credits to mt.starnews.co.kr + SS601.com + (English Translation) xiaochu@Quainte501.com
SS501, New album jacket photo released... Filled with masculine beauty

5-member male group SS501's new album 'DESTINATION' flaunts with a different type of appeal.
On 20-May, SS501's company DSP Media released the members' image from SS501's new album 'DESTINATION' which will be available online for reservations from 24-May onwards.
This album contains photos of natural concept and there is a special edition album that contains photos of their matured image wearing Europe style suits. With a concept called good and evil sado masochism (SM), the normal edition will consist of black white image of their intense yet sexy appearance.
'DESTINATION' is an album co-produced by USA, Europe and Korea, with world renowned producer Steven Lee leading SS501.
SS501's new album will be released by end of May, prior to that they will perform on Dream Concert on 22-May. They are also planning for a autograph session on 28-May.
Credits to DSP Site + loiskr.blogspot.com
DSP Announcement on Destination... Track list and release date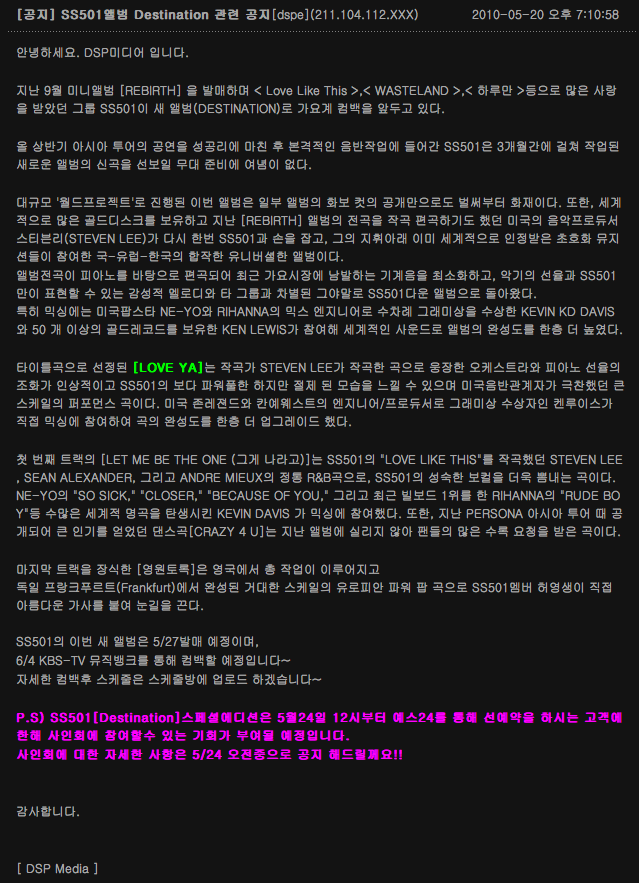 Track List
Track 1. Let me be the one (그게 너라고)
Track 2. Love Ya (Title Song)
Track 3. Crazy for you
Track 4. 영원토록 (Forever)
New album will be released on
27th of May
and SS501 will have the comeback stage on 4th of June at Music Bank. You can order the Special Edition of Destination from 24th of May at Yes24. DSP will announce about fan signing on 27th of May.
Credits to http://news.nate.com/view/20100520n04618 +
http://news.donga.com/3//20100520/28471900/1 + loiskr.blogspot.com
Pre-ordering of Destination (Comeback Album) is available from May 24
Here is my summary of the released news in this morning.
- Online music shops will be receiving pre-order for Destination from 24th of May.
- There are two editions of this comeback album.
[Special Edition] includes two kinds of picture book
- Before concept : Natural,
- After concept : Mature (will be wearing Europian style suit)
[Normal Edition] S&M concept
- White concept : natural & pure
- Black concept : strong & sexy
- They are planning to hold Fan signing on 28th of May for fans who is picked by lottery to purchase the album through Yes24.
- Their new album will be came out the end of May.
- DSP President is now under medical treatment.
- Our boy will wait for his recovery and then will have a discusion with him directly.
- The person who talked with SS501 recently said "Nothing is cleared. SS501 members are feeling heavy pressure for rumors about them."
- SS501 will concentrate on their new album and will be back on 4th of June.
Credits to ss501.dspenter.com + (English translation) ode@ss501ode.blogspot.com
Hello. This is DSP Media.
Group SS501 who has received much love through mini album 'Rebirth' released
last September with songs like "Love Like This", "Wasteland", "Only One Day"
will be having their comeback in the music world soon with brand new album "DESTINATION".
After successfully wrapping up their asia tour in the first half of the year,
SS501 who took 3 months to prepare for their new album
have been busily preparing for their comeback stages to perform with their new songs.
This album which has been ongoing as a 'world project' has had released some of its
album jacket pictorials which had been the talk of everyone since the beginning it
was released. With numerous Golden Discs holder from US, Steven Lee, who was also
involved in the previous [Rebirth] album production participating in this time round's
album, we could expect a universal album from Korea-Europe-US with the many
world-acclaimed musicians' involvement.
All the songs in this album will be accompanied by piano background arrangement,
and will minimize all possibilities of even more prevalence of the same electronic
genre in the music scene as of present. The beautiful melody of musical instruments
along with only SS501's pleasantly emotional voice will be seen in their upcoming new album
as they return to the scene this end-month.
Especially in the mixing of songs, it was done by US Pop star Ne-yo and Rihanna's
mix engineer producer Kevin KD Davis who's been accoladed with several Grammy awards,
as well as another producer Ken Lewis who's had achieved more than 50 golden discs,
thus increasing by another notch of this world-acknowledged audio album.
Title song has been chosen as 'Love Ya', for which its producer is none another than
Steven Lee, this song will be accompanied by harmonious orchestra band
along with piano background arrangement, you could feel the powerful vocals
of SS501 and their emotions injected into the impactful song praised to be
lined up as a large-scaled performance. US singer John Legend and Kayne West's engineer
producer Ken Lewis who's had
received the Grammy Awards before has personally
participated in the mixing of this song, thus yet again upgrading the quality and anticipation
of this album by another notch.
The first track 'Let me be the one' is a full R&B song composed by Andre Mieux, Steven Lee and
Sean Alexander who was also in charge of producing SS501's Love Like This,
it is a song that's able to further flaunt SS501's matured vocals. Mixing is done by Kevin Davis
who's produced many famous hits like Ne-yo's "So Sick", "Closer", "Because of you",
as well as the current Number 1 on BIllboard Chart -- Rihanna's "Rude Boy". In addition,
hot dance track "Crazy 4 U" which was already revealed previously during their Persona
Asia Tour and collated high popularity has also received invitations from fans
to be included into this album this time since it failed to in its last album (Rebirth).
The final track of their album is a song titled "Until Forever", all productions for this song
was done fully in England, in specific to be in Germany's Frankfurt,
this is a strong and influential European powered pop track finished on a huge production
scale, where its lyrics were written by SS501 member Heo YoungSaeng himself personally,
hence attracting attention.
Ss501's new album will be released on 27th May,
and is scheduled to have their first comeback stage through 4th June's KBS2-TV Music Bank~
More detailed information of their comeback schedule will be uploaded in the
Schedule-Room afterwards at a later date~
P.S) SS501 [Destination] Special Edition will begin its advanced preordering
through Yes24 on 24th May, 12:00 am, this shall be a possible chance for you to participate
in their fansign session.
Concrete information to their fansign session will be revealed around 24th May morning!!
Thank you.
[ DSP Media ]