Pls credit the sources and all translators/sites when reposting. Do not re-edit or hotlink the graphics.
I actually saw this bit of news in another site and when I checked the main source (a Japanese website), I'm quite apprehensive in posting this bit as I am having second thoughts in the accuracy. Which is why my post's title is like that - a question.
As far as I know this Super Star project will feature idol stars, but never has it been mentioned that most of the SS501 members would be on it, except Hyung Joon, of course.
If this is true, then I'm really, really looking forward to Young Saeng's episode.
Credits to www.k-enter.tv + (Chinese translation) cHiri-TW @ TripleSTW.com + (English translation) SS501UFO.blogspot.com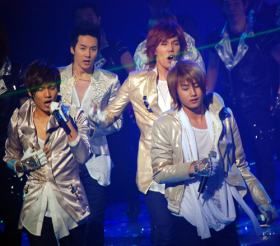 In drama series 'Super Star' next weekend, SS501 Kim Kyu Jong and Park Jung Min will be acting together with ex-Seeya member Nam Gyu Ri.
'Super Star' is filmed in 10 different stories. For each story, the cast, storylines and producers are different.
Episode 6 were acted by Kim Kyu Jong, Park Jung Min and Nam Gyu Ri. The 1st Episode - 'Black City' is acted by Kim Hyung Jun & Son Ho Yeong.
Other than leader Kim Hyun Joong, other members are scheduled to act. Heo Young Saeng will also act in this drama but detail information is not confirmed yet.