Pls credit the sources and all translators/sites when reposting. Do not re-edit or hotlink the graphics.
If you follow this Unnie on twitter, you may have noticed that I mentioned about posting Leader's message and later on deleting it. I frequent mini UFO's blog and was surprised that Hyun Joong has left a new message at DSP's SS501 official site at around 12:45am 19/Jan. So pali pali, I posted it as well with the anticipation of the translation to be updated later.
This blog doesn't do translations, as we don't speak Korean nor Chinese. Curious as to what is the gist of the message, I used Google's translator. Well, you can't really rely too much on that, so I just picked random words and try to make out what he was talking about. The first few phrases looked odd to me. He was talking about an ex-president's birthday and of doing nothing all day (or something like that). And then it sounded like he was angry. Alarm signals were flashing in my head "Oh, this can't be good!"
I had a feeling that it wasn't legit - Joongie's user ID was previously hacked - so I removed the post and went back to cagali's blog. She has deleted it as well! Oh, gee! I told myself, this is gonna be messy. I checked Liezle's blog and sure enough, some left messages that TripleS are doubting that it was Leader who left the message and learned from there about the news of Hyun Joong attending some birthday of a dignitary. I was way too sleepy, so I didn't dig any further.
Well, I got another surprise when I woke up and saw the very same message posted in SS501fighting's blog. This time it's of a different timing. I then learned that the original message at 12:45am was taken down and re-posted again at 2:02am. I compared it with the original one and it is pretty much the same. I guess it was Joongie who was really speaking afterall.
So here's what probably happened - I'm just piecing together bits and pieces of information here and I'm no media, don't take my word for it. News of former president Chun Do Hwan's birthday party came out and it was mentioned that Leader attended the affair. It seemed that the reporter did not really went to that gathering at all or was simply asked to write the article and was given the guest list. I guess there's another attendee same as Leader's name and the writer was quick to assume it's the famous flower boy. I was surprised that the editor did not bothered to check the veracity of the writer's report before publishing it.
DSP then had to deny Leader's attendance and I guess incorrect news pisses off my dongsaeng Joong. I would still love to see the translation of the message, though. It may not show a pretty picture of an idol for some, but I guess it shows that our Leader is human. We all know that Hyun Joong does not censor himself and that he says the truth and will say it the way he wants to say it. He needs to vent out his frustration sometimes, we do that often and why can't he?
Credits to www.mydaily.co.kr + (Chinese translation) xinhm @ hyunjoongchina.com + (English translation) SS501UFO.blogspot.com
Company strongly deny 'Flower Boy' Kim Hyun Joong attending the ex-President's birthday party.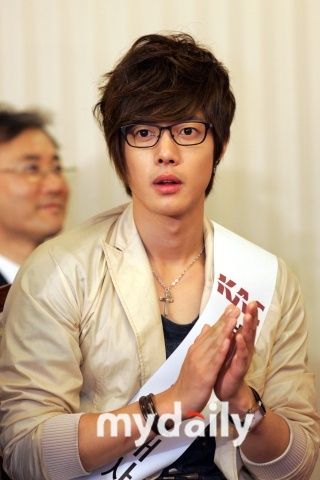 'SS501's Kim Hyun Joong attending ex- President Chun Doo Hwan 80th Birthday Party?'
On 18 January, in the birthday party of ex-President Chun Doo Hwan, majority of conservatives had attended.
Some press has reported that popular group SS501's Kim Hyun Joong also attended and a lot of people was curious about this.
Regarding this, in a telephone interview on the 18 January, Kim Hyun Joong's management company strongly deny this, saying: "There is no reason that Kim Hyun Joong will be attending this type of birthday party. It is not true. We do not know why there are such news reports."
5 ministers of the Republic, military personnel, current and former politicians has attended the birthday party.
Original News reporting leader attending the birthday party
Credits to iewsnnews + (Chinese translation) 妃茵@TripleSTW.com + (English translation) SS501UFO.blogspot.com
Kim Hyun Joong invited to attend ex-President Chun Do Hwan's 80
Kim Hyun Joong was invited to attend ex-President Chun Do Hwan's 80 years old birthday celebration. Celebrities from all A total of 300 guest from all circle.
Chun Do Hwan ex-President celebrated his birthday on 18 January. ex-President Chun Do Hwan held his 80 years old birthday party in Seoul Gangnam gu, Yan-Dong event hall. Person invited including his colleague from his former presidency period and also juniors from military and current politician, about a total of 300 people.
(Omit not related)
The party members, other politicians and priests and other religions personnel, almost all had attended. Singer, Novelists, Professor, etc also have attended. Popular group SS501 Kim Hyun Joong's presence cause much attention.