Pls credit the sources and all translators/sites when reposting. Do not re-edit or hotlink the graphics.
Valentine's Day is around the corner. Leader would be spending it with TripleS in Bangkok. Are you ready?
Credits to Tony Moly Japan + (Chinese translation) 妃茵@TripleSTW.com + (English translation) SS501UFO.blogspot.com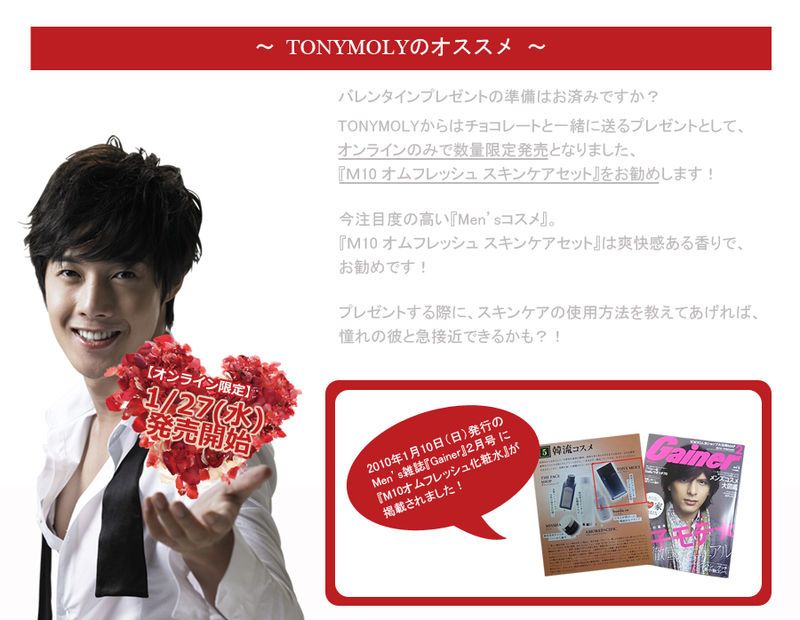 'M10 Male refreshing skincare group'
[Online Limited Order] Official sale starts from 27 January (Wednesday)
Have you prepared your Valentine's Day gift?
TonyMoly specially recommended this new set which can be presented together with your Valentine's Day chocolate.
TonyMoly Online Limited release
'M10 Male refreshing skincare group'
Currently having the highest attention 'Male skincare product'
'M10 Male refreshing skincare set' which has soothing and refreshing feel
TonyMoly sincerely recommended!
When giving out this valentine gift, you can also teach him the skincare methods.
Maybe you can be closer with the person you admired?!
Also include special gift box and a message card
Note:
In the 10 January 2010, Men's magazine 'Gainer February Edition'
The 'M10 Male refreshing skincare toner' is also being recommended!