Credits to Joy News + GhostWriter@allkpop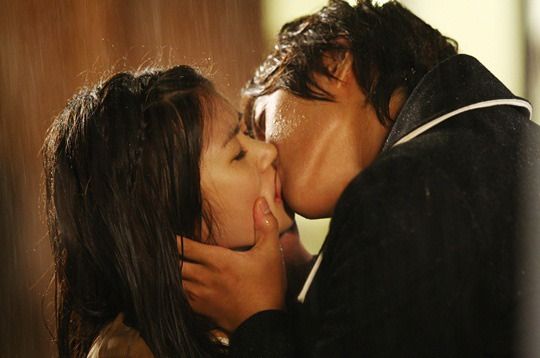 Two days ago we reported that Kim Hyun Joong and Jung So Min would share a romantic moment for MBC's drama, "Playful Kiss" with a much anticipated kiss scene. Unfortunately, this didn't help in the drama ratings battle for October 13th as Playful Kiss achieved a ratings of 6.0%. SBS's Daemul starring Kwon Sang Woo, Lee Soo Kyung, Go Hyun Jung, and Lee Soo Kyung was the victor with ratings of 26.4%. KBS2's Fugitive: Plan B starring Rain came in at second place with a rating of 15.1%.
Playful Kiss was a bit unlucky, going against the mega popular drama Kim Tak Gu / Baker King and then going against both Fugitive: Plan B and Daemul. Hopefully things will pick up next week as the final episode of Playful Kiss is scheduled to air on October 21st. Kim Hyun Joong is scheduled to hold a special event with fans, where he will watch the final episode of the drama along with his fans. The price to attend the event is 10,000 won (around $9) and all of the proceeds will be donated to a charitable organization.