UPDATE (15/10) : The translation is here!
I'd post the entry's translation once it is available. Miyo-ssi is in Japan right now having her break. Hmp! I should be there too! *stomp, stomp, stomp*
Credits to KHJ 1st Love Story site
When the music starts, the little girl passed the bouquet to Hyun Joong. But from there onwards, it was stuck.
While waiting, he did not returned to the waiting room but stayed on to have a close contact with the fans by holding onto the mike and had a friendly talk with them.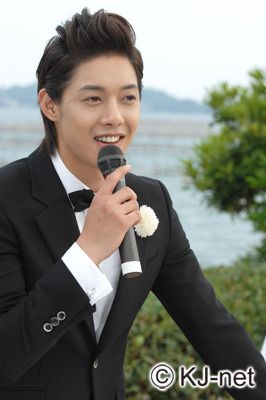 Hyun Joong purposely asked jokingly, "Feeling cold?" and all the fans answered, "Hot!".
"Where did you come from? Tokyo?"
There were various replies, "From a lot of different places? Even from Seoul!" said Hyun Joong feeling surprised.
The lighthearted conversation went on for a while.
Finally the shooting of the last scene was where he reached out his hands towards the camera (imaginary fiancé).
His grinning smile made the sound of the huge roar of applause non stop.
Near to 4 hours of shooting ended just right before it starts turning dark.
After the memorial photo taking of 20 fans in a group each, Hyun Joong moved to the stage at the pool nearby and stood in front of the fans once again.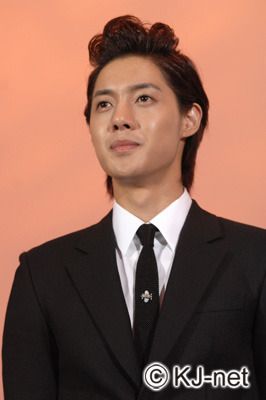 "Good work today" greeting in Japanese and thereafter switching to Korean when he starts talking.
"After returning to Korea, I will work hard in filming「Playful Kiss」and to show everyone a better image than Yoon Ji Hoo as Baek Seung Jo. Baek Seung Jo has a little nasty and mean side but that is not my true feelings."
Lastly Hyun Joong showed appreciation to the fans hard work in his answer in regards to today's shooting.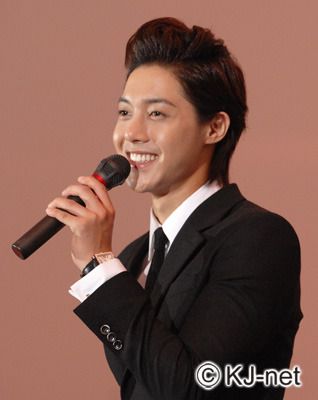 "It my first time shooting together with fans. Everyone supported by showing me a very good image. Thanks to everyone acting passionately, I think that a good picture was taken. Thank you very much."
After finished handshaking with all participants, the day was dark, the surroundings was wrapped by darkness.