Credits to star.mk.co.kr + (English translation) ss501ode.blogspot.com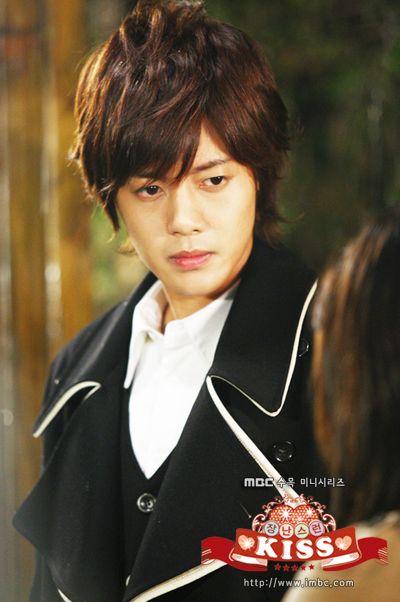 In order to deliver the best for MBC Wed-Thurs mini series 'Playful Kiss', protagonist Kim Hyun Joong is currently struggling to give his all for it.
Kim Hyun Joong is having a face off with the audiences with his 2nd work 'Playful Kiss' after his last work 'Boys over Flowers' as he shows his more stablilized acting skills this time round with also his more developed profile.
On the outlook, Kim Hyun Joong's role 'Baek Seung Jo' shows an arrogant and aloof side while in him, he has a warm side as well. With this role, Kim Hyun Joong has been diffusing many of his different charms that was never shown. This earned him much buzz with nicknames such as 'Sweet and corky Baek Seung Jo', 'Seung Jo Alri' (Seung Jo Pain), 'Statue Boy' etc.
Apart from that, his accent and fashion in the drama is also attracting much attention.
Kim Hyun Joong expresses his determination for filming, "This Playful Kiss that first started out filming amidst the unbearable heat has now unconsciously approached its finale", "We have all given our enthusiastic best as far as how the heat of summer has burned. I will continue to give it my best until the finale, so please give me much support for the remaining 4 episodes as well".
Related drama personnel also gave a say, "In order to end off this drama with a successful mark, Kim Hyun Joong is giving it his ever best than usual for the filming. He persists his good and amiable relation with the seniors and juniors casts. With a huge influence played by such cordial atmosphere, filming is thus able to take place happily and successfully".
On the other hand, Kim Hyun Joong will be watching the finale episode of his drama along with his fans who have shown him much love. He will be there to directly express his gratitude as he will weave meaningful time with all of them.