Pls credit the sources and all translators/sites when reposting. Do not re-edit or hotlink the graphics.
Credits to (English Translation) suehan@http://suehanbyj.blogspot.com + liezle.blogspot.com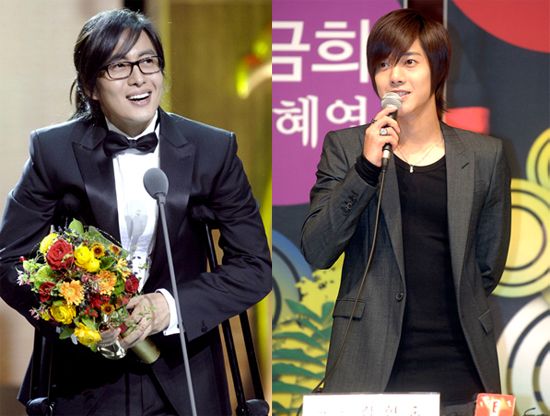 KHJ didn't get many offers from other companies, or any contacts except Keyeast.
The reason why he moved to Keyeast was to grow more as an actor and they guaranteed to support him as a singer as well. He added that he was going to rest this year, but Keyeast treats him very well and luckily, he was able to make a decision on this drama right way.
KHJ calls BYJ big brother at the informal meetings even though BYJ is the owner of the company. KHJ meets BYJ about 2 or 3 times a week and they don't talk about work much, but ordinary stuff like the other men do such as their daily lives.
When they meet together, KHJ drinks a green tea, and BYJ drinks a coffee. Sometimes they drink an alcoholic beverage together and chat about his previous girl friend and other small stuff.
He shared the story about the first day when he met BYJ. His first impression when he saw BYJ getting off from his car was "He is Zeus", but he realized that BYJ was a human being after they exchanged a few conversations. The more they talk; BYJ feels like a brother
(suehan: real close friend)
in the neighborhood to him.
KHJ said that BYJ's reaction about the Mischievous Kiss was that he would visit the filming site some day.
KHJ said that Keyeast showed the brightest prospect for his future as a singer and an actor to him. BYJ treated him well, even better than what he had expected. He learns a lot from BYJ's daily life such as thorough self management.