Pls credit the sources and all translators/sites when reposting. Do not re-edit or hotlink the graphics.
Really, Ode is such a heaven sent to us who don't understand Korean, neh?
Credits to (English translation) ode@ss501ode.blogspot.com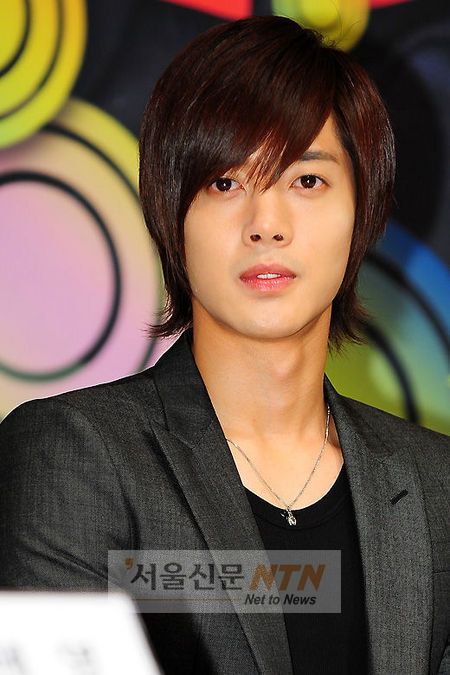 Credits to Newsen
Group SS501's leader Kim Hyun Joong revealed his stand to his team's disbandment after his recruitment into new agency.
On 26th afternoon at 2pm at Seoul kangnam-gu, Nonhyundong's Imperial Palace hotel, MBC new drama 'Playful Kiss' held its press conference. When asked about SS501's disbandment, Kim Hyun Joong expressed "Never once did I mention about my moving out of SS501", mentioning his stand to this disbandment talk.
He added, "None of our members mentioned anything about disbandment at all, it was the press media who kept making many talks like this. I don't think of it as 'because we cannot do activities for now' and then feel sad. It's not like that".
"Though my moving into Keyeast will be mainly focused on acting, but we had compromised on my status as singer too. Around next year, I will be showing my side as a singer". However, if he is to prepare in his new agency, then he will become a solo singer, and if so, carrying out activities as SS501 will seem quite translucent at that.....
-omit talks about Jangki story line & history-
Credits to news.tvreport.co.kr
Idol group SS501 member Kim Hyun Joong who moved out of DSP Entertainment and went into Bae Yong Jun's agency Keyeast showed his unchanged affection for singing. He seems like he's tending more towards the side as an actor now than a singer. However, his affection for singing remains unchanged. "SS501 is not disbanding", "I will be making my solo debut next year".
Credits to segye.com
6th paragraph.
Kim Hyun Joong who recently moved into Bae Yong Jun's agency Keyeast expressed, "Will be venturing as an actor more for this year, will rest for a little as a singer. We want to do really well, so that's why we decided to take on a drama like this at once".
He also revealed his thoughts about first meeting Bae Yong Jun, "Yong Jun hyung appeared in the car, my first feeling of him was 'what a Zeus', the first moment I saw him, I remembered about 'Yon Sama' immediately, because we shared quite a few words with each other, I recalled that he's a human. He's like a close brother next-door kind", attracting attention with his words. With regards to talks about him being very similar to Bae Yong Jun, "Because only our photographs looked similar".
His good friend Micky Yoochun who will be starring in his own SBS drama 'Sungkyunkwan scandal' as well, HyunJoong expressed, "Yeah but because we are not competing on the same day, he is on Mon-Tues, I'm on Wed-Thurs. I feel relieved", "It's Yoochun's first work, so it's very important to him, and for me, because it's my 2nd work, it's very important to me too, if our dramas were to air on the same day, I think we won't be seeing each other soon in these few years as we would have carried out a war of nerves", laughing to his statement.
Regarding his kiss scenes with Jung Somin, "There were few times we don't look at each other and without giving prior notice, we just kissed. It was very awkward, but probably because of that, the effect came out well and natural. So literally, a naughty kiss shows itself, just like the drama title".
He also changed agency company, "I don't feel sad that I cannot do activities as SS501 now. The five of us didn't mention any once about any official disbandment at all", leaving some mystery to his words.
Talking about his upcoming plans, "Upcoming December in Tokyo Dome, there will be an event. I will also be preparing as a solo singer next year, right now, about 5% of it is completed".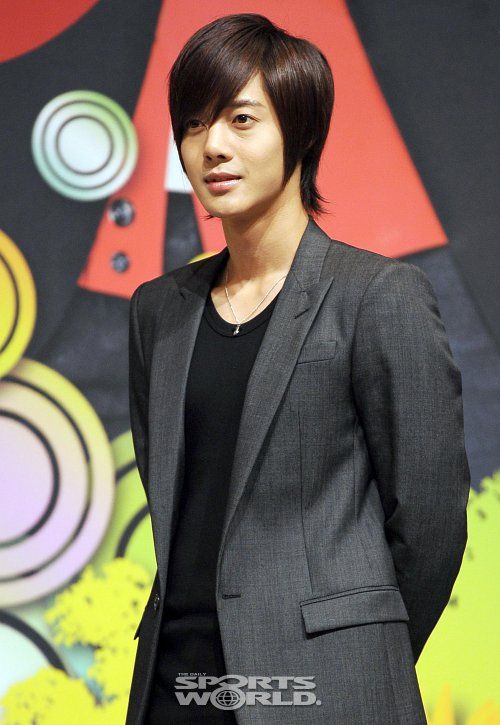 Credits to gwangnam.co.kr
3rd paragraph.
"Though it's not exactly finalized, I'm indeed preparing as a singer. Whether it'll be with my group or as solo, I don't know. But according to the situation now, I'm preparing for my album with the thought as solo".
Talking about disbandment of SS501, he said, "Nothing's decided. People say SS501 will disband. People say that, but nothing was ever said out of our mouths. Then what will happen if SS501 comes out with album? Let's just wait and see".
He also said, "When I first received invitation for this drama, I knew I was gonna have to work harder to portray this high school student role, because I will to get affirmation from everyone, that's why I took it on".
Credits to www.imbc.com
Actor Kim Hyun Joong revealed that he "felt like he's going back to those high school days" thanks to Playful Kiss drama, thus attracting attention.
"My character has an an IQ higher than 200 and never fails to get Number 1 in school. There are many scenes where he has to speak many profound stuff, in order for me to act out as naturally as possible, I had been working hard".
Because of that, he has been memorizing many mathematical formulas and is just like a model student, and in reality, he's also really working hard like a real student.
Kim Hyun Joong said, "During my high school days, I didn't do well and wanted to become a singer, only went playing, but now thanks to this drama, I can study. The kind of feeling returning as a student is back".
Credits to dailian.co.kr
3rd paragraph
Kim Hyun joong who's moved to Bae Yong Joon's agency recently expressed, "No matter how I viewed, it just became that way. In fact, though there were many invitations coming from many places, besides Keyeast, I haven't really been in contact with them".
"Though Bae Yong Jun is my boss, but privately I call him Hyung. I meet up with Yong Jun hyung about 2~3 times per week, and we talk comfortably about daily lives and work".
"Just like with any other person, Yong Jun hyung talks about women and drinks while we talk as well. Like for this time's shooting too, Hyung said he will definitely visit my shooting location once, but I don't know when it will be", expressing laughter.
"Yong Jun hyung has been consistently giving me advice, looking at hyung's way of dealing with life, I felt that I've gotta learn from him... I hope to be able to manage myself well and steady enough...", showing his respect for him.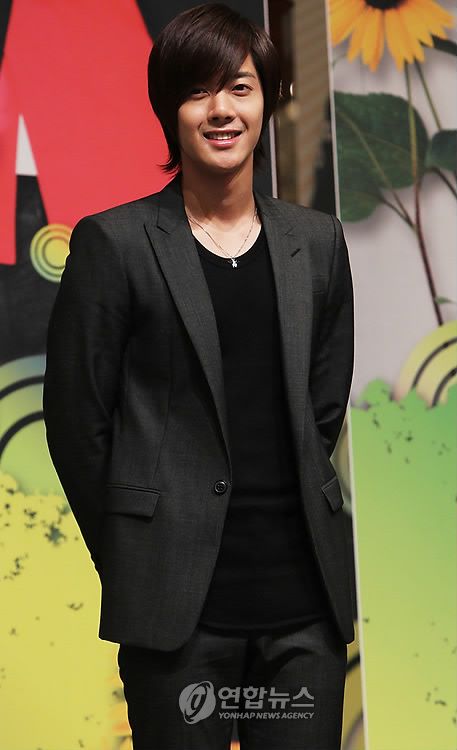 Credits to dailian.co.kr
5th paragraph.
Jung Somin, "It was almost at the final stage that I incidentally saw the auditions. When I finished my shooting at hand that time, it was almost midnight. So PD nim gave me another chance, which I was very grateful for". "When I'm tired, my expressions tend to be more sluggish (?). Thus I went for the auditions looking rather restless, I guess that was why PD nim liked it, and so I'm standing right here", laughing shyly.
"My role Hani is a very bright and lively and also extremely positive minded character. It was so sudden that I had to take up such a big role and is anxious, but I will not disappoint. Please show me much love and concern".
Kim Hyun Joong added to his partner,"To be honest, when I first saw Jung Somin, I didn't know she was an actress. She was so much different from herself in Bad Guy. I'm not joking but she's really cute", showing her praise.
Credits to unionpress.co.kr
4th paragraph
Kim Hyun Joong responded to question asked of "Do you feel sad that you cannot do SS501 activities?". His answer was, "There's nothing to be sad that I cannot do SS501 activities. No such thing as - we're unable to do it. We did not even mention any once about official disbandment", "There are so many guesses and talks about my leaving of the group. But it will do if I just avoid such talks. It's expected that it will surface again, isnt it", expressing his thoughts on SS501.