Pls credit the sources and all translators/sites when reposting. Do not re-edit or hotlink the graphics.
I have to admit I have these photos and blog info last night but fell asleep waiting for another set of photos to upload. Aigoo, then I have completely forgotten to post this. Oh well, it would be nicer to see it with the entry translated. I can't wait to get my hands on my very own copy of this DVD and photobook.
Credits to "The First Love Story" Shooting Blog + (English Translation) miyo@ lovekimhyunjoong.com
The 2nd day of the shoot at Karma Resort is at a famous restaurant located on the hill.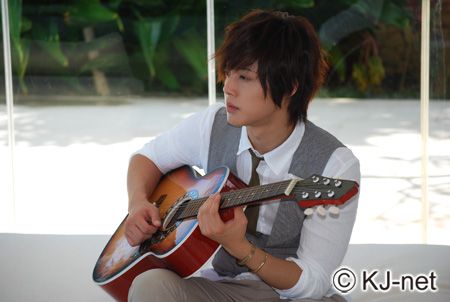 At the spacious lounge with his guitar thinking deeply of the songs


It was a fine weather today and it's perfect for shooting.
Due to the rain the day before yesterday, the sea was a little murky yesterday but today, it was cleared showing a dazzling, clear emerald green ocean stretching across in sight.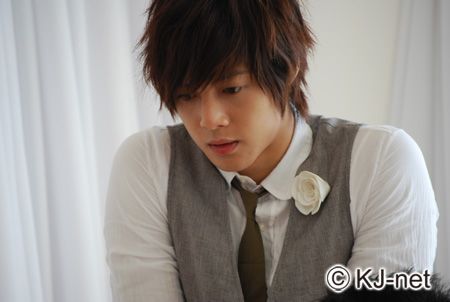 Through the monitor, staring at it seriously checking on the pictures that were just taken.


At around after 9pm, the shooting of the light breakfast scene at the restaurant was done, taking a lift from the sheer cliff down to the beach.
Hyun Joong, playing around the beach while the bottom of his pants getting wet.

The restaurant on the hill where the shooting was done on the 29th.


With the flow of the clouds changing as background, Hyun Joong showed a different expression from his usual self or drama.
The shoot moved to the scene of where Hyun Joong who had changed into his training attire running lightly on the beach.

Hyun Joong's background is of 3~4 meters high white waves splashing, it looks as if it's a painting and even if by just looking at it, it looks beautiful.

Blessed with good weather at the refreshing beach, facing the camera smiling brilliantly.


At the beach, there were Europeans who have brought their kids for a dip in the sea casually agreed to help with the shoot, the director was satisfied saying, "A very relaxed scene was taken".

- Posted using BlogPress from Yen's iPhone