Pls credit the sources and all translators/sites when reposting. Do not re-edit or hotlink the graphics.
Credits to mobile.sportsseoul.com + SS601.com + (English Translation) xiaochu @ Quainte501.com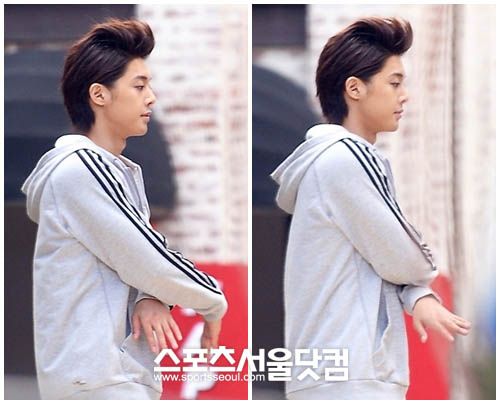 Indeed, one would not be able to hide their profession. It suddenly came to my mind when I chanced upon Kim HyunJoong on the street. He has currently put a temporary halt on his singing career and concentrating on acting. But every now and then he shows that he is missing the stage.
Recently on my way back after covering a news report, I passed by a famous studio. There was a van in front of the studio, there was someone dancing diligently and walking out. I looked more carefully and it was Kim HyunJoong. His body was swaying lightly and he was swinging his arms, and humming to himself.
It turned out that what I have seen is Kim HyunJoong's habit. Whether he is walking on the street or taking a short break, as seen in these photos, he does not let his body stop for even awhile. This is a habit of a leader of an idol group who dominated the scene awhile back.
His front hair was styled back showing his forehead, which reminds me of Elvis Presley. His make-up was completely done too. It seems like he has just finished a photo shoot or commercial filming in that studio, and only changed to casual clothes before coming out.
Pretty boys just look like pretty boys. Even when he wears a plain training suit, he shines as if he is wearing a branded suit. He wore a white hoodie and black training pants that goes to his knees. Always seen in luxurious and neat clothes, he looks approachable in this free and easy style.
He looks like he has lost a lot of weight because of the new drama on hand. Because he got thinner, his face contour became more defined and his jaw line is sharper. Because of his sharp facial features, he gives off an appeal of a matured guy.
Kim HyunJoong is filming for MBC TV 'Mischievous Kiss' to be broadcasted on 1-Sep. Kim HyunJoong acts as UmChinAh** Beak SeungJo, who will capture the hearts of female viewers.