Pls credit the sources and all translators/sites when reposting. Do not re-edit or hotlink the graphics.
As I was making this post, I did another screencapture and #501destination is still number 1 as of 9:41pm Singapore Time.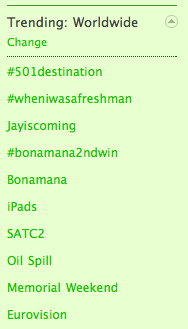 Credits to www.dkpopnews.net
The majority of today's trending topics on one of the world's most popular social networking websites seems to be all related to KPOP. They've been on the list for hours and hours as a result on the constant spamming and support of KPOP fans around the globe. I can proudly say that KPOP is definitely a growing trend in the world considering how often it is trending on twitter.
Today's main topics seem to be focused on Korea's biggest male idol group, Super Junior, after their 2nd win for their new hit Bonamana. Congratulations to them!

Earlier, 'Sulli' of f(x) was also one of the trending topics. Another hot topic is #501destination, this has even gotten Alexander of U-KISS tweeting about it. With more and more KPOP idols coming onto twitter, I'm pretty sure there will be way more KPOP related trending topics in the future. KPOP hwaiting!