Pls credit the sources and all translators/sites when reposting. Do not re-edit or hotlink the graphics.
Credits to Nate + (Chinese translation)YY+茉茉@百度金贤重贴吧www.hyunbar.cn + (English translation) 501wangja.multiply.com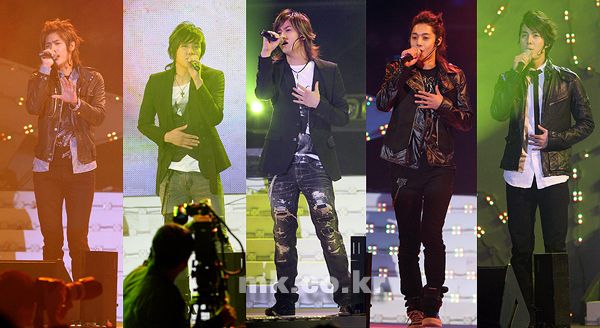 Popular group SS501 with new song 'LOVE YA' making a strong comeback.
SS501 released the hit title song 'LOVE YA' MV teaser together with other song titles on 24 May at 5.01pm before their official activities.
This new album 'DESTINATION' hit title song 'LOVE YA' MV incorporated string orchestra to bring out Gothic style, 'LOVE YA' teaser was shown in an Gothic ambiance, together with the orchestra's grand performance, SS501 members looked very dashing and dynamic.
The strong tempo dance as well as the exquisite black costumes piqued the curiosity of many with regards to the real stage performance.
Agency pointed out that "In order to let fans put in more focus on the new album, every member changed their individual style. Bright characteristic, emitting charisma of a mature man has been what the fans are looking forward to. This new album is produced by the world recognized producer Steven Lee. Under the lead of Steven Lee, top notch musicians from USA, Europe and Korea have participated in this production which mainly employed piano as music accompaniment. DSP Representative stated, "This album is different from other groups in terms of music and style as SS501 new album mainly uses rhythm and melody to express their feelings"
SS501's new album [DESTINATION] will be released in end May, will begin their comeback stage through KBS 2TV's Music Bank on 4 June and MBC Music Core on 5 June.
Credits to Nate + (English translation) ode@ss501ode.blogspot.com
SS501 'LOVE YA' Released and reaches No.1 for 1st day of advanced preorder sales
SS501 released their digital tracks and teaser videos simultaneously on the 24th afternoon,
and surpassed Wonder Girls and CNBlue to reach the Number 1 position on the Real-time charts
of Soribada.
Netizens have commented after viewing the trailer,
"Their music that's so unlike the rest of the idol groups differentiates
them and sounds really great", "Talent and looks are all on them, a totally perfect group",
"Truly worth the wait, shall be waiting for their comeback stage", thus showing their
enthusiastic responses to title track 'LOVE YA'.
Their new album consisting of 6 new tracks are made up with full piano background accompaniment,
minimizing the prevalence of flooded electronic instruments in the current music market industries,
SS501 who is the only one able to carry off the Angel and Devil look has had formed a huge contrast
against the emotional melodies of their new tracks.
SS501 will be holding their fansign event on May 28 at Shindorim TechnoMart, 11th Floor Grand
Ballroom, and will be having their 1st comeback stage on June 4 through KBS 2TV's Music Bank
and the 2nd on June 5 through MBC's Music Core.