Pls credit the sources and all translators/sites when reposting. Do not re-edit or hotlink the graphics.
I guess he pretty much thank the support given by the TS for tonight's concert and that he's looking forward for their comeback stage on 04/June.
Credits to dspenter.com + (English Translation) loiskr.blogspot.com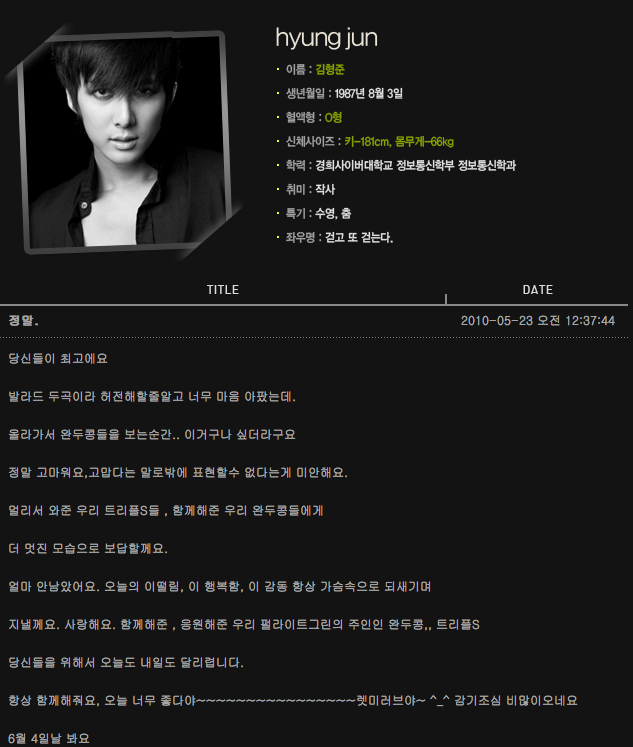 English Translation:
[Hyung Joon] Really.. 2010-05-23 AM 12:37:44
You are the best!
I was sad cause I thought You might feel empty that we were going to sing 2 ballad dongs.
But as soon as I saw the green peas on the stage, I thought "That's it!"
Really Thank you. Sorry for that I only express my thanks to you as "THANK YOU" in words.
We will get better and return your favor to you,TripleS who came from a distance and Green peas who've been with us.
The time is coming soon. I'll remember today's throb, today's happiness, today's touching in my heart.
I love you TripleS who were with us, cheered for us & the master of Pearl Light Green.
I'll run today & tomorrow for you.
Please be together always. I'm happy today~~~ Let me love ya~ Take care! Heavy raining outside.
See you on 4th of June.
Credits to (English Translation) ode@ss501ode.blogspot.com
Seriously. 2010-05-23, 12:37:44 AM
You guys are the best
When I knew we were going to sing ballads for both items, my heart felt painful.
Since the moment I saw our green peas.. I wanted to do this already, to write this piece
Really thank you, besides these words, I don't have any others to say, and so I feel sorry.
To our TripleS who came from afar, to our green peas who made it possible to come together
I will repay you all with an even more amazing and splendid me.
It isn't long to (our comeback). Today's anxiety, today's happiness, today's moving emotions,
it will all etch itself deep in the heart
Will stay like this. I love you. To be together, to be supporting, our pearl-light-green owners Green peas,,
TripleS
For the sake of all of you, for today and for tomorrow, I will be running for you.
Let's be together always, today was really very wonderful nya~~~~~~~~~~~~~~~~~~Let me Love ya~ ^_^
(combination of Let me be the one and Love ya, awwww)
Be careful of flu, it's been raining alot
See you on June 4