Pls credit the sources and all translators/sites when reposting. Do not re-edit or hotlink the graphics.
So Special Edition will rollout on 28 May and Normal Edition on 2nd June... There's another fan sign schedule... Haiz! gotta go for awhile, office calls.
Credits to DSP site + (Chinese translation)维尼@WJ + (English translation) josie@501wangja.multiply.com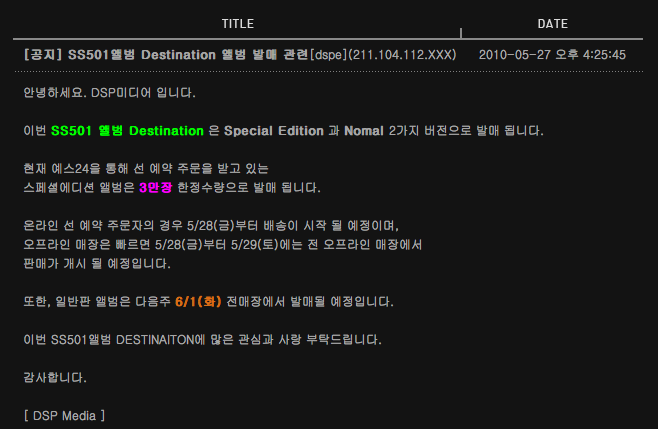 English Translation:
Hello everyone. This is DSP MEDIA.
This time, there will be 2 editions for SS501 album DESTINATION, "Special Edition" and
"Normal Edition"
YES24 is now accepting pre-order for the "Special Edition" which has a limited quantity of 30,000 copies.
Dispatching for pre-orders made online will start from 28th May 2010.
Starting from 28th May the albums will be available in stores where albums are selling fast , latest by 29th May it will be available in all stores.
Besides that, the "Normal Edition" will be available for sale starting from 2nd June
Hope everyone will give this album lots of care and love
Thank you.
DSP MEDIA