Pls credit the sources and all translators/sites when reposting. Do not re-edit or hotlink the graphics.
I've got a huge question: If Love Ya wasn't accidentally aired in Chin Chin Radio, would the digital release date be different? Albums are normally sent to broadcasting stations ahead of the actual release date for censorship purposes and of course, in preparation for the actual release date. Mistakes such as these are not uncommon if the management has not been diligent in imposing the release date rules. Same thing happened in Harry Potter books which were accidentally sold days before the planned release date. Just imagine JK Rowling's battalion of lawyers shooting lawsuits - that's scary. But I think DSP is not as scary, so they just moved the digital release?
Credits to DSP + (English translation) kelemama@501wangja.multiply.com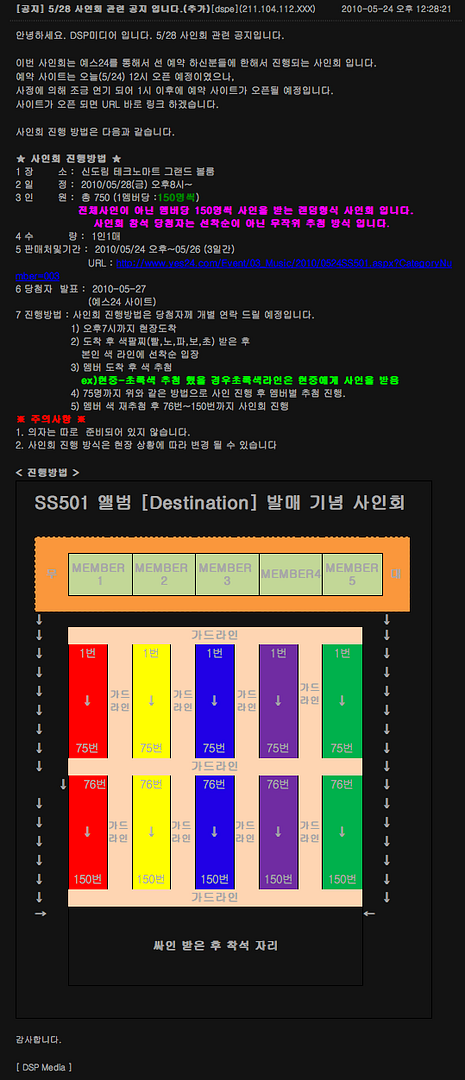 English Translation:
Hello, this is DSP notice with regards to fansigning event on 28 May.
This fansigning event is held through the pre-sale by YES24.
Originally the website will be opened on 12pm on 24 May, but due to certain reasons, it will only be released from 1pm onwards.
You can enter the url directly once the website is released.
★Fansigning event as follow ★
1. Venue : Sin-Do-Rim TECHMART GRAND BALLROOM
2. Date : 28 May 2010 (Fri) 8.00PM~
3. Capacity : Total 750 pax (1 member:150pax)
- Not sign by all members. Each member will sign for up to 150 pax on a random basis
- Selected people do not need to follow the procedure but randomly proceed to get signature
4. Quantity : 1 Pax 1 Signature
5. Distribution and Duration : 24 May to 26 May (3 days)
URL : Yes24
6. Winners Announcement : 27 May (Yes24)
7. Procedure : Fansign procedure will be announced individually
To arrive by 7pm
To collect collect color wristband upon arrival (Red, Yellow, Blue, Purple, Green), to gather at the respective color group after entering to the hall.
When members arrive, they will choose a color. For eg, Hyun Joong chose Green, Green group will receive his signature.
When reaching 75th person, the members will choose color again.
When members had picked their colors, signing will continue with the new colors that members picked.
Things to note:
1. Chairs will not be provided
2. Changes may be made accordingly to the situation during fansigning event
Thank you.
[DSP Media]
English Translation:
Hello. This is DSP Media.
SS501 앨범 [Destination]-SPECIAL EDITION
TRACK LIST
...1. LET ME BE THE ONE (그게 나라고..) 4:03
...2. LOVE YA 3:23
...3. CRAZY 4 U 3:41
...4. 영원토록 4:56
...5. LET ME BE THE ONE (그게 나라고..) Acoustic Ver. 4:05
...6. LOVE YA (Inst.) 3:23
☆ All Music Release : 2010 May 24, 5.01PM
★ Music Release Sites : MNET,MELON,BUGS,dosirak,GomTV online music sites
☆ First Broadcast : 4 June (Fri) KBS-TV Live Music Bank
5 June (Sat) MBC-TV Show! Music Center
Thank You.
[DSP Media]