Pls credit this site when reposting. Do not re-edit or hotlink the graphics

.
Here's the second part of my trip report and the end of my very first day in Seoul. I will try to draft day 2 and first concert night tonight and hopefully you'll get to see the pics the soonest.
Credits to yenhersheytriples.blogspot.com
Click on the images to enlarge.
I guess everybody knows by now that Myeong Dong is like a shoppers heaven and a place where you can find the brands and not some not so expensive labels. It is a place where street after street is lined up with shop houses and buildings bearing famous brands. This place is so busy at any given time of the day. One thing I have notice is that cosmetics brands have even setup shop right next to each other. I didn't managed to take a photo, but there was a street where Missha, Face Shop, Etude House and Tony Moly were all lined up together. Aside from that, you turn to another block and you saw these same brands again. Cosmetics stores are littered all over the area. It makes you think whether Koreans actually eat moisturizers and BB creams.
I have a funny story to tell about this certain brand - not sure if you can see: second photo from the left, second row, a big shop after Dunkin Donuts. There's this girl, and I would hide her under the name 9oanne who asked me to buy her a t-shirt with the SJ (Super Junior) on it from a shop endorsed by SNSD and SJ which is called "SPOUSE" (she SMS me this one ok?), if I happen to passed by one such shop. So me there walking at the streets of Myeong Dong looking around and so amazed being surrounded with lots of endorsement posters of idols and kPop stars. Then I saw this big shop with huge photos of pretty girls from SNSD and sometimes I do see photos of good looking guys with them (sorry not too familiar with the faces of SJ boys). The clothes looked so cute from the outside, but not my type 'cause their like for preppy teens. I checked the brand and it said SPAO. Hmmm, I guess it's not it. Are you laughing now? Have you discovered the hilarity of the situation? Okay, let's fast forward to Sunday when we went back to Myeong Dong. I still haven't seen this "SPOUSE" brand, then we passed by the same shop again. Then staring at the smiling face of one SNSD girl and a Super Junior boy, it dawned on me that this was the store I was looking for. It is not SPOUSE but just SPAO . I wanted to go in but sad to say, the shop is closed or we were just way too early that day. Sorry, girl, no SuJu t-shirt for you, well you said SPOUSE, what?
Okay back to walking the streets of Myeong Dong. Oh lookie! There's Leader inviting us to go inside Tony Moly. Woah! Look! There's this DBSK guy! It was a kPop fan wonderland - okay Seoul is the mecca of an overseas kPop fan. We went inside a shop that sells DVDs, CDs and idol merchandises and luckily I was able to restrain myself 'coz unnie May whispered that she bought me already the Jihoo DVD and she knows a place where they sell them cheaper. Then Kadd saw a queue for ice cream and we started to wonder where she could have gone to. Back home, it's funny how we get excited upon hearing a kPop song being played inside a store you are browsing in. I had the same experience there and almost blurted out, "Oh they're playing kpop!" Then I realized, of course they should be playing such songs 'coz I'm in freaking' Korea. Then I just observed some of the locals talking and half-expecting that there's some english subtitle flashing at the bottom part of my vision.
kekeke
We passed by at least two Tony Moly shops and wanted to go inside but unnie May said we go to the biggest one. So we walked some more and stopped right in the middle of somewhat like an intersection. Then unnie May asked, "Where do you want to go first? Tony Moly or Basic House?" Then we looked to our left and saw that at the very far end of the street stood a big Tony Moly then we turned to our right and at the very far end as well, stood a huge Basic House shop. Two of the brands Leader is endorsing were like the bookends of one stretch of a small street. Saw the picture below? So we decided to buy things to make us look nice first.
Yes, there's a standee of Leader outside - in every shop. And, yes we love to have our picture taken standing close to him. Oh, like in every shop, Leader's photo is plastered all over the place. See the middle picture of Joongie? It's huge! Look at the left topmost photo to see how huge that is. I bought four sleeping packs and finished up all their stocks. They even have to run to the nearest store to get more stocks but sad to say they can only get two more for Belle, though she wanted to buy 4. To be able to get more posters of Leader, we split the items.
(kekeke)
. Oh! May had been to that branch far too many times that the people who work at that shop do recognize her. I guess buying 10 sleeping packs at one go do leave a very lasting impression. I don't have the time to scan yet so cards and photos of purchases will be posted later. They give out posters of Leader for every purchase.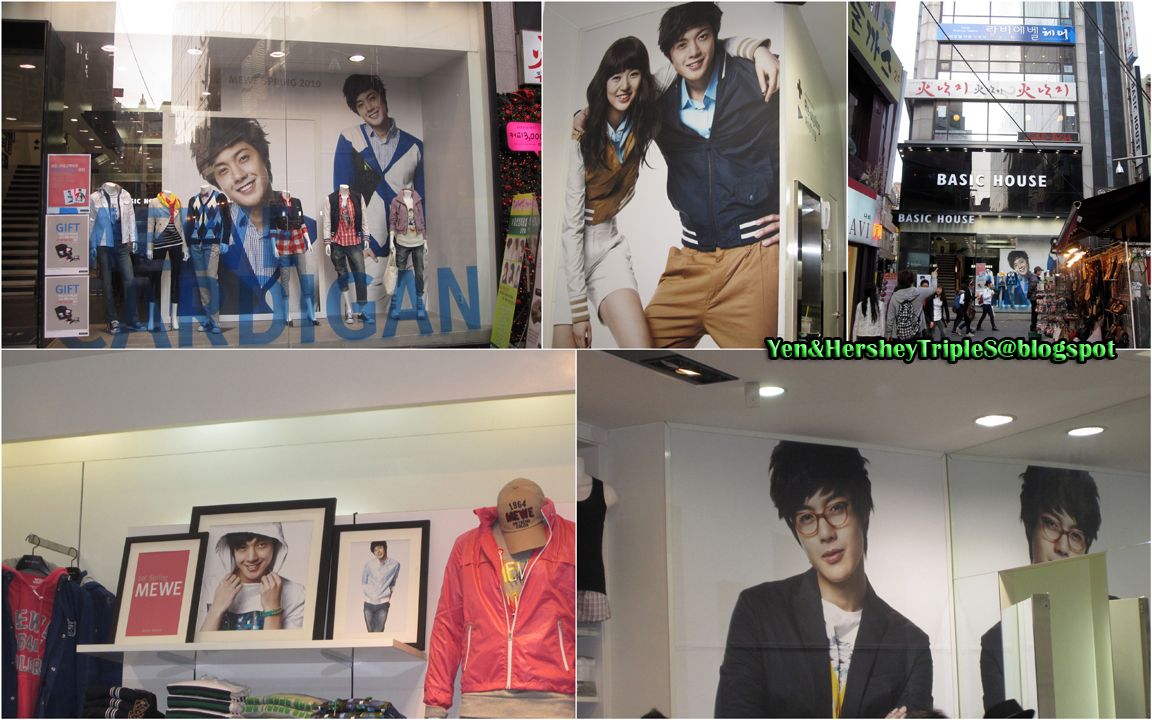 After getting all our sleeping packs and BB creams, we headed to Basic House. We went up to the ladies section and got that shirt with a skull and a crown (photo later) and then went back to the men's section at level 1. I wanted to buy that hoodie in white which Joongie wore in the photoshoot but the sales assistant told me that they ran out of stocks of the small size because a lot of lady fans bought it. Chrislyn was able to get a bigger size though. So I looked for another shirt which Leader wore. kekeke It's so funny seeing a lot of women at the men's section. There was another group of tourists there and I'm pretty sure they came over to watch the encore too. They asked for the shop brochure and scanned the photos and asked for the items which Hyun Joong wore. Basic House should have known better that if they asked Leader to be their endorser, they should make the clothes he wore in women's sizes too. And if his group has a concert, they should make sure they have enough stocks at hand; that goes for Tony Moly too. LIke in Tony Moly, they also have posters available for patrons and if you ask, they'll give you a copy of the catalogue as well. I wonder if they give out Eun Hye posters for male patrons.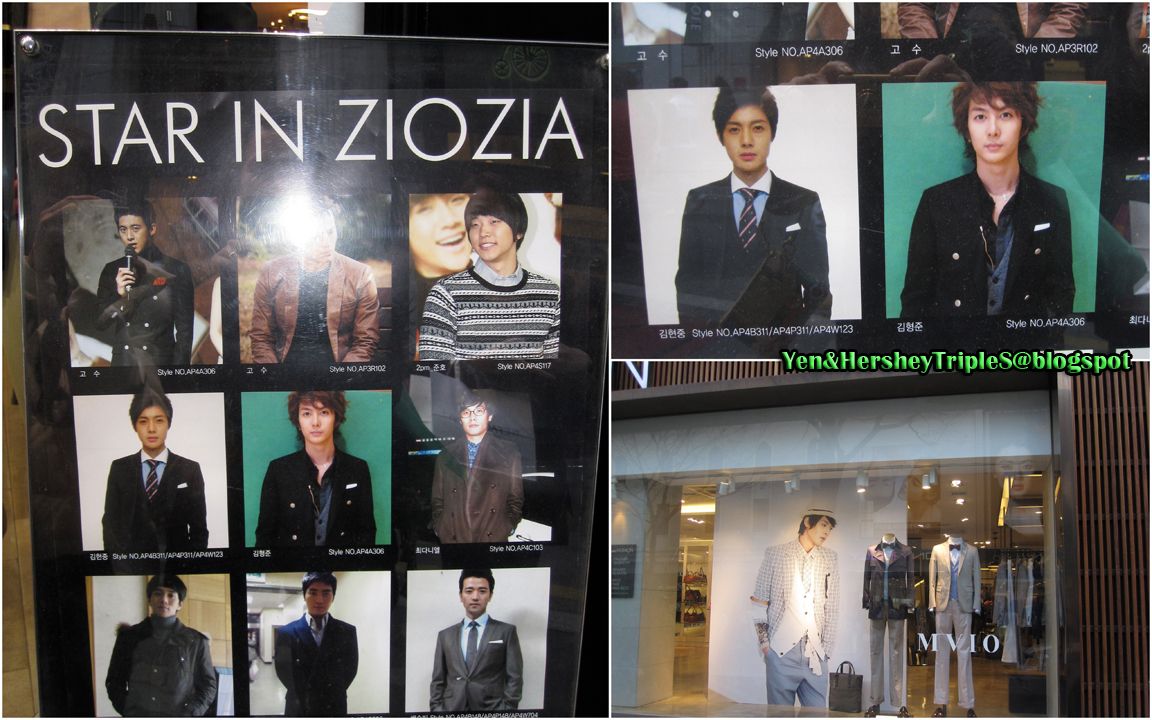 Okay shopping done, so let's go back to walking along the lovely pavements at Myeong Dong. If celebrities have not signed up to be the official endorsers of a specific brand and yet they have worn their sponsored clothes, chances are you'd see photos of them outside the shop. Here's one for Ziozia. Sorry that I forgot to turn off the flash, but you cares who that person is when we are more interested at the two in the second row.
kekeke
Yes, I did took a closer shot. Walking along, we passed by a chic shop. I forgot to take a photo but it said Samsung shopping mall or something. Then you wouldn't notice this MVIO store if you don't recognize Leader's photo. Even Chrislyn walked on without even giving it a look, which is surprising because she can tell if it's Leader a mile away. Well, I guess because it really looked like a posh shop and there was no one inside. We didn't went in because it is really selling clothes just for men and they are formal clothes - suits and all office attire.
Street food in Seoul is amazing. There are dried squids and I don't know which sea animal those tentacles belong too. Unnie May is always quick on buying street food. Without you noticing it, she already has potato sticks in her hand. On the top right corner is a sponge cake with egg on top. It tastes good. Then there is this another type of sweets that an ajumma would cook in a small pan. Sorry no photo. She'd just keep on pouring sugar and keep on stirring until everything is melted and then she'd shape it to turn it into like a very thin cookie. Unnie May bought one again and shared to us. It tasted good and crunchy and I'm wondering how come it doesn't taste too sweet knowing that is was all sugar. I loved it that I bought another one on our second visit. And of course, it is like sacrilegious if you go to Korea and don't even try to eat tteokbokki. It tastes great but well, too spicy for me. I can only manage to eat two cylinders of rice cake. But I do love the fish cake. Eh, why no photo? Go to unnie May's account and you might find one there. It's the thing on a stick that Jun Pyo ate at a similar pojangmacha. I didn't ate it from the stick though for we asked the ajumma to cut it for us. Eating by the road side, try to still be lady-like. We didn't dare to eat a lot, though there are an awful lot more of yummy looking food because we need to start off and find our way to the Hotsun gathering.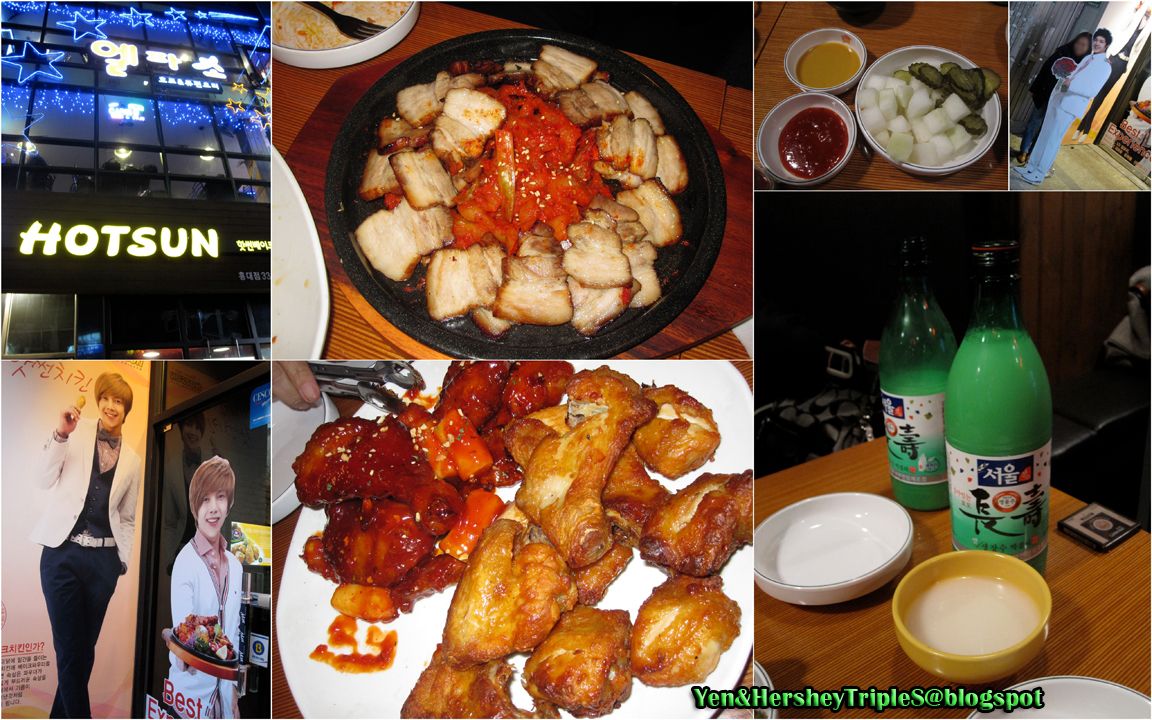 We took a cab and was dropped off at a gasoline station and told to just cross the street and we'd could easily find the place. Lois actually shared a very detailed instructions at SgTripleS forum, but sad to say these noonas didn't brought along any print-outs. Oh, May did made a print-out but she forgot to bring it that day. Well, we just walked along and luckily found the landmarks given by Lois and then when we got stuck at one final turn, Chrislyn saw the standee in front of the restaurant and blurted, "Oh! that's Hyun Joong! Hotsun must be there!" Oh well, she's right and got there in no time. We actually thought we were late, but then the group who went with the tour coach came in a few minutes after us. We were surprised that Lavender and ET were already there and it is really such an eye-opener to finally put a face to an ID.
Since we were there to try and eat Leader's chicken, we ordered these two plates for the six of us (May, Chrislyn, Kadd, Pris, Slam10 and me), plus a huge plate of potato wedges and hash browns. We also had two bottles of rice wine, which I'm pretty sure was mainly consumed by me, Kadd and Chrislyn. I'm so loving the drinks in Seoul. kekeke Do you wanna know what Leader, oops Leader's chicken, tastes like? It tastes so great that we finished our plate fast and even got some more extra chicken from another table. It wasn't too oily because the chicken was baked and cooked in its own fat, I guess that is why it was so tasty. The place has a piped in music and only plays SS501 songs, something of which nobody could ever complain about. Another lovely thing is that they each gave us a poster of wuri Hyung Joong. I am piling up on posters which I really don't know where to post. whakakaka
After the lovely dinner, unnie May said that we should try to have some coffee over at the Hello Kitty cafe which Miyo has posted about in the blog. May said that it is very near the Hotsun restaurant and that we just need to walk and we did walk and turned right when we found the landmark Tony Moly shop. But then I guess, we missed the left turn and kept on walking but didn't found the kitty cafe. It was an interesting walk though as the streets were bustling with locals out and about on a late Friday night. Unnie May kept on saying she printed the directions but forgot to bring them again with her.
Whakakaka
I heard her say that a lot of times during our adventures. We just kept on walking and turning and window shopping and buying and then finally we saw the cafe. What a relief, I thought I'd never be able to go inside this pink cafe.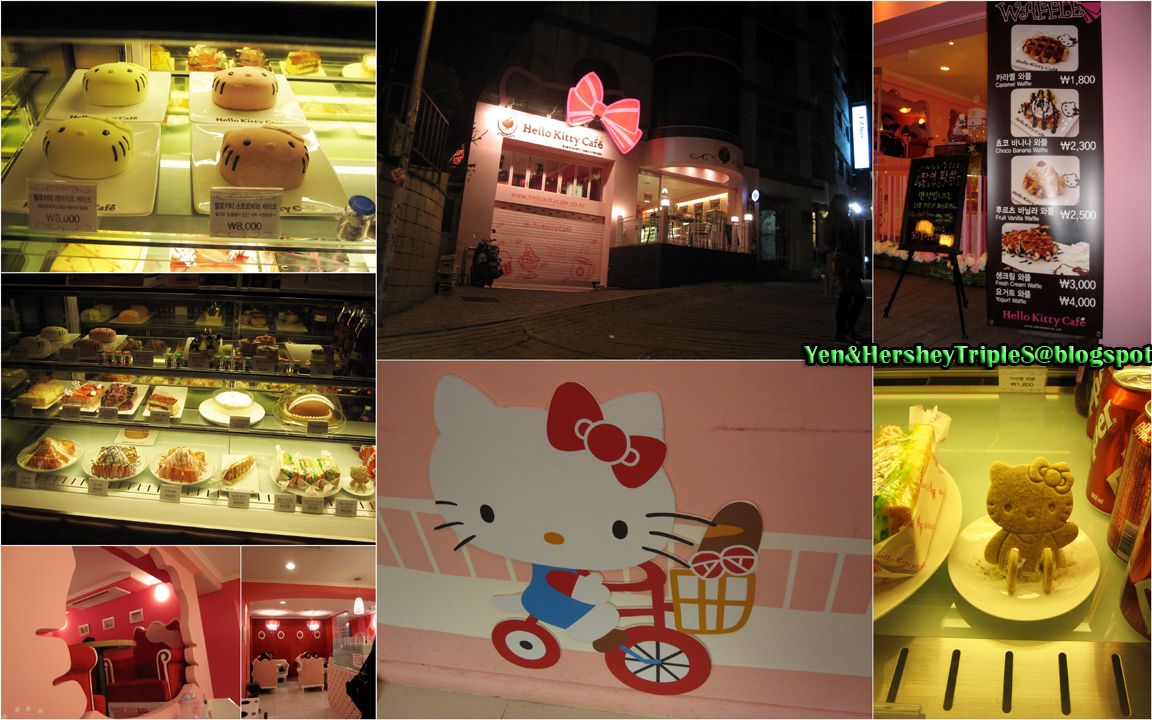 Surprisingly, the cafe is full and we have to wait out in the cold to get a seat. We didn't have to stay out for long though. However, while waiting I saw another cafe up on the hill which looks familiar and there's an MBC logo in front. I said to myself, maybe just another cafe featured in some show or drama. It looked so lovely inside the Hello Kitty cafe. Everything is in pink, of course and Hello Kitty's face is plastered on the walls. We had waffles and latte. May tried the sweet potato latte and loved it. It's kitty everywhere including inside the loo. The four of us were joined by Chrystal and Lois (a Korean TS who is helped SgTS quite a whole lot). There were lots of stories shared and it was such a lovely evening. People come and go at the cafe but it seems that tables really don't stay empty for so long. Business is good for this famous kitty.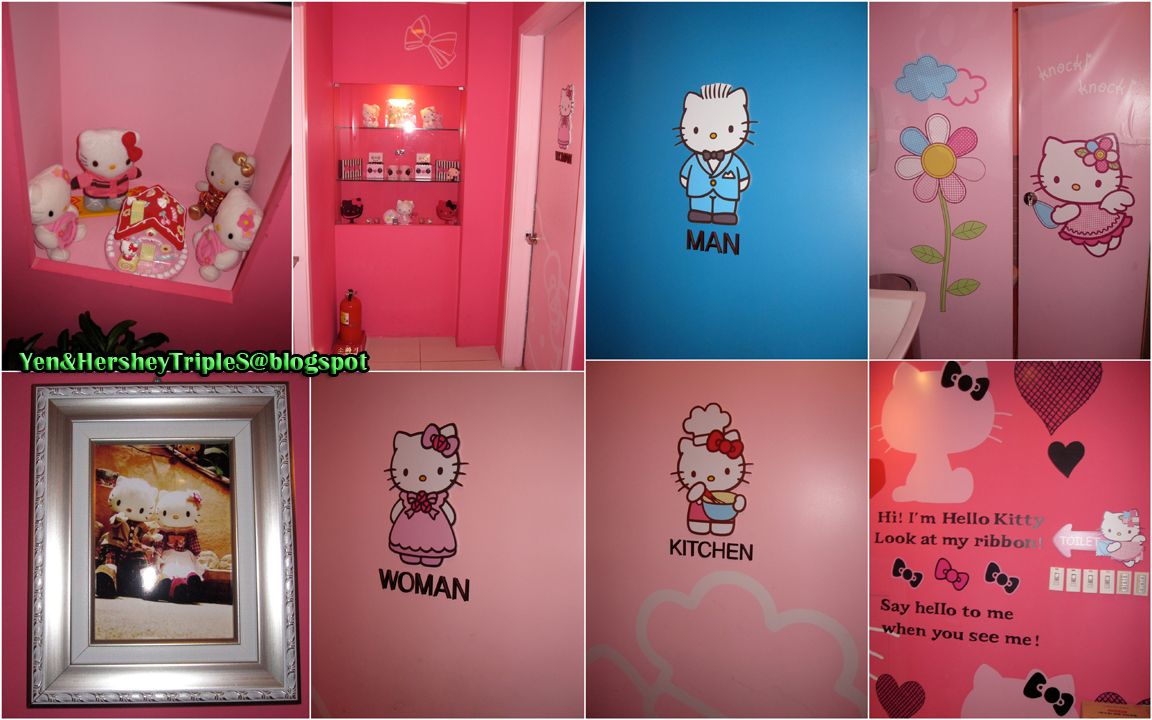 After our chit-chat and Kadd looking all so worn out, we decided to call it a night. We met up with Pris and Slam10 just outside the cafe and I asked Pris where they had been. She said they just had coffee at that cafe up on the hill and it's the cafe on Coffee Prince! No wonder it looked familiar. Oh, well maybe some other time. We got home early - like 11 pm - and were so doggone tired.