Pls credit the sources and all translators/sites when reposting. Do not re-edit or hotlink the graphics.
Credits to nate news + (English translation) Ode@ss501ode.blogspot.com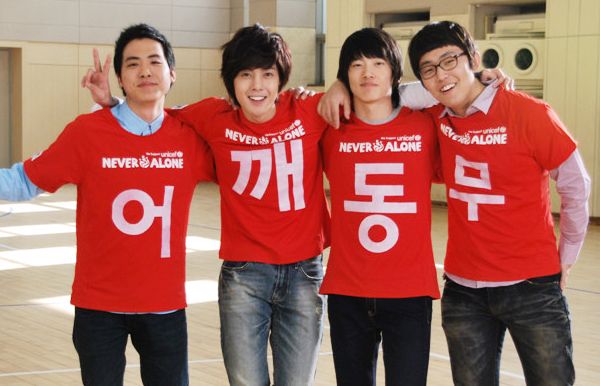 SS501 Kim Hyun Joong and talent Yoon Eunhye transformed into angels for Africa children.
On the 15th, Kim Hyun Joong, who has been increasing with popularity right now through his Hanryu star status, as well as Yoon Eunhye, participated in the 'NEVER ALONE' Campaign that was alongside UNICEF, and this promotional footage was released on UCC.
The 'NEVER ALONE' campaign, besides supporting the worldcup that Africa will be hosting for the first time, also aims to help the africa children in Africa. By purchasing the UNICEF supporting T-shirts (red ones), part of the earned amounts would be donated to UNICEF, this is their way of participation as a voluntary consumer.
Kim Hyun Joong and Yoon Eun Hye participated in the UCC promotional video footage 'Never Alone Campaign' by UNICEF, they will also be actively leading the way in gaining more help for the Africa children in future.
This extraordinary video that was formed by a message through gathering every word on each (red) t-shirt, it expressed the subject of "expressions which are unable to be shown if you were to do it alone". Along with Kim Hyun Joong and Yoon Eun Hye's warm smiles during the shooting, this message was thus further shared amongst everyone in the neighbourhood (everyone present).
Kim Hyun Joong has said, "It isn't just simply about supporting the national football team, at the same time, I will also be actively joining in to help the africa children in the Never Alone campaign."
Yoon Eun Hye "This was a shoot that gave me another exciting experience apart from advertisements and drama shooting. To have so many people joining in to help the africa children, this will be in the lead to inform people about the campaign."
You may watch the 'NEVER ALONE' campaign video at its official site www.neveralone.tv.