Pls credit this site when reposting. Do not re-edit or hotlink the graphics

.
Here's my story on my whirlwind tour of Seoul just to catch the boys' concert. I know you might be itching to see the concert photos, but please bear with me and I will soon be able complete uploading them.
Credits to yenhersheytriples.blogspot.com
Click on the images to enlarge.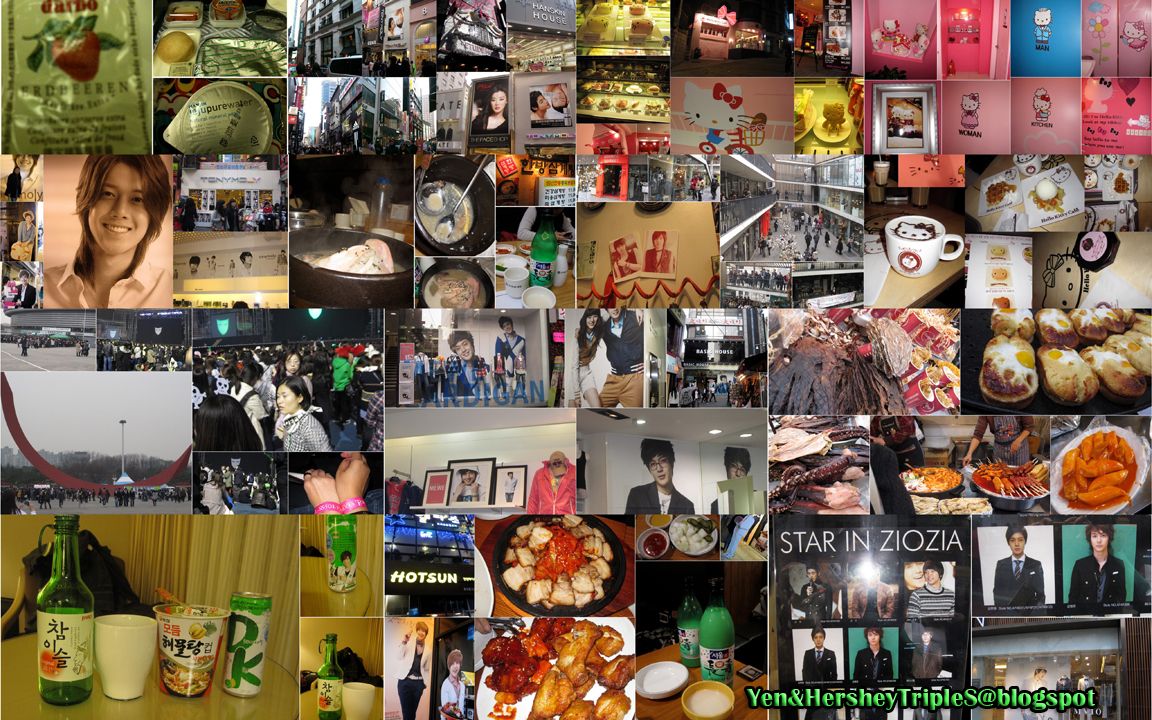 This trip to Seoul is really out of the ordinary for me. I have never chased a singer or a band overseas just to watch their concert. Well, I've never been this crazy over a band anyway. Okay, I went gaga over another boy group back in my teens, but all I did was purchased albums, magazines, posters and comic books and went to their concert once when they visited our country, but that was it. Maybe because of the purchasing power and that I am already an adult who doesn't have to get my parents' permission to go gallivanting around.
I did went to Hong Kong last December and watched my first SS501 concert but I can't really call it chasing 'cause I went there with my family for a holiday and just went to the concert as a side trip. But I'm so guilty about working around our holiday trip to make sure I'd be able to catch the boys there.
kekeke
Initially, I was contemplating on going to the BKK concert, but things happened to Leader early January that made me want to
really, really
go to another Persona. Well, then the news came out that BKK is the last stop and encore is close at hand. Even if we heard whispers of Singapore Persona, I really didn't think it would happen, so I have decided it would be best to catch encore instead of BKK. It may be more expensive
- way more expensive -
but it'll surely be far different from the rest. So when the encore dates came out together with the tour packages, I became
really, really
nice to my hubby so that he'd let me go.
I took the concert tour package 'coz I don't have the time and patience to book my own flights and find my own accommodations. On the plus side, getting concert tickets seemed more easier taking that route. On top of that, I'd be with most SgTripleS. It'll surely be a fun, fun trip.
So sorry, for someone who loves to take photos. I actually have few photos for this trip. And as usual, I'm not in most of the photos taken by my cameras. I actually don't have proof that I was even in Seoul! Gasp! I guess I need to go back there and really make new mementos. Seoul fund... Seoul fund... Seoul fund...
SgTripleS group flight schedule was to leave SG on 25 Feb at 10:30 pm and arrive in Seoul the next morning. Since we don't have our plane tickets yet, we were supposed to meet up with the travel agency rep at 8pm, but then my roomie, Belle, and I decided to meet-up at the airport at 7pm and have dinner. It suddenly became a dinner with SgTripleS CMs and I got to see the gift for Kyu firsthand.
Since the dongsaengs (Lamerhui, Stacey and germx - three shiny ladies) have plans of having ice cream at the airport to welcome the Brown Eyed Girls's arrival, I told them that I'd drop by at Swensen's after my dinner. Well, it was just supposed to be me, Pris and Belle but it turned out that most of the gals went with us! It was such a happy meeting indeed, as we have to change tables twice because of our number.
Well after a very quick dessert, we pali, pali went to board our plane to bring us to Kimchi land. I right away dozed off after settling in my seat in preparation for what I know would be a very hectic schedule ahead.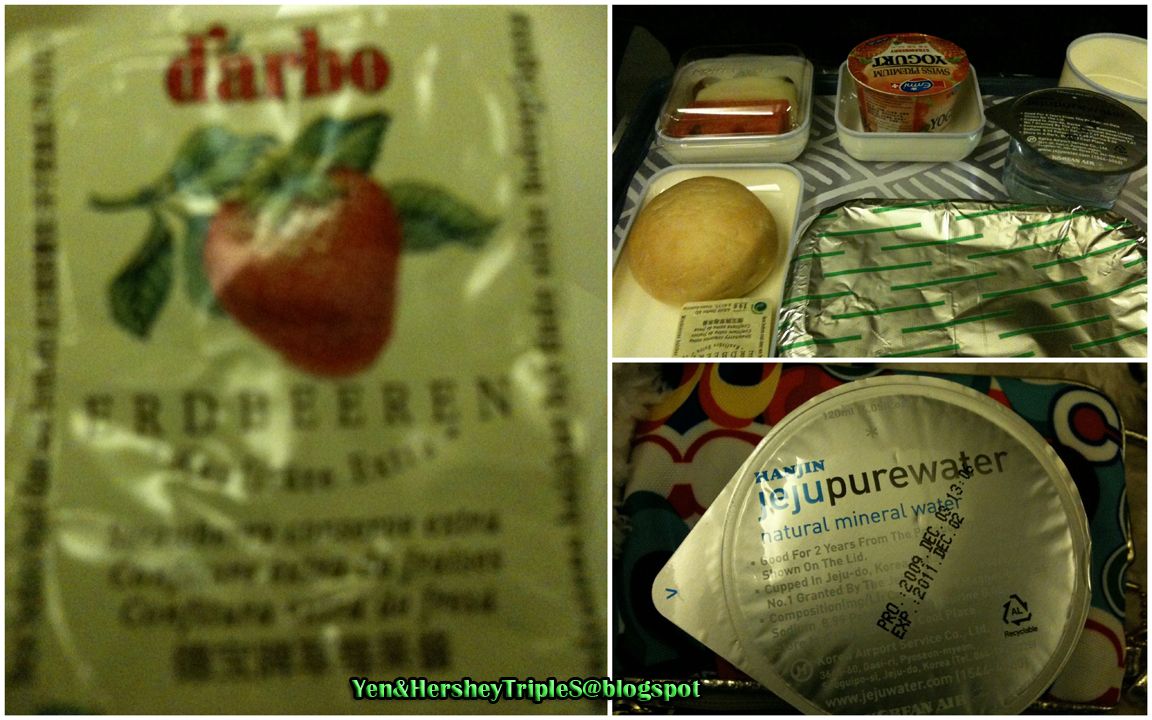 Would you believe that we were made to eat breakfast at 3am? And they were serving either bibimbap or sausage and egg. I chose the later, cause I'm not in the mood to mix food on my own at that early in the morning. Haiz! Why didn't I opened up the food for you all to see? So sorry these photos were taken using my iPhone, poor quality. Sausage is okay but it's so weird eating omelette with a soggy bread inside. I did ate that round bread on the side with the great tasting marmalade. Didn't finish it though 'coz on the marmalade's cover it said "
Strawberry conserve extra
".
Hahaha
I'd blame it to poor translation why I'm not satisfied with my food.
Upon touchdown, we went to the immigration, of course. Something odd happened to me at the immigration. It took awhile for me to stand there right in front of the immigration officer. He really scrutinized my passport photo and even made me to tuck my hair behind my ears. Made me wonder whether I have grown fat or slimmed down. Why suddenly don't I resemble my passport photo? Then it dawned on me that for this passport, I was so busy then that I had my photo taken using those instant photo booths, so no photoshop.
kekeke
After my photo, he then scrutinized the page with my Hong Kong trip stamps last December. Okay, now by that time I'm so anxious that made me recall what I put in my embarkation card. Amongst the choices for reason for coming to Korea, I chose sightseeing. Because I'd be watching SS501 boys and definitely they are a sight to behold.
Hee!
So I made it past immigration, they didn't think I'd be a nuisance and doesn't pose such a threat -
little did they know that I have evil plans for their kPop idols and more importantly to our fave boys
.
whakakakaka
Getting our luggage was a breeze, so our next mission was to get rental local handphones. I took one because I was afraid I'd be lost and it'll be cost-effective than use international roaming services. Then our Korean tour guide arrived and led us to our coach. Yes, that one with SS501 sign… And yes, it was a bit cold that morning…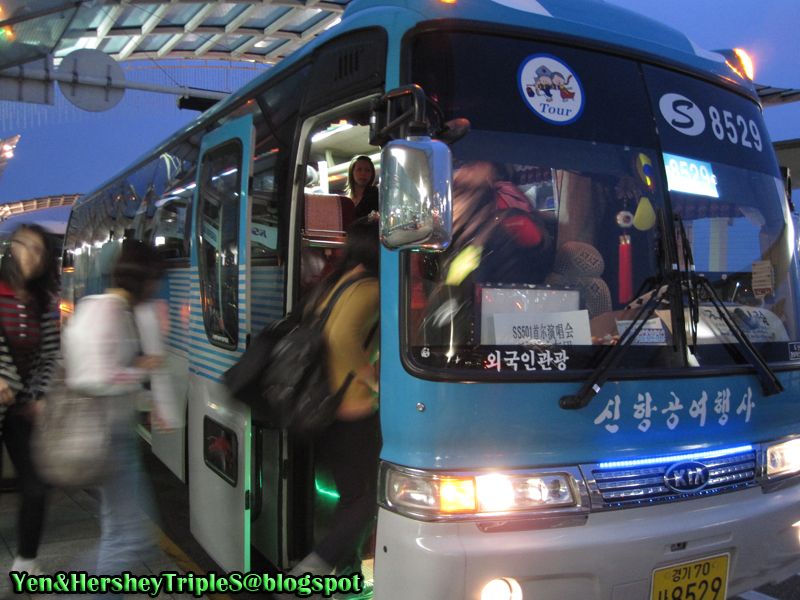 Travel from the airport to the hotel took some time, like 40 minutes or so. But as we cruise along, I tried to take a look outside to see some sights but it was bit foggy and there's really nothing to see but hills and some rice paddies (or what I think they are). It was early in the morning and yet were already caught in a slow traffic jam. I guess it's the morning rush, as it still is Friday then. Then I woke up Princess Unnie with my SMS that we have arrived safely in Seoul. I was about to dozed off again when the bus suddenly made a full stop and I guess we were already in our hotel. I couldn't understand the tour guide because she can't speak English and only speaks Mandarin. Poor Belle, she had to translate things for me.
Belle and I were already tired noonas when we got to the hotel and really wants to check-in earlier. With so much persistence, we were given a room which we have to pay separately for an extra day. While the rest of the group left their luggage at the concierge, we went up to our room with the SgTripleS gift for Kyu and the FCs banners -
had to guard these things properly, you now
. Up in our hotel room, I waited for the other unnies so that we can start our Seoul adventure.
Belle and I were kinda bored in the hotel room, so we turned on the television and flicked over the local channels. It is so amazing to see two ladies get excited over tv commercials. We decided to stay on the MTV station playing kPop, of course. As I was almost dozing off again in my bed, I got an SMS for Kadd Unnie that she has missed her stop and had to make a roundabout to get to our hotel. I said it's okay 'coz Unnie May isn't at the hotel yet anyway. I had a short nap again and then I finally got the call from May unnie to go to Chrislyn and Kadd's room. Being the cute and lovely dongsaeng - always following the elders
(whakakaka)
, I bid goodbye to my roomie and prepared for my first day in Seoul.
Oh, it was such a lovely morning to have finally met Chrislyn Unnie, though we were in the same flight. Mianhe, I have such a poor memory. Yes, it is always the four of us noonas together in those three days in Seoul. I felt like we're one family: me, the maknae; May, the mother; Kadd and Chrislyn are like my two teenage, love-crazed unnies.
(You'll get to know the reasons why I did the labeling later... or just simply observe and you'll find little hints in my narrations)
First agenda of the day is the DSP stop. But then, Unnie May said, "Aren't you ladies hungry?" It was almost 11am after all. Well, since Pris, Chrystal and Belle were also at the lobby that time, we decide to eat together and go to the nearest eating place we could find. We got the ginseng chicken recommendation from the hotel staff and off we go. It wasn't as cold as I expected it to be, but it really felt great to finally breathe in the Korean air… Ahh the same not-so-clean air that Leader and the rest of the boys breathe.
It was really just a short walk from the hotel to this dainty shop in the basement of a small building. To my surprise it was really going to be a Korean experience. The table we chose was in a raised platform and you have to take off your shoes. You have to eat the korean way - meaning no chairs but just very thin cushions - oh such a pain in the ass. None in the group can really converse in Korean and this ajumma tending the shop doesn't speak any other language, so it was like a chicken talking to a duck. Our saving grace is Chrystal's English-Korean dictionary. Well, we ordered ginseng chicken, of course and Kadd unnie ordered some rice wine.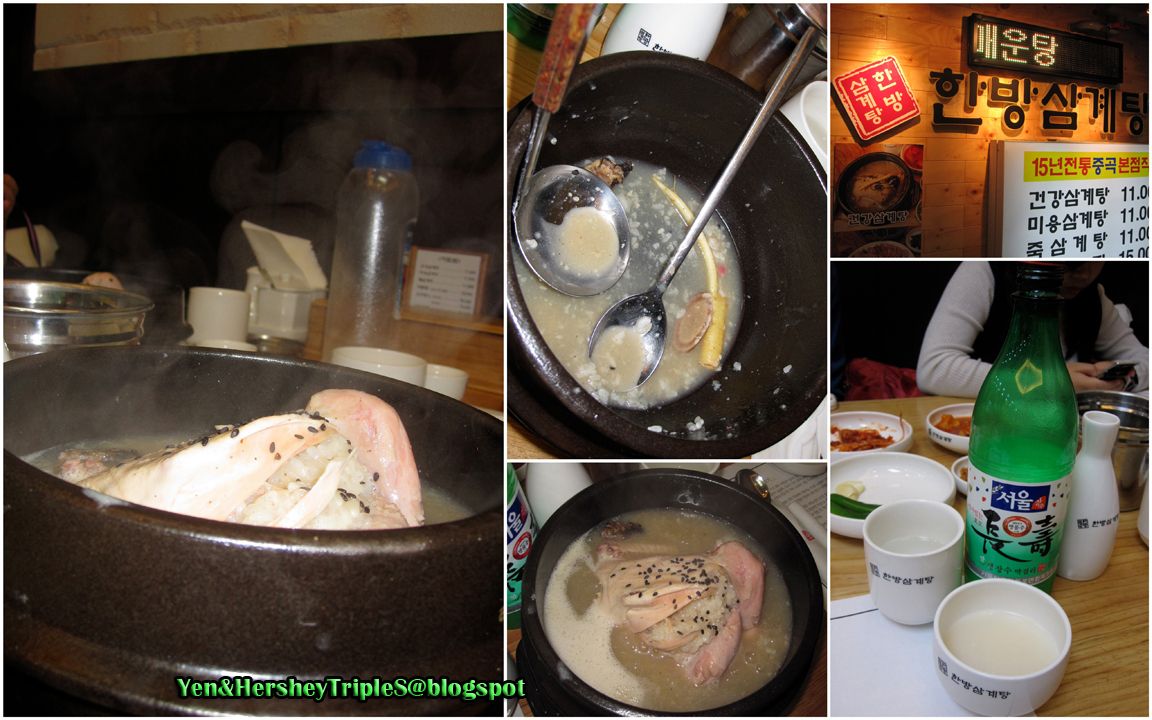 Look at the photo of the glasses with the bottle of wine. The white milky thing in the foreground is the rice wine, the other glass contains water - me so love the taste of water in Seoul, it tastes so sweet. I guess any other water tastes sweeter that NEWater
(kekekeke)
That thing that's sitting a little behind the rice wine bottle contains the ginseng wine. When the ajumma brought the ginseng wine, Kadd poured it into the little cups for everybody to drink. Others were really a bit apprehensive whether it was really meant to be drank just like that, but the old lady demonstrated with drinking signs, so we drank it. I don't know about the others, but I did finished mine at one go - like a tequilla shot. Hee! what a kick! I suddenly felt lightheaded.
Our chickens arrived piping hot! Can you see the soup boiling in the middle picture? How about the steam in the left photo? Well, since I'm sitting beside Kadd, we shared the pot. And since there are still some ginseng wine left, she poured it in our pot. Hee! me so happy. The chicken tastes nice and the rice stuffed inside it is delicious. Well, we finished our pot fast. See the empty bowl? But then come to think of it, I did share it with Kadd unnie.
We also finished the rice wine with Chrislyn. Okay, now I guess we have established that these noonas do drink. It's in the middle of the day having my brunch and I'm slightly intoxicated - I guess I am imbibing the Korean culture very well.
As we went outside, someone pointed out that there's another restaurant in the same basement selling ginseng chicken. It has more customers and looked more posh than from where we ate, but then we thought that we had a great one and it is more intimate 'coz we were the only customer inside. (kekeke) Well, so off we go to take a cab to DSP.
It is really nice to travel on a cab than on the subway because you'll get to see the life on the streets. It was such a pity that I was not really quick on my toes and didn't take photos of what I have seen. I can say that Seoul is an older city than Singapore. Buildings were older and I can bet that some of them were even erected in the seventies. Some of the pavements were also not maintained - I guess it really is harder to keep a larger city clean and nice. Singapore has its advantage of being small - it is so easy to keep track of things that need fixing.
I actually shared this in a previous post that on our way to DSP office we watched the Winter Olympic finals for the figure skating. Yes, it is Kim Yuna's event. And so every time the cab stops, the video image appears. We were so frustrated whenever the traffic lights turned green because we'll only get to hear the audio. I know we even asked the driver to just stop so we can watch her performance 'cause we're pretty sure he wants to watch it too. It felt like the entire city was at a standstill when the the queen of ice started to glide and did her backflips and jumps and whatever… I saw this guy by the side of the road, with his eyes glued on this phone and with a smile on his face. He was merely standing there under the sun and looking so happy, I bet my last Korean won that he was watching Kim Yuna at that very instant. Well, she won the gold and off we drove to DSP. I'm quite surprised when our cab pulled over in front of a small building beside some restaurant. Kadd said that we were already there. It was not something that I have expected. The building is small, the facade is small and there isn't a fancy lobby or even a guard in sight. I couldn't imagine SS501 boys dropping by this place for some meeting or contract signings.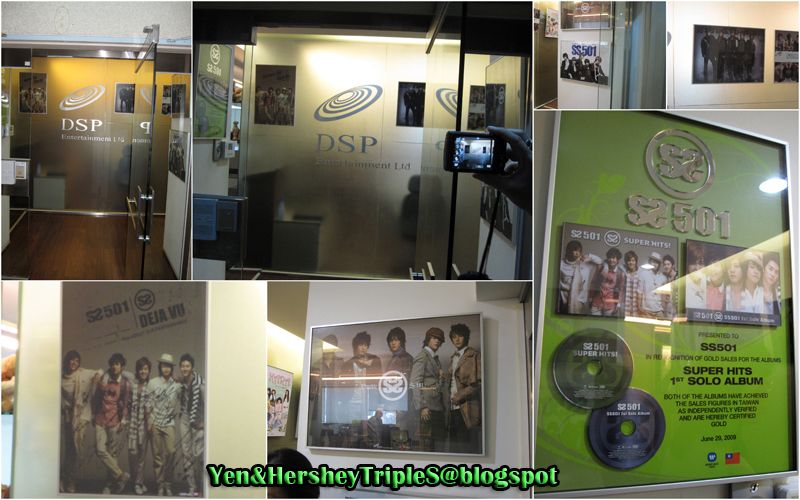 We took the small lift and I actually wondered out loud whether the five boys could fit inside together. But then I realized that they are slimmer than us - except May unnie, of course.
whekekekeke
So the office is on the third floor not the fifth. I'm actually nervous and felt shy, dunno why. So I just whipped out my camera and started snapping away, not daring to step in any closer. Unnie Kadd already went a little inside to pass our gifts for the boys. If unnie May didn't coax me to come in closer and have my picture taken with the DSP logo, I wouldn't really dare. The place felt like the holy ground for me. Then on the side, a little outside of the office entrance is a staircase wherein I saw a huge card - well, we TripleS know that the Malaysian FC actually prepared a very big card for Young Saeng on his previous birthday. I saw that card over at their site and I couldn't believe it that I am actually seeing their work of love with my very own eyes, right there in SS501 playground. The boys do really keep the gifts. The card really takes up a lot of space, but then it was given its very open place in the stairway landing. They could have just chunk it in the stock room, you know, but it was there for visitors and the boys to look at.
SS501 is really the biggest star for DSP right now. Their posters were right beside DSP logo and you don't even have to move in closer to see them. Well, there's one poster each of Kara, Rainbow and A'st1 (that band that was disbanded late last year). So we boarded our rented cab again and headed to the well-known Myeong Dong for some shopping!!!