Pls credit the sources and all translators/sites when reposting. Do not re-edit or hotlink the graphics.
Aigoo, I have almost forgotten to post this. Anyway, it is not yet complete. I guess this edition is one great addition to your collection. If you can get a chance to grab a copy, do so. Really big thanks to the MiniUFO who's always around hovering and giving love.
Credits to (mag scan) yy148@SS601 + (English translation) SS501UFO @ Planet Hyun
Please repost with full credit
Click on the images to enlarge.
[Cover]
Most beloved SS501 Special
The moment which remember SS501!
Special Report Pg 12
2nd half of 2009 was definitely Taiwan TS most happy and wonderful moment in their life,
Because SS501 whom they have been yearning by day and dream by the night,
Just like their dream angels decending to earth, have personally visited Taiwan frequently,
On June, meeting them in person in the fan meeting in the same room,
On October, Asia Tour Taipei Concert,
Those were the momemt which all TS's dream came true.
And causing you wanted to scream is~
June 2010, they will return to Taiwan.....
[Mini UFO note: As this magazine was published before the news were release, in actual fact, only Jung Min & Hyung Jun will be going to Taiwan]
[Special Report Pg 13 & 14]
Remembering the moment you love SS501
Whether is attracted by the SS501 who are charming, unpretentious and innocent look, or knowing SS501 starting from 'Boys over Flowers' , after being succumbed by SS501's charm, very few could escape~
All directional artist SS501, other than being singer, at the same time also holding on to many roles, like host, radio DJ, actor and other multiple roles, actively participating in the entertainment circle. They even hold large scale fan meeting and also countrywide concert, accumulating high popularity.
But this all directional SS501 made the Taiwan fans having a hard time loving them, they have to put in a lot of effect in order to get information about them. Only until year 2009, Taiwan fans seems to be bestowed by God, music record company started to bring in SS501 album, fan meeting, concert were being held to their amazed. SS501's relationship with Taiwan's fan have finally getting closer in split moment with a big leap.
Because of this, TRENDY has also formed an undissolvable bond with SS501, 'TRENDY Idol Magazine' which has been planned for a long time, started their first issue, and was most fortunate to become the first media which SS501 agreed to have their exclusive interview appointment during their first time in Taiwan. SS501 also become 'TRENDY Idol Magazine' first official cover character!
TRENDY and SS501's origin, seem to have started from the moment they came to Taiwan, whatever hilarious words and exceptional move which was not covered, TRENDY little follower will fill them in for Taiwan TS. We have even followed SS501 around all region in Asia. Just because of that, when TRENDY turned 1 years old, we have specailly planned this special edition, hoping to allow everybody to receive even more information about all the effort SS501 has put in along their journey.
[Green Box]
Starter Knowledge of SS501
SS501 Mini Dictionary
SS501 Double S O-Kong-il
Debut on Jun 6 2005.
Members:
Kim Hyun Joong, Heo Young Saeng, Kim Kyu Jong, Park Jung Min, Kim Hyung Jun
Group Name Pronunciation:
Double-S-5-0-1
Meaning of group name:
First S has the future intention which representats the Sun, Super Star,
The other S represents Singer, Sing a Song
501 represents 5 of them will always united to become one
5 = 5 members
0 = Forever, Infinite
1 = One body, No. 1, Uniquely one
Fans:
Triple S (SSS), short form TS, the first 2 S represent SS501, and the 3rd represent Support
Representation colour
Peppermint green. Because of the peppermint green ballon that are used during supporting, make SS501 felt that they look like peas when looking down from the stage, so they also like to call their fans as green peas ('kong') or Pea Princess.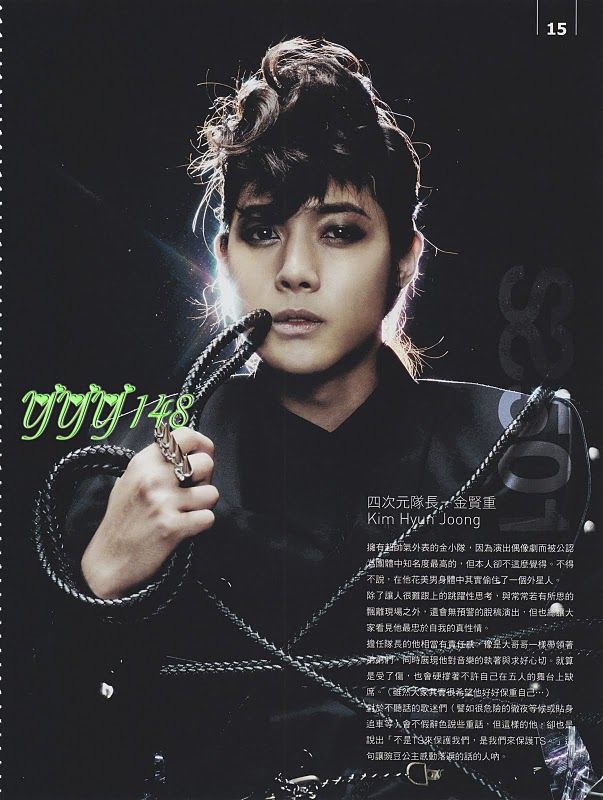 4 Dimension Leader - Kim Hyun Joong
Having superbly charming looked's Leader Kim, is well known for having the highest popularity in his group due to acting in idol drama, but he himself doesn't think like this. Can't help to say, living in this beauty boy's body, there actually resides an alien. Other than his leaping style thoughts which made others having difficulties to catch his meaning, and also he will often go into deep thoughts until floating out of the location. In addition to it, without any pre-warning, he will even do something which is out of the given script. However, from these, everybody would be able to see his truth character which is loyal to self.
As a leader he is very responsible, leading his younger brothers like a big brother. At the same time, showing his perseverance and perfectionism towards music. Even when he was hurt, he will hold on and force himself to not absent in the 5 men stage. (Although everybody actually wish that he take good care of himself...)
Towards fans who are not obedient (For example doing dangerous act like waiting overnight and chasing after their transport in close contact) he will show a stern face and said some strong words. However, a person like him, can also blurted out words like 'It is not TS protecting us, but we protecting TS' This sentence has made the pea princess touch and cry.
Shy Prince - Heo Young Saeng
Being nickedname as little otter's Young Saeng, is the most shy among SS501. Also because of his character which do not mix well with strangers, in most of the interview he was the one which spoke the least. But a person like him, is well known for having the most beautiful voice, almost all of the higher notes part (main part) of their songs were sung by him. Owning a clear eye's expression and also clean smile's Young Saeng, most often would be seen lowering down his head and smile, once in a while, he would also showed the playful look by pouting his face, also when playing his favourite music on piano he immerse in deep feelings, he is a shy prince who will always let people see his look of happiness.
Eternity Center - Kim Kyu Jong
Always steady and gentle, among SS501, most of the time, he is always standing at the side which do not favor any party and using a neutral perception to take care of the other members.
This Mr. Yes who has the tamest character, has another side who loves teddy bears. Most of the time he is a gentle and obedient big boy, even his members who is together with him all the time mentioned that seems like they had never seen him throwing a temper. Don't talk a lot, always fighting for the trophy of least words with Prince Young Saeng in the team (wish to tell them actually there's no such trophy). Everytime when met with some embarassing incident, he will cover his face, looking pure and lovely. At the same time, he is very talented in magic and also being comical.
Cute Maknae - Kim Hyung Jun
The youngest Hyung Jun, is said to be the world's well known spoilt king. When happy, he will even ask for bobo (kiss) from other members, full of youthfulness and energetic. Most like to quarrel together with Jung Min, Tom Cat and Jerry Mouse war will be on air all the time.
Hyung Jun who always being care and 'discipline with love' by his elder brothers, is like a loveable child that never grows up. He who is very respect of leader Hyun Joong, even openly revealed in programs that he wish he could rebirth as Hyun Joong, even thought he was being seriously put down by Hyun Joong. Also Hyun Joong has once complained openly before that Hyung Jun actually love to act like a spoil kid, too extreem until not like a normal person, but unintentionally in his words and action, he still showed his care and concern towards him. Only can say, in the universe who could beat this SS501 Maknae Hyung Jun who has exceptional attractive smile?
Sexy Charisma - Park Jung Min
Park Mal is really a typical Aries boy. This willful, unreasonable and naggy child, owns confidence from unknown origin, keep loving to praise himself, being mocked by other members for contracting 'prince sickness', he is even well known as the terrorist among the members.
However, his thoughtfulness towards the TS can be obviously seen, when he was in Taiwan, it was believed that those vicious legends were dissolved by this friendly Mal's loveable smile and possionate fan service. Even make the pea princess secretly 'climb over wall' (Laugh). Acutually, he who has a sensitive nature, only loves to show off a strong front by lips, on the surface seems to be bullying people, but actually this is his style of showing his care and love towards the other members. Always doesn't care about his image just in order to heat up the atmosphere, therefore, places with him are mostly full of bustles. Wish that Park Sexy Charima will happily present to TS even more sexy style and loveable smile and also his professional selca!
[Pg 21]
2010
November
Asia Tour Shanghai Stop
4th The 1st Asia Tour Persona - Shanghai Stop.
SS501 won 1st in Korea KBS 'Music Bank' for 'Love Like This'.
SS501 won 1st in Korea SBS 'Inkigayo' for 'Love Like This'.
'Because I am stupid' won 2009 Mnet Asia Music Awards OST Prize.
Korea music websites survey, selected as Most suitable group for filming mobile CF.
December
Asia Tour Hong Kong Stop
12th The 1st Asia Tour Persona - Hong Kong Stop
Yahoo Korea, Yahoo Taiwan, Yahoo Hongkong jointly held the '2009 Yahoo Asia Popularity Award', SS501 won the name for Asia Best Group, Kim Hyun Joong won Asia Most Popular Male Artist, and also voted by Taiwan netizen as the Best Korean Star; also voted by Korean netizen as the Best Male Artist.
In the Hongkong 'Yahoo! Search engine popularity award 2009, won Best Asia Group Award.
January
Jung Min acting skill was recognized
Park Jung Min won '2009 Golden Ticket Award' - Most Anticipated Artist
[Note: The chinese translation is as above, the actual prize he won was 'Musical New Talent' award.]
February
Asia Tour Concert Officially ended
The 1st Asia Tour Persona - Thailand Stop
SS501 won No. 1 Most activities appearance award in MBC Music Core.
[Note: It was presented in the Music Core 200th Special on 20 Feb - SS501 has a total appearance of 48 times.]
27th & 28th The Asia Tour Persona Encore Concert
April
Surprised to see Park Mal in Taipei
Kim Hyun Joong attended the Seoul Fashion Week.
Park Jung Miin appeared in Taipei Arena to watch Harlem Yu's concert.
May
Brand new SS501 appeared
To commemorate 501 day, releasing their new album looks in their official website at 00:00.
SS501 confirmed attending the Musical Award in June.
Kim Hyun Joong met with accident, hurt his ribs.
Attending 2010 Korea Dream Concert, Leader Hyun Joong participated despite his injury.
Jung Min turned into Business Man, Royal Ave physical store presenting a clean and sturdy style.
Officially released New Mini Album 'Destination', and held their fan meeting in Seoul.
To Be Continued...........