Pls credit the sources and all translators/sites when reposting. Do not re-edit or hotlink the graphics.
Credits to star.mt.co.kr + (English translation) ode@ss501ode.blogspot.com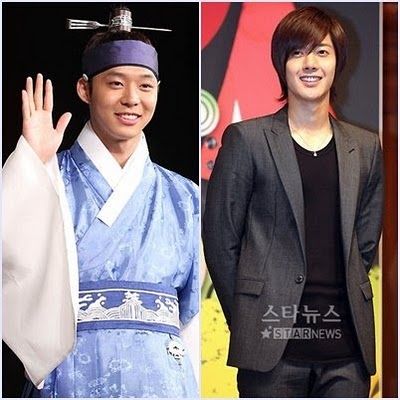 'Actor Idols' Kim Hyun Joong and Micky Yoochun are both receiving attention inside and out with their poor drama ratings for the latter half year that couldn't manage to drive people crazy with their initial anticipation.
SS501 member Kim Hyun Joong who had successfully advanced as an actor through last year's KBS Boys over Flowers has returned to the local TV scene on 1st September with MBC new Wed-Thurs drama Playful Kiss.
DBSG member Micky Yoochun has also begun developing his performance in his first KBS 2TV drama 'Sungkyunkwan Scandal' last August 30.
Kim Hyun Joong and Micky Yoochun have both been receiving attention before their local TV drama battle began its first broadcast. Both of them belong to idol groups and receives love from not just domestic fans but also international wide. It is a fact that both of them created buzz and anticipation for their TV drama battle this time round.
Both Kim Hyun Joong and Micky Yoochun who began as idol group members and are now challenging a new status as an actor star in pure dramas that target towards the teenage males and females of the 10s generation, and it is expected that these two will contribute to the power of this 'actor-idol' syndrome that's heating itself up slowly.
According to AGB Nilson Media Research, 'Playful Kiss' recorded ratings for its first episode as 3.5%, while Yoon Siyun and Lee Young Ah's KBS 2TV 'Baker king Kim Tak Goo' recorded ratings as 44.0%; Shin Minah and Lee Seunggi's 'My girlfriend is Gumiho' with 11.9% ratings.
'Sungkyunkwan Scandal' 1st episode's drama ratings was 6.3%. While on that same day (30 August) at the same time slot, MBC's 'Dongi' recorded ratings of 27.3%, while SBS 'Giant' recorded ratings of 20.9%.
Of course, because Playful Kiss and Sungkyunkwan Scandal are targeting towards the female audiences of the 10s generation, it has been receiving hot concern. That's for sure since it stars male idols. Both Kim Hyun Joong and Micky Yoochun managed to pass the passing mark with their natural side shown in terms of acting. But in terms of ratings, they are going through an ordeal with both their dramas taking the lead in the same timeslot as they set forth their first bitter-sour step.
Though he is no 'actor idol', Lee Seung Gi who is currently active as the singer and variety programme MC of the new generation, he records drama ratings of 10% and around for his drama 'My girlfriend is a Gumiho' as he also receives praises for his acting. In terms of results shown, he indeed is on the side of advantage as compared to 'actor idols' Kim Hyun Joong and Micky Yoochun.
In this period of time where idol group members are feverishly transforming into 'actor idols', the concern of showbiz personnels could be seen. Because these idol stars did not yet receive verification for their acting as they are casted in dramas only for their fame and popularity which reveals skepticism from people.
A related drama company PD, "In the case of actor-idols, because of their star quality, in terms of buzz and topic, it's a fact that it creates a huge bout of attraction. And exactly because of that, it has already recorded itself in a high position up there due to casting buzz".
However this PD also further expressed on, "In terms of actor-idols who are unable to get recognition for their acting, if they want to achieve landslide victory, even their huge star factor would not be able to add on more power. Though this is commonly felt so too by all showbiz personnels, in this generation where star casting is a on-the-go, it is expected that actor-idols would continue to flourish ahead in showbiz".
Last but not least, "Should actor-idols possess both the star factor AND acting skills, the highest synergy effect would then be achieved by itself. And that's when actor-idols' hard work gets truly paid off".