Pls credit the sources and all translators/sites when reposting. Do not re-edit or hotlink the graphics.
Credits to entertainment.xin.msn.com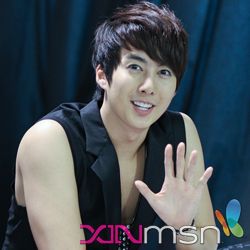 The youngest member of Korean pop group SS501 wants fans to acknowledge his new side
"I'm a man," declared Kim Hyung Jun, in succinct Korean accented English, during an interview with xinmsn last weekend.
The young idol star was in town for his music showcase on Sunday at Republic Polytechnic. This also marks Hyung Jun's debut appearance as a soloist in Singapore, after having left his previous management company when his contract ended in June.
Affectionately known as "Baby" amongst his fans, Hyung Jun had just turned 22 Aug 3.
But the good-looking lad is already eager to shed his baby image, earnestly telling reporters that he no longer wants to be called cute.
"I have been okay with fans calling me cute only up to last year. This year, I've changed my mind. I'd prefer to hear that I'm handsome or manly."
And as if to prove his desire to turn macho, the "baby" promptly clam his fists tightly, explaining that he had been working out and watching dramas to emulate the actors' mature charisma.
The singer also admitted to having a liking for kissing scenes, which he claims to be a show of "manliness".
But, when probed about his thoughts on trying out kissing scenes in future acting projects, Hyung Jun's reaction hinted obvious signs of his young age.
"Kissing scenes? I'm too shy!" said the star sheepishly.
"But no matter what character or part I play, I'll give it my all. After all, that's only acting," he added.
And he did indeed give it his all at his showcase last Sunday.
Dazzling the crowd with upbeat tunes Girls, Mars Men, Venus Women and I AM, ecstatic fan girls were entertained by Hyung Jun's cheeky display of English and jokes.
But the one looming question in the minds of fans was still the state of SS501. Will the five-year pop boy group disband?
"We are still together, and maintain a good relationship. If possible, we would like a reunion on stage soon. We are still preparing for our future group activities despite being involved in our solo careers," assured the idol.
Yet, he does have his fare share of 'grouches' about fellow SS501 leader, Kim Hyun Joong, who was absent from the 'baby's' birthday fan meet event in Korea.
"Hyung Joong can be quite absentminded; he forgets a lot of important matters. Even though he's far away and busy with work, I believe he has best wishes for me in his heart," said the star.
Did the leader send any presents then?
"There was no presents (from Hyun Joong), this is not the first time (it has happened), I'm already used to it," Hyung Jun sighed.
The playful star went on to berate the leader, "Bad boy, leader bad!" he childishly joked in English, stifling laughter.
It seems that the "Baby" in Hyun Jun is still around after all!