Credits to NowNews + (English translation) Only Jun (kimhyungjun.net)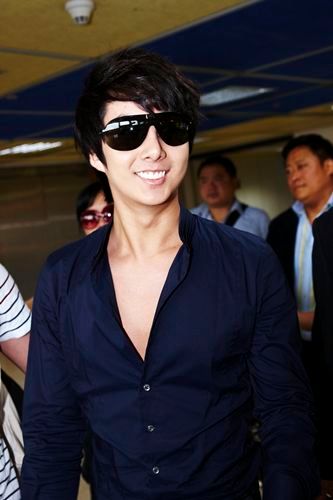 SS501 Kim Hyung Jun has successfully returned to Korea! When he was leaving Taiwan yesterday afternoon, there were approximately 200 passionate fans present to send him off. Fans were passionate and lively when sending him off.
On the night of the fan meeting on 24th, after Kim Hyung Jun enjoyed his celebration dinner at Chan Shou (Long Live) Korean Restaurant, he even went to have a taste of foot massage for the firs time with his Korean staff at 2am midnight, returning to the hotel only at 5 in the morning.
Credits to UDN.com + (English translation) Only Jun (kimhyungjun.net)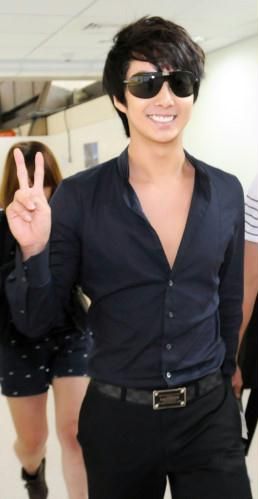 Kim Hyung Jun left Taiwan, Pea Princesses Reluctant
SS501 Magnae Kim Hyung Jun left Taiwan yesterday, attracted more than 200 Pea Princesses (SS501 fans' nickname) to send him off, Kim Hyung Jun slowed down his pace intentionally, shook hands with fans friendly, and even accepted fans' gifts.
Kim hyung Jun successfully had his [I AM SS501 Kim Hyung Jun! Taipei Fan Meeting] at Taiwan NUS Sports Center on the 24th, spending time happily with 1600 Pea Princesses. Besides having a Korean BBQ as celebration dinner, Kim Hyung Jun even went out in the midnight for his first foot massage experience, and with regards to this first experience, Kim Hyung Jun expressed that he is "super happy."
What surprises Kim Hyung Jun the most is, when he was in Taiwan, fans even brought along the fake version of [Kim Choco] while following him around, hence making him feel as though his pet is always by his side; His schedule in Taiwan remains fully packed, with regards to not being able to visit Taipei 101, Kim Hyung Jun smilingly said that, "Unable to visit Taipei 101 this time, will go next time, would definitely have a chance one day to shop." After returning to Korea, Kim Hyung Jun would be busy preparing for the musical [Café-In].