Hyun Joong was spotted yesterday at Incheon airport taking a flight going to Beijing, China. Today, fans got wind that he checked out from his hotel early morning and flew back to Seoul. Here are fan accounts and videos.
Credits to (reposted by) leiruiw @ abide (no mention of the author) + (English translation) Wonderrrgirl @ lovekimhyunjoong.com
Met Kim Hyun Joong at Incheon Airport departure Hall
2010/10/20 Going to Korea for a free & easy trip with my high school friends.
5 days 4 nights
Returning flight 2010/10/24, afternoon, at Incheon airport, I met Kim Hyun Joong
It's not at the grand lobby, instead it's at the passengers terminal beside the provisions store.
He seems to be here to catch a flight
Korea Air 10/24 KE855 from Seoul to Beijing 11:35am flight
At first, we are supposed to go to counter 28 to apply for a tax refund.
Who would have thought that my friend stopped me.
She said there is a very tall very handsome man who looks like Kim Hyun Joong, asked me to proceed over to take a look.
Who would have thought
With a closer look, that handsome backview indeed! It is my beloved Kim Hyun Joong
He is moving towards the seats near counter 28 to sit.
With him there is a male manager, a female manager and a body guard.
When he walked past me
I, who stands at 170cm, even felt that Hyun Joong is really tall in person.
He is wearing a black coat, with black jeans and black boots.
On his hand, he is carrying the "LV" male bag and wearing his earpieces, walking by.
Simply way too ~~~handsome~~~ What's with wearing all black, even so how did he still manage to shine so brightly
The real him is so handsome this time he didn't wear his black shades.
Once I saw him taking a seat, I immediately moved to the seat behind him.
Because I have learnt a bit of Korean, I first asked his female manager if I could take a photo with him.
She said no.
Then, I don't want to run to the front of Hyun Joong to snap a picture it will scare him (He is playing iPAD)
So I just took a video first.
Me, who is sitting behind him gathered up my courage to ask him for an autograph.
Finally, after the male manager considered for a while, he tapped Hyun Joong.
Hyun Joong then signed his signature for me ~
Credits to vivavivavita
Credits to www.wretch.cc/blog/vita1/6491779 + (English translation) Wonderrrgirl @ lovekimhyunjoong.com
This time round, I said 사인 주세요 개미예요 (Please help me sign, it's gae-mi(ant))
(my chinese name when translated over to Korean means 'ant')
He was confused for a moment, even let out an "eh?" sound.
Then, the manager beside him said it's a name. (I should have said my name is gae-mi)
Hyun Joong then realised what it means...
After signing, he coolly returned me back the paper. I was completely blank out, my hands shaking.
Because of him I learnt Korean, but I didn't show it off properly~~ he already put his earpieces back.
Totally cool, I dare not do anything else either because I'm afraid the more I say, the more wrong I'll committ ~~~~~
Then I returned to my seat and continue to film the back of his head.
Because he really signed it very quickly, I was too embarrassed to ask him to sign another.
The manager kept a close watch at the side
Later on my friend also wanted another signature, so she ran over to ask another time.
The female manager smiled helplessly but still asked Hyun Joong to sign.
The male manager even took the initiative to ask my friend what is her name.
They sat there about 5 minutes and left. Not sure if they left to board the plane or are afraid that we will make a big fuss there.
But the important point is.......
When our Hyun Joong stood up, he turned around to look at us before he left.
Oh my!!! At that moment I was bending my head looking at the camera~~ stupid me
When I lifted up my head he has already left ~~~~~~~~~~ I want to cry myself to death
Only my friend managed to catch his eye, not me~~ woo.......
When I'm calm again and my hands stopped shaking, I just remembered that it's okay if I can't take a photo with him.
Why didn't I shake his hand when I asked for the signature?????????
I want to TOUCH TOUCH TOUCH TOUCH TOUCH TOUCH TOUCH Hyun Joong's hand!!!
This is already the second time I accidentally met Hyun Joong from a short distance.
Arriving back at Incheon
Credits to YESYES + (reposted from_ HYUNJOONGCHINA + lovekimhyunjoong.com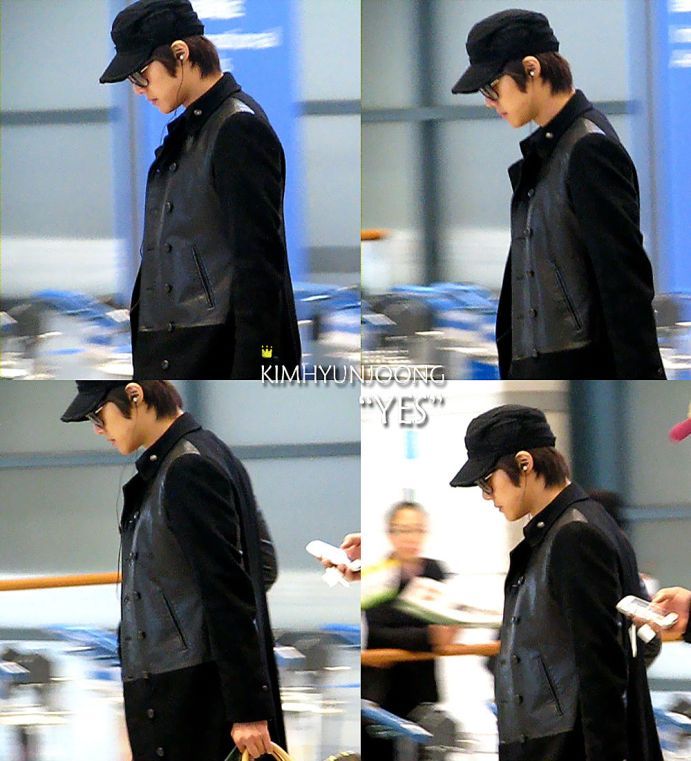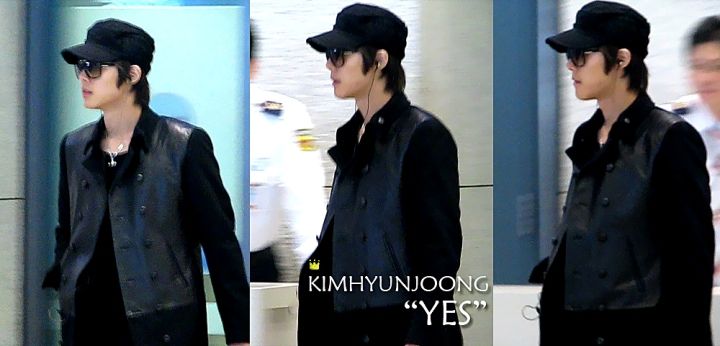 Credits to yes + http://cozy729.egloos.com + jeabloverKhj
Credits to S2rene for sharing at Twitter