Credits to The Liberty Times + (English translation) Only Jun (kimhyungjun.net)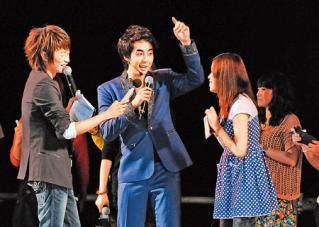 SS501 Magnae Kim Hyung Jun had his Fan Meeting on the 24th at Taiwan NUS Sports Center, when he was playing the game [Love Fate Held By A Thread], he had to pick [The Person Whom You Wish to Shop With at 101?] from a series of posters with only eyes being revealed. In the end, he picked Hwang Xiao Hu (Taiwanese female singer), petrifying him till his legs turned wobbly, "Just by looking at the eyes, I thought she is Park Jung Min." Luckily, for his [Ideal Marriage Partner], he didn't make any mistakes and chose Jolin Tsai.
He opened the show with the lively song "I AM", looking handsome and stylish with the navy blue suit he was wearing. Besides showing off his Mandarin ability, he even blurted "Ba Tou Yao" (i.e. I'm hungry"), amusing everyone immensely. Interacting with fans at such close distance, playing games without any restrictions, he even exposed the craziest thing he has ever done, "Young Saeng, Kyu Jong and I rode our bicycles for 30km in Japan, in the end, Only Young Saeng did not slim down."
In order to get a chance to have a [Love Hug] with him, fans were competing to see who could shout the loudest "Hyung Jun, I love you!" The loudest lucky winner who has her voice turned hoarse was fully satisfied even though she had only herself a 10second hug. When it has all ended, he was moved to tears by his fans. He would be leaving Taiwan with flight KE692.