Pls credit this site when reposting. Do not re-edit or hotlink the graphics

.
I promised that I will post the next part the soonest possible, but work caught up on me. Anyway, I know you're anxious to see those photos I have taken during the first night.
Credits to yenhersheytriples.blogspot.com
Click on the images to enlarge.
Day 2 in Seoul and I woke up early because we have a call time at 9am at the hotel's lobby to get our concert tickets. I prepared a lighter jacket because the previous day it wasn't that cold enough. I went down with Belle and brought along copies of photos that I have taken from the HK Persona concert to distribute to SgTripleS girls. Belle on the other hand has prepared bookmarks with the boy's photos from the Rebirth promos - I got one whole set. Hee! We also brought along the SgTriple banners, yeah we still are the guardians of those banners - one of which got the boys' signatures. If I had the gall, I could have hidden it in my luggage and told them that it got stolen but I'm such a good girl and a very loyal member. Anyways, that banner is very memorable to me and you'll get to know about it later.
The hotel lobby is packed with TripleS and they're not from Singapore. Singapore ladies take their sweet time to prepare and most of the girls down there are Taiwan Triples. Well, Belle and I still took out our goodies because we wanna share. And oh boy! I got a quick scare. They were practically like a pack of birds of prey swooping in on us. I was so nice at first letting them pick the photos, but then with so much hands grabbing, I simply wanted to throw the pictures up in the air and let them scramble. But then I'm still so nice and let them harass me some more. kekeke Of course, Leader's pictures were never returned. I got Kyu photos returned but then got some who actually requested for him. Then I was told that coach tour will pick up the group soon for some sight-seeing and then straight to the concert venue. I was like, what? No coming back at the hotel? Must lug around my heavy camera all over town? So I pali, pali went back up to our room to prepare my things and decided to change my coat because it has gotten colder that morning - felt the coldness from outside whenever the hotel's main door swung open.
Up in our hotel room, I've realized that I'm not going with the tour group (kekeke). So I took my sweet time and went down to Chrislyn and Kadd's room instead because that is like the headquarters for the 4 noonas. Little did I remember that other members of the group, such as my roomie Belle, are waiting for me. I gave them a scare 'cause I they can't find me, forgot to tell them that I ain't joing the tour. kekeke Me a bad person. But then all things were settled after they tried to reached me through my Seoul handphone. We really don't have much plan on that day except to do some shopping, so we had breakfast at a nearby cafe first. ** faceplam** Sorry, I have such a poor memory that I can't remember name of the cafe and to think that we went there twice! I knew I took pictures but I can't find them in my camera, so I guess it is on May's camera, so go to her trip report, yah?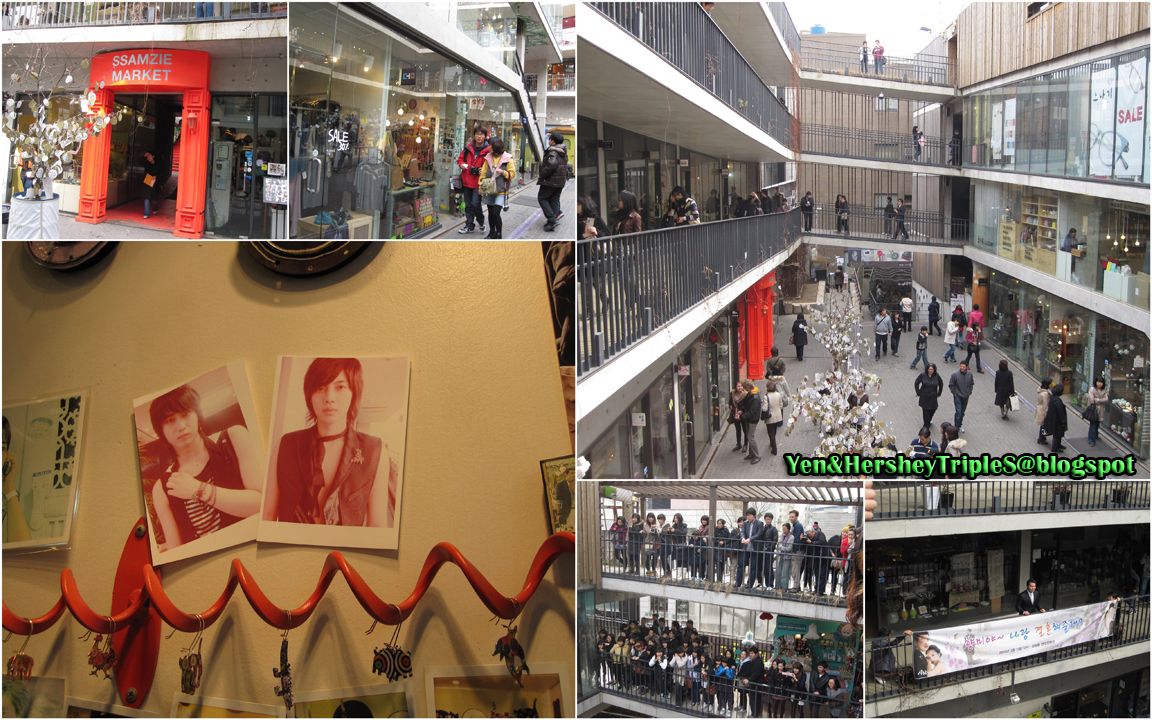 We went to Ssamziegil Market in Insa-dong. Insa-dong is like a cultural place and arts fartsy and Ssamziegil is the epitome of the place. May brought the Beetle Map and somehow it was very helpful for us, but still we have to ask some local girl though 'cause we went to the wrong direction. Ladies really don't know how to read maps, but luckily we aren't ashamed of asking directions. The market's architecture is amazing for shoppers 'cause you won't feel tired and will not even realized that you have covered the entire place. Look at the top right photo. Nope the picture isn't wonky. It is a building but you'd feel like you're walking on a street of shops after shops. All the floors are connected like a spiral. Most shops there sell their own creations and we chanced upon an accessory shop wherein they have photos of celebrities who have worn their products. And yes, Young Saeng and Hyun Joong wore their creation in their early days. This place is packed with people and there are a lot of activities going on. There was even some sort of commotion when we were there, as I saw this guy in a suit standing behind a banner with bridal pictures on it. Could he be making a wedding announcement or still on the verge of making a proposal? I can't find the girl, though - she was probably hiding in one of the shops red in embarrassment. We ate tteokbokki and fish cake again at the rooftop and that is considered our lunch. After hours of going through some nice and cute Seoul products, we decided to go back to the hotel and prepare our trip to watch another set of cute "Seoul products": SS501, of course.
Concert will start at 7pm and we wanted to buy from the SendMall booth so we planned to be at the venue by 5pm. Once we got to the hotel, we just dumped our things and changed for concert clothes and prepared our things. While at Ssamziegil, we got a message from the tour group that they were told that photo taking and video recording are strictly prohibited at the concert and anyone caught doing will be dragged out of the venue. Scared! And so I dismantled my camera and separated them properly and shoved them inside two black beanies and placed them carefully inside a black bag so that security won't notice them. Hahaha! you thought I could be hindered by that SMS? I even asked Unnie Kadd to let me put inside as a cover the chupa chups bag of lollies, which will be thrown at the concert for the boys to pickup. The train ride from the hotel to the Olympic Park was a long one. We got seats so I managed to take some zzz time to save energy for the concert up ahead. When we got off from the train, we really don't have any idea which exit to go through, but then decided to follow the throng of young girls and boys - most probably SS501 and SNSD concert goers.
SendMall has already closed and there's already a queue for standing ticket holders, so I pali went to find my place in the queue (so that is why there's a number in the standing ticket!). I put on SgTripleS FC tee while on queue. Did I make a scene? Nope because I just slip it on top of a black turtleneck shirt. Well, I was also given a pink bracelet - probably just to tag us that we are on section D. So we entered the concert venue and surprised that there are no security checks done on the bags. Okay, big camera already inside the venue - me very happy indeed. SgTripleS decided to occupy the very far end of section D so that we aren't pressed in front with the rest. We are, of course, on a mission to spread the banner for the boys to see. It would be uncool if you do that and there are still people watching behind you. The standing section isn't packed and just nice to move around which is very good. But then we noticed that the seating section isn't filling up fast as we have expected. As the start of the concert is getting near, it seemed so unnerving to see empty seats. I took out my little ixus camera and tried to take photos of FC members but then I was so nervous at that time - I really don't know why - that the photos were blurry 'coz my hand was shaking a bit.
Kadd and I are both carrying DSLR cameras and the FC member knew about it. So while waiting for the concert to start we put our cameras together and prepared to have them ready and tried so hard to conceal them. We felt like unwelcome paparazzi photogs. Every now and then you'd hear screams and see some commotions at the seating area as celebrity guests have started to trickle in. Five minutes before the concert, we heard a voice saying something in Korean, of course. I just assumed he said something like it was about to start. It was then followed by Japanese and surprisingly he said two words I know, "START" and "SOON". He was blabbering for a long time and the English translation was just "Start. Soon."
Let me tell you about this little area we are in first. So we are at the standing section, the platforms aren't really too high that I can see the main stage properly unlike in Hong Kong wherein you really have to rely too much on the big screens. Between the stage and us, there is this some sort of gate of about 4 feet high and the distance of this gate is about lest than 2 feet from the stage. The gap is big enough for someone to walk in. We noticed some tall guy in a suit with those things plugged in his ears. We called him the Man in Black. We pretty much deduced that we was there to catch those who take photos and videos and so we have our eyes on him. It wasn't also just him on that area to do the dirty job, but he have minions in neon green; they looked younger and have a less stern look. We also do keep a look out for them.
The lights dimmed and the crowd screamed my heart started to thump then the sound blasted from the speakers and I could hear the voice chanting double ass Five - Oh - One and fireworks zipping across the stadium. Everybody were practically jumping and screaming. I turned on my lightstick - it was just for cover you know - and waved! It was so dark that I braved to take photos. I was just clicking away and didn't bothered to check whether I got good shots. No time to practice with the lights on you see, so I was really not so satisfied with the photos I have taken.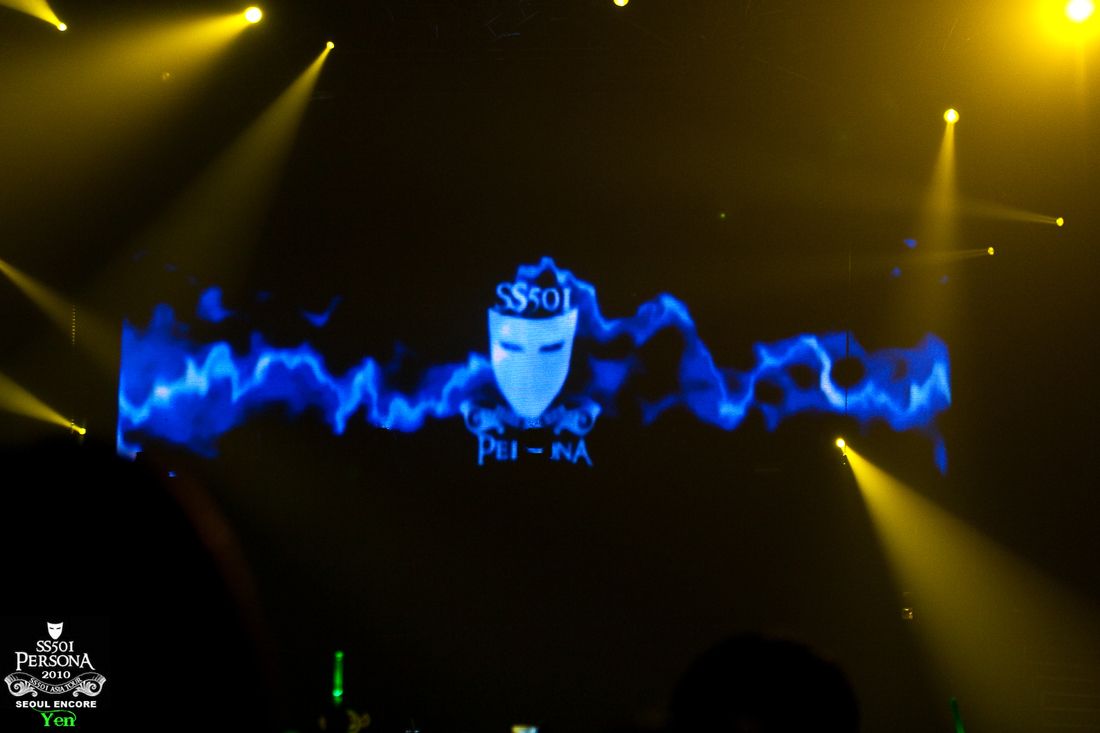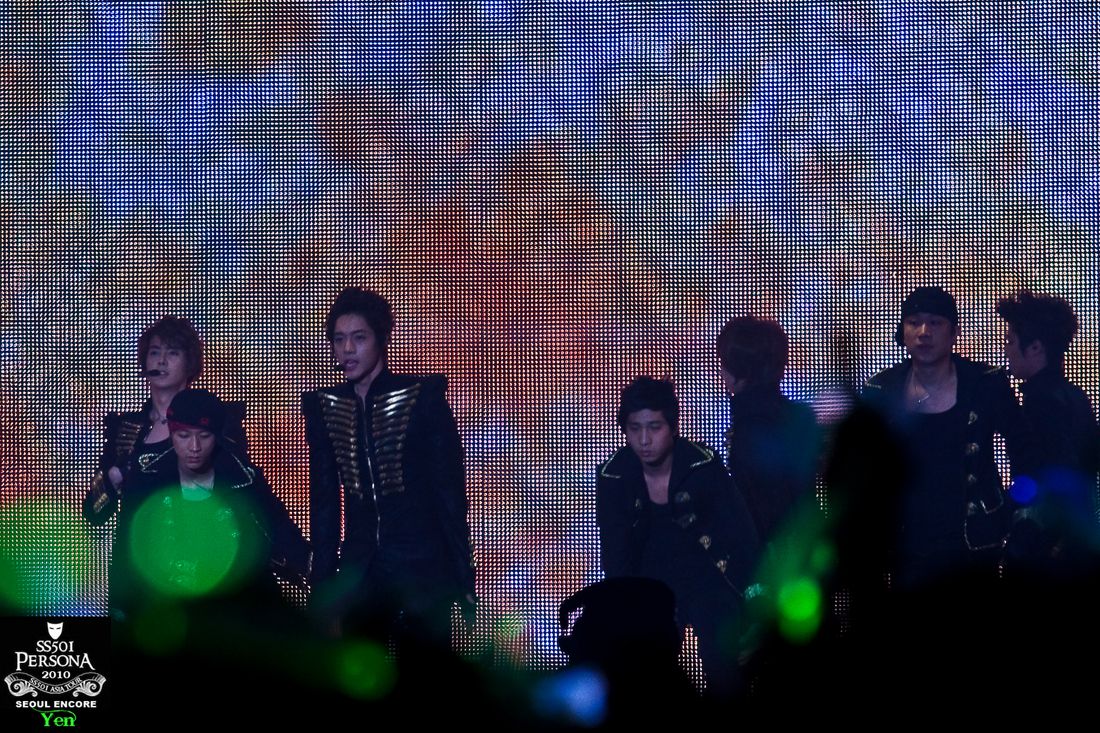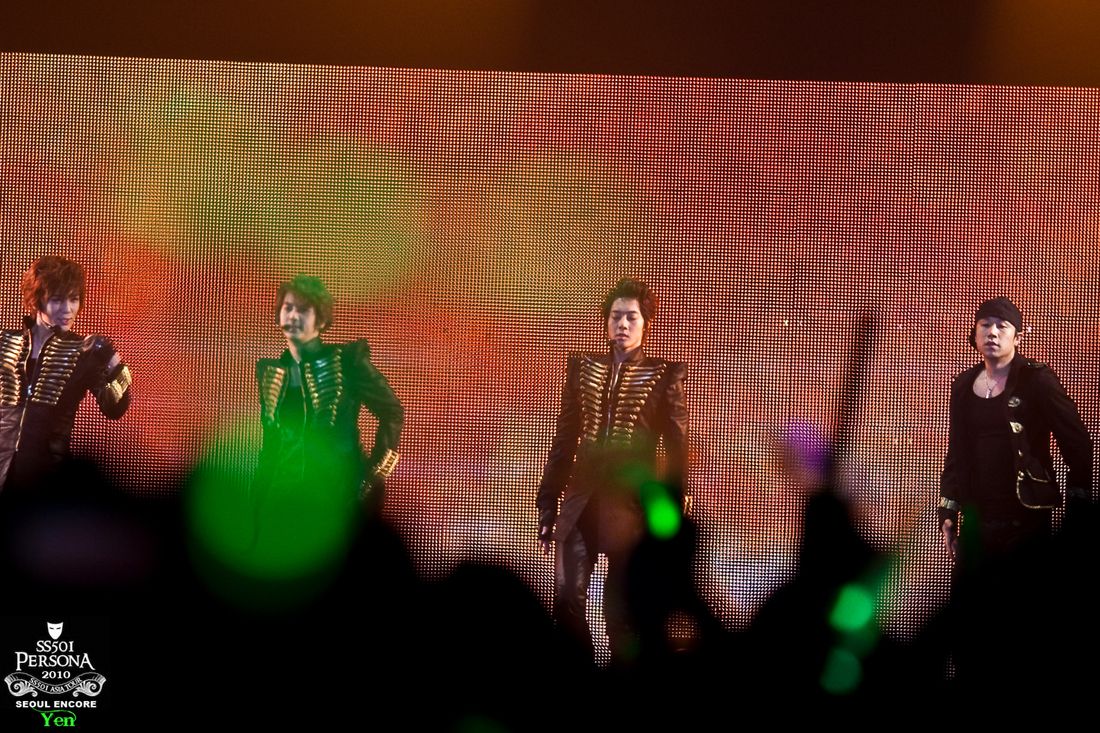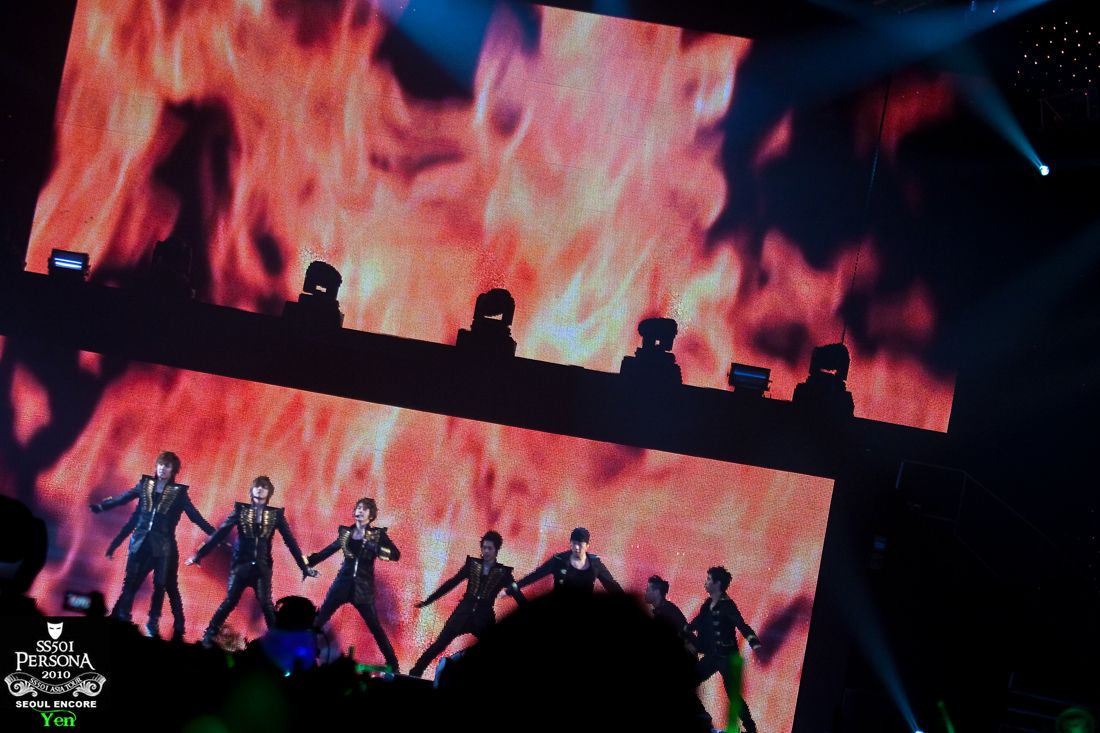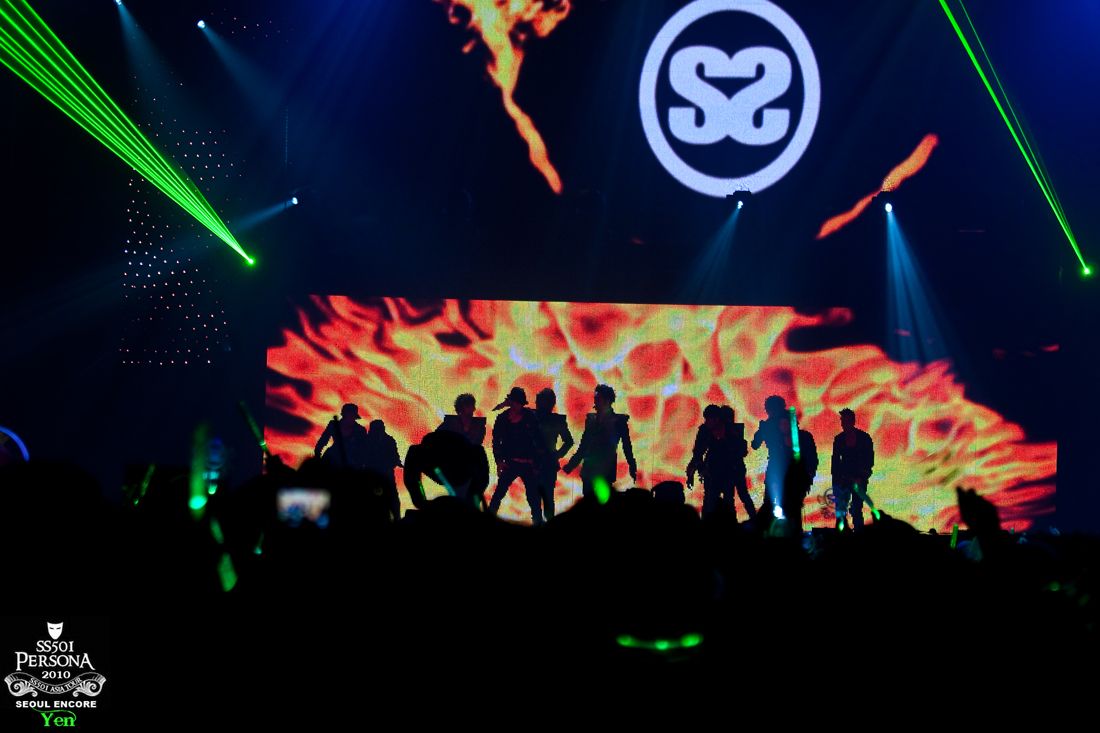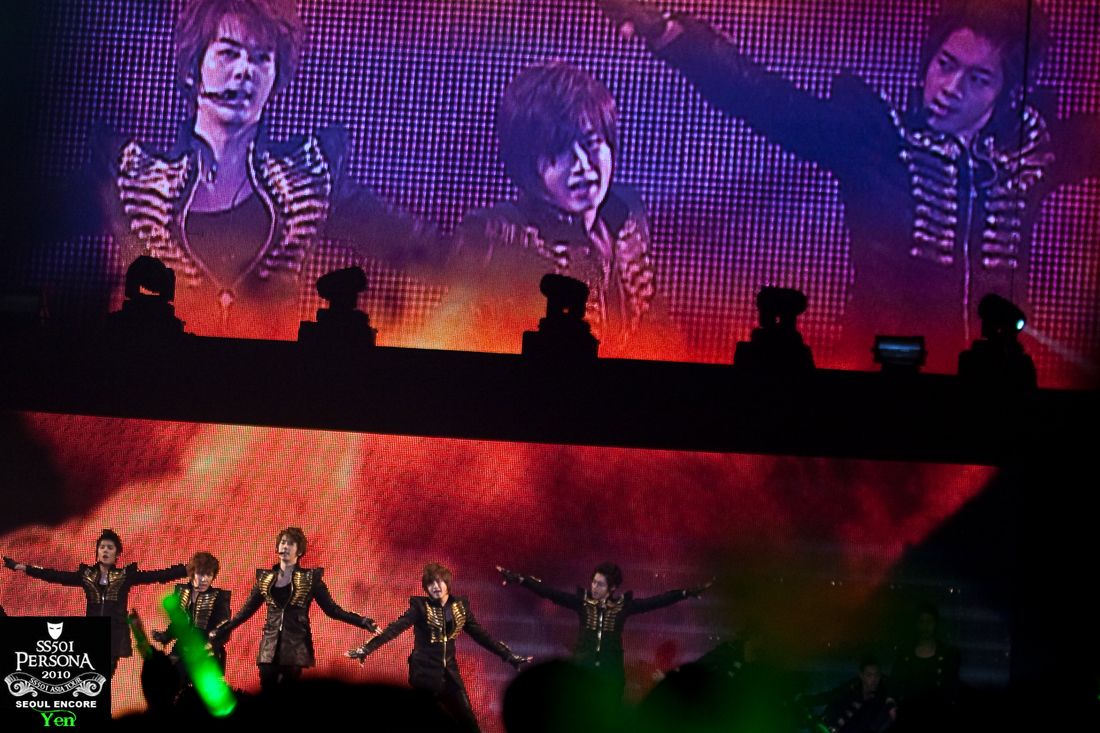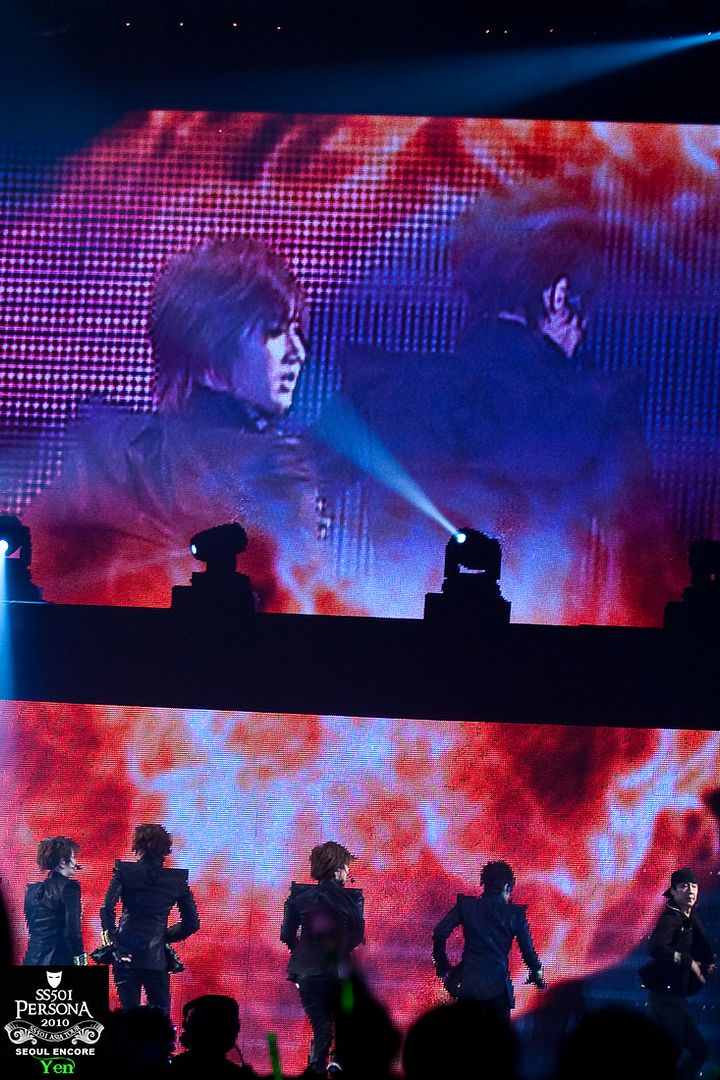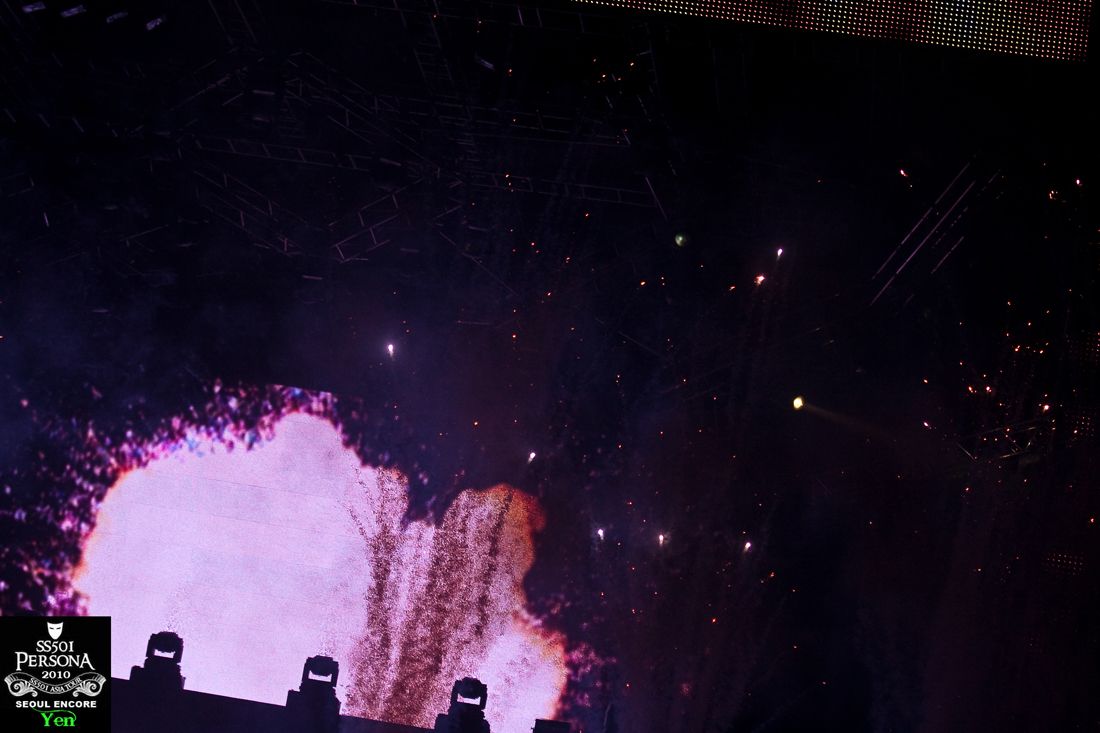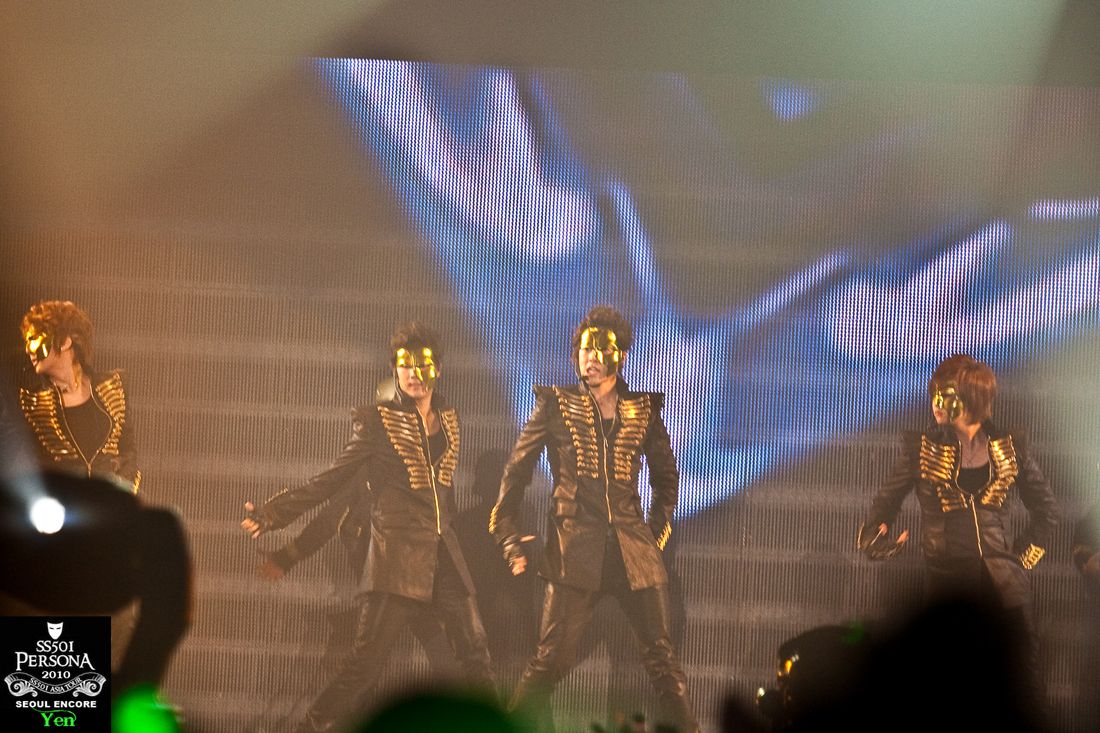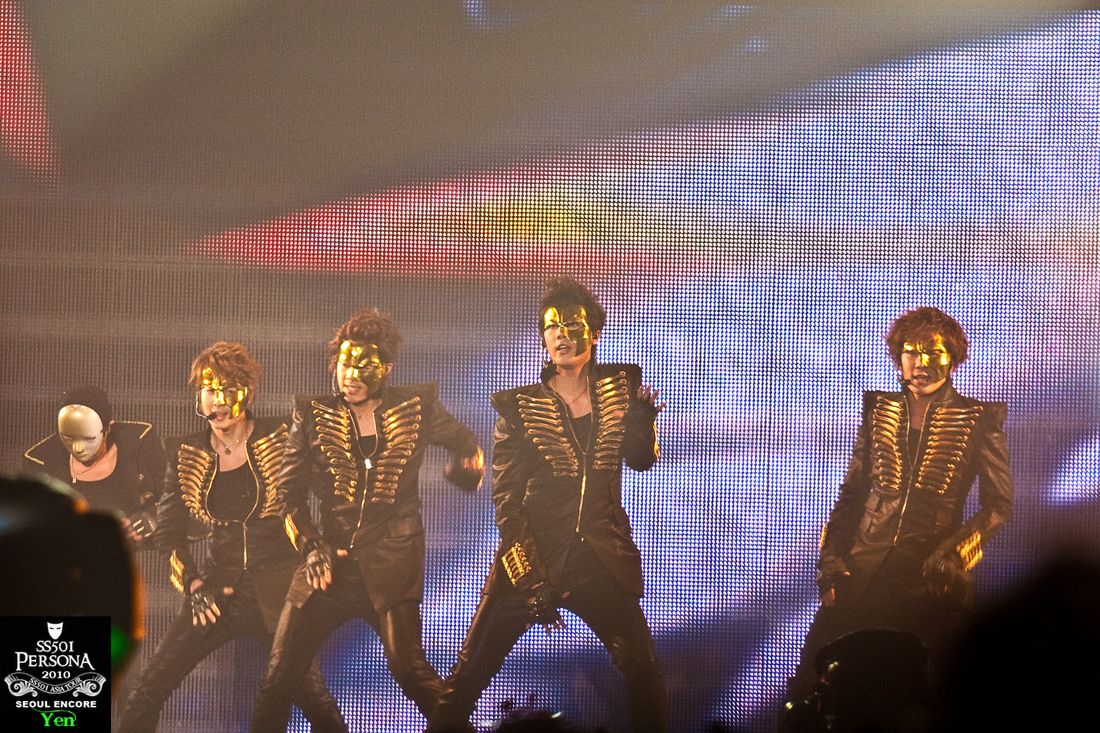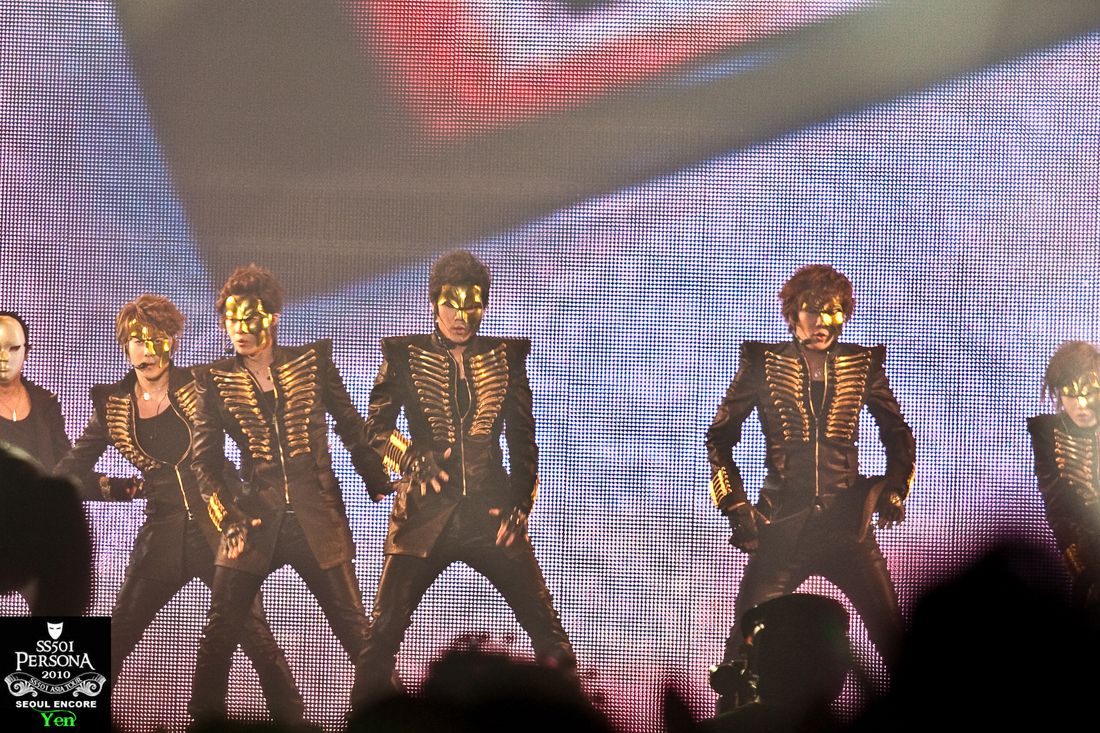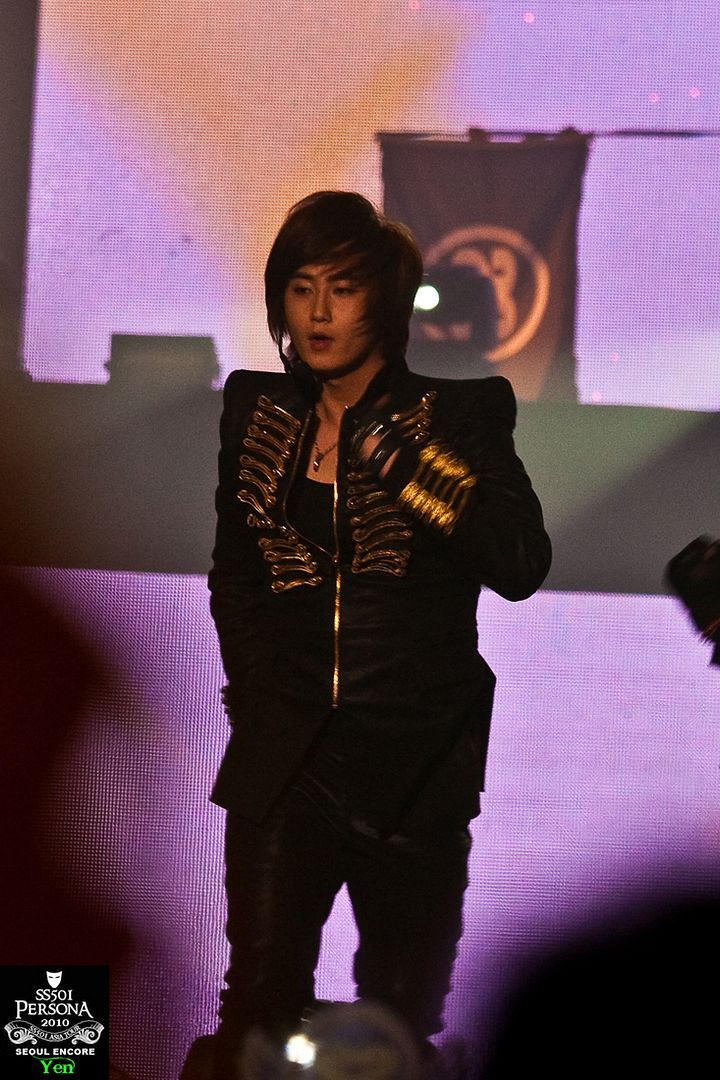 During the speaking parts, the lights were bright and, of course we can be easily seen by the Main in black and his minions. But luckily, I'm with SgTripleS and that we have a banner. It is quite big and needs to be held by at least 3 persons. And so I'm holding the middle part with my left and the camera on my right hand. The lightstick? Still on and tucked in my jean's back pocket. So whenever we try to raise the banner for the boys to take notice, I took my chance to hide underneath the banner and took as many shots as I could. And when the man in black is walking towards our place, I would dump my camera in my bag, take out my lightstick and wave and shout like I don't have a care in the world. FC members are really such a dear that they give us warnings whenever the "man or his minion" are in close vicinity. My eyes were set on 7 men that night: the SS501 boys and the man in black and his minion. I practically had a stiffed neck after the concert because aside from the stage, I also have to look on my sides. It was fun, though. Kadd and I were only tapped or caught by the minion once, so we were pretty happy.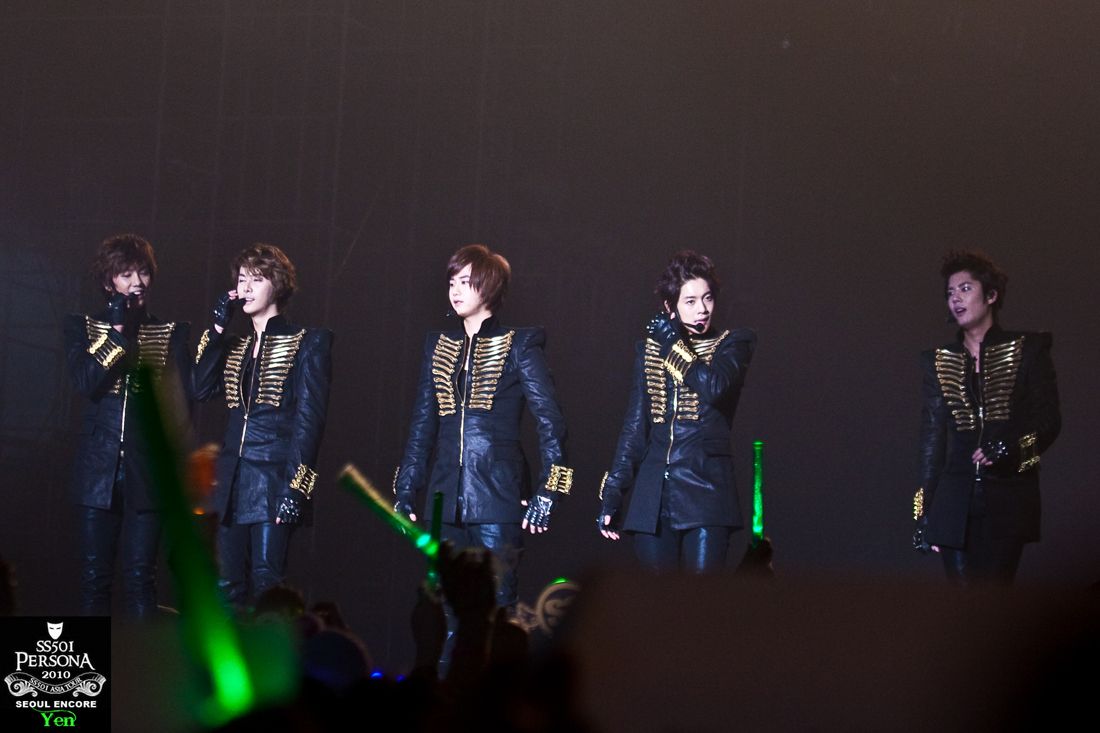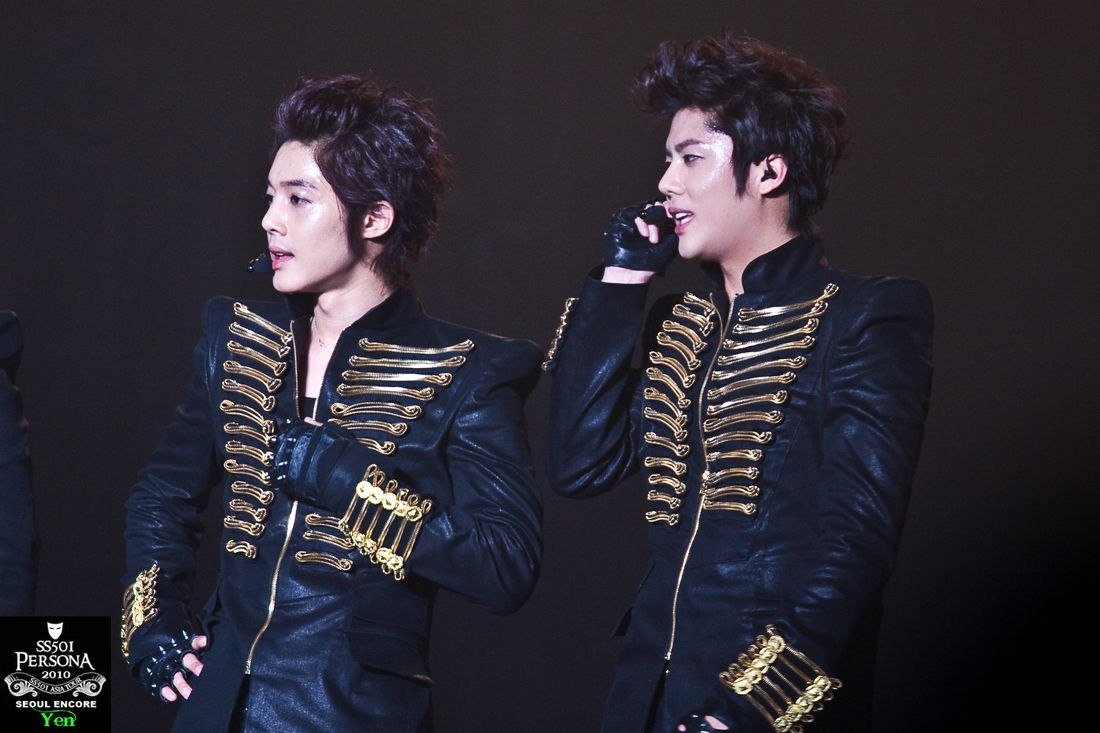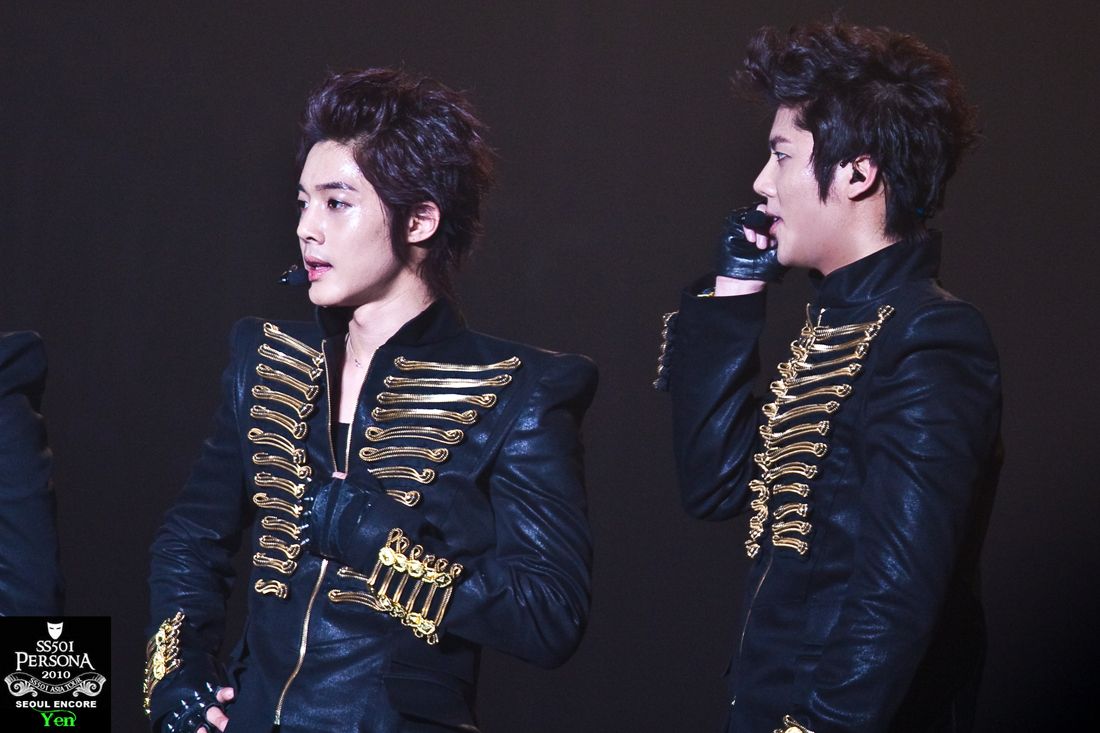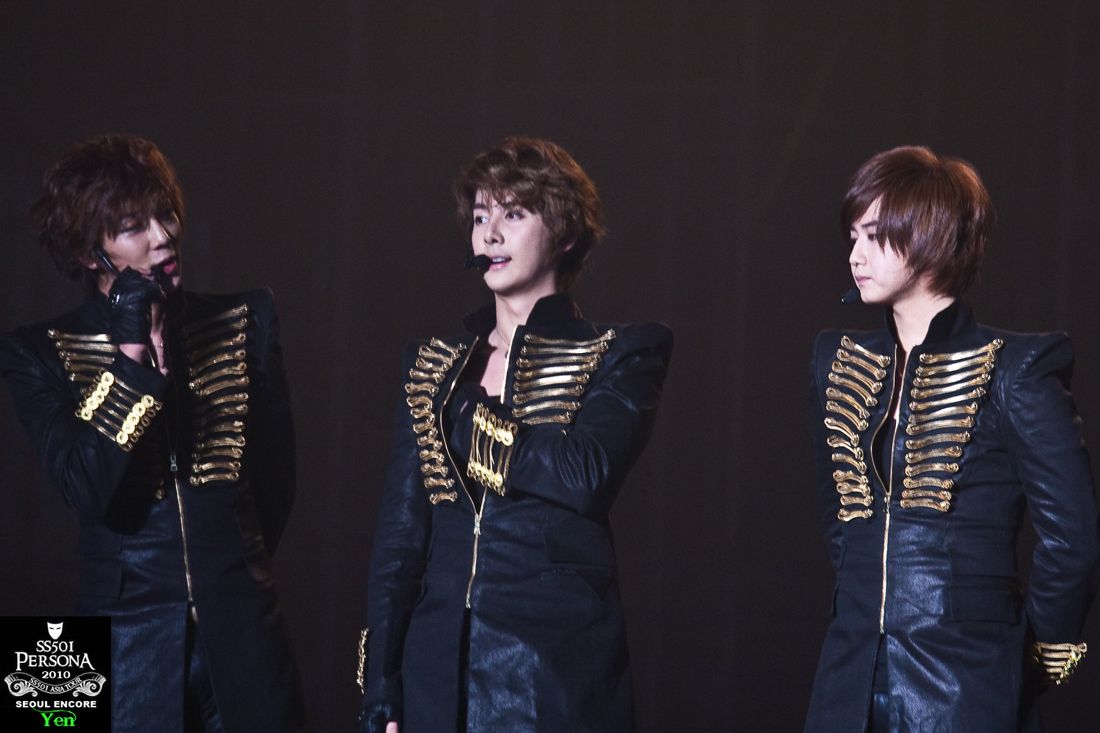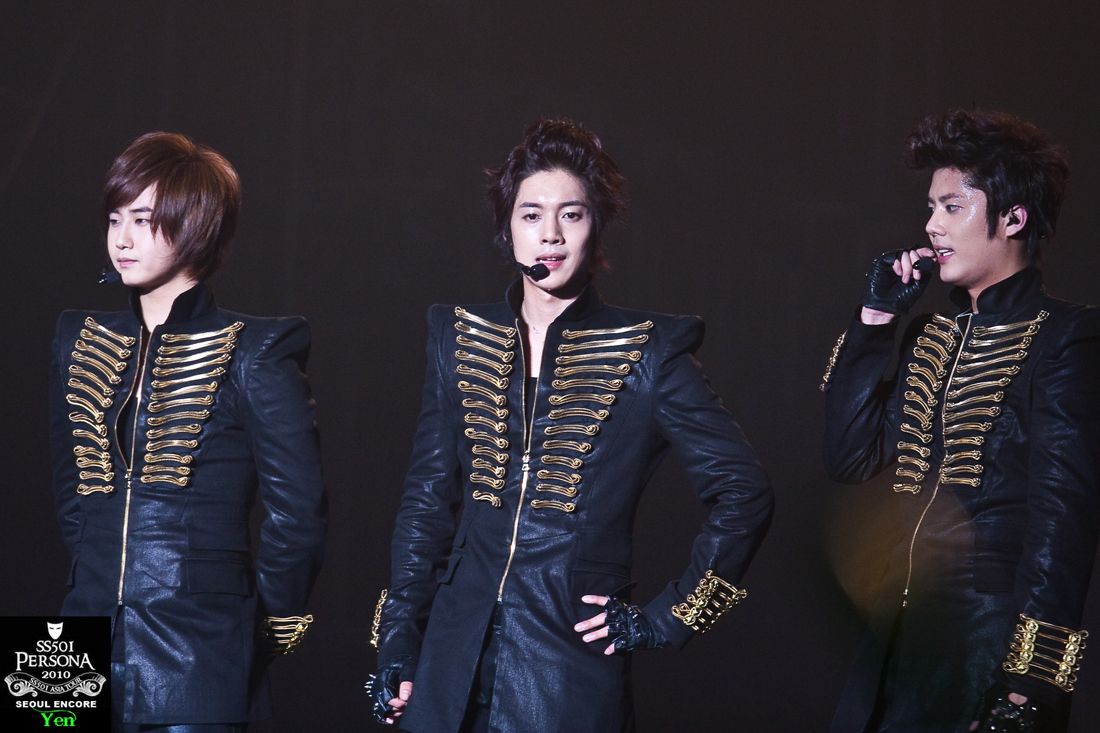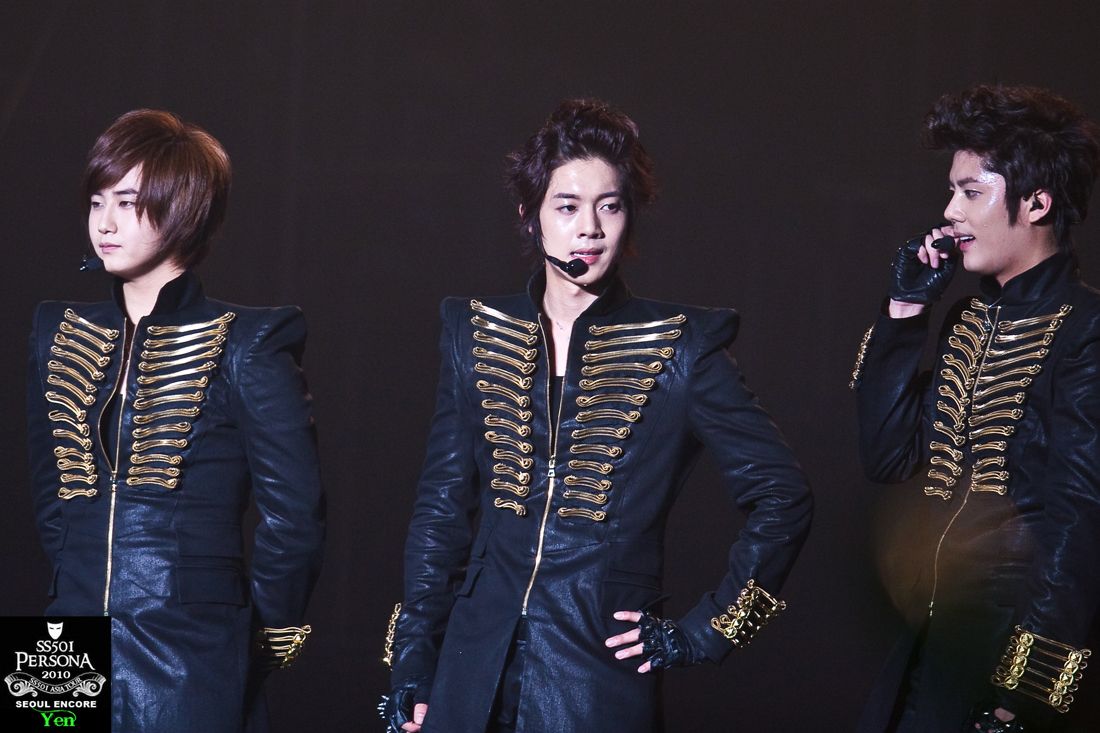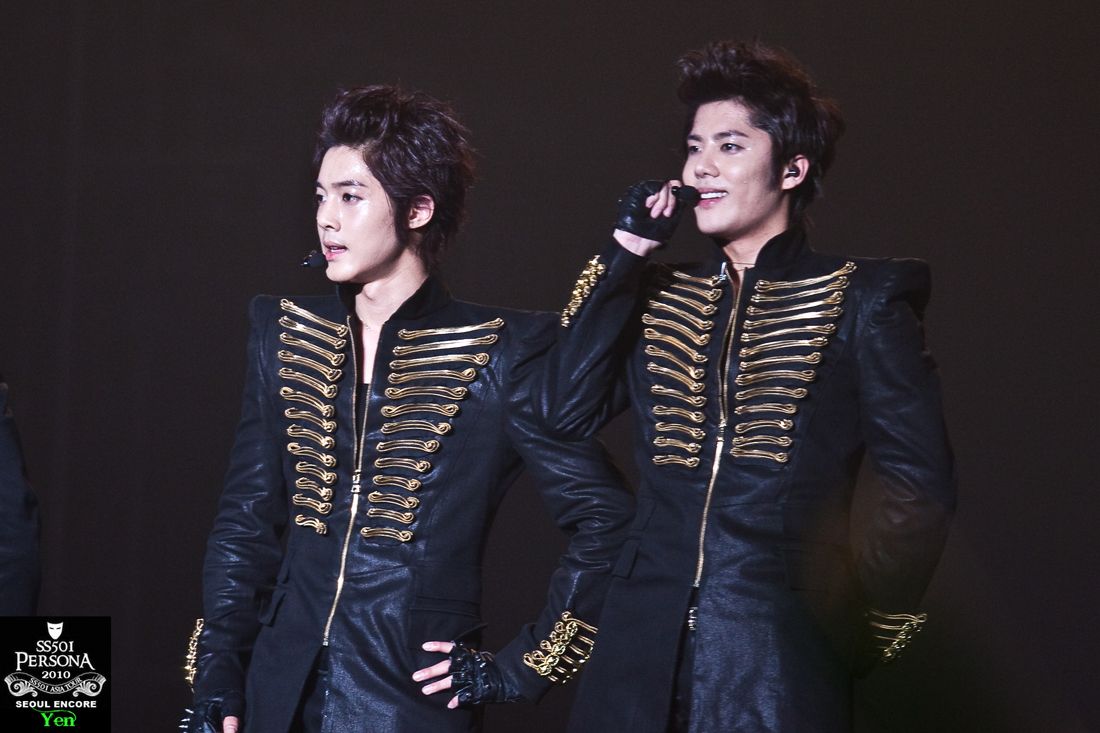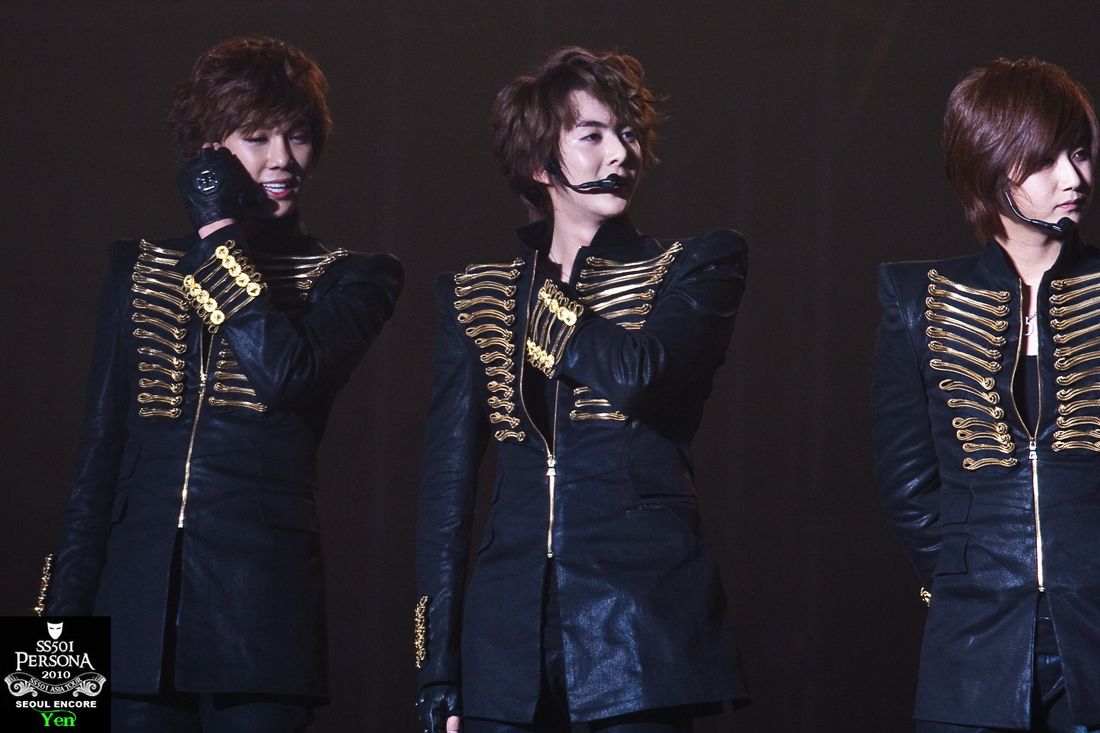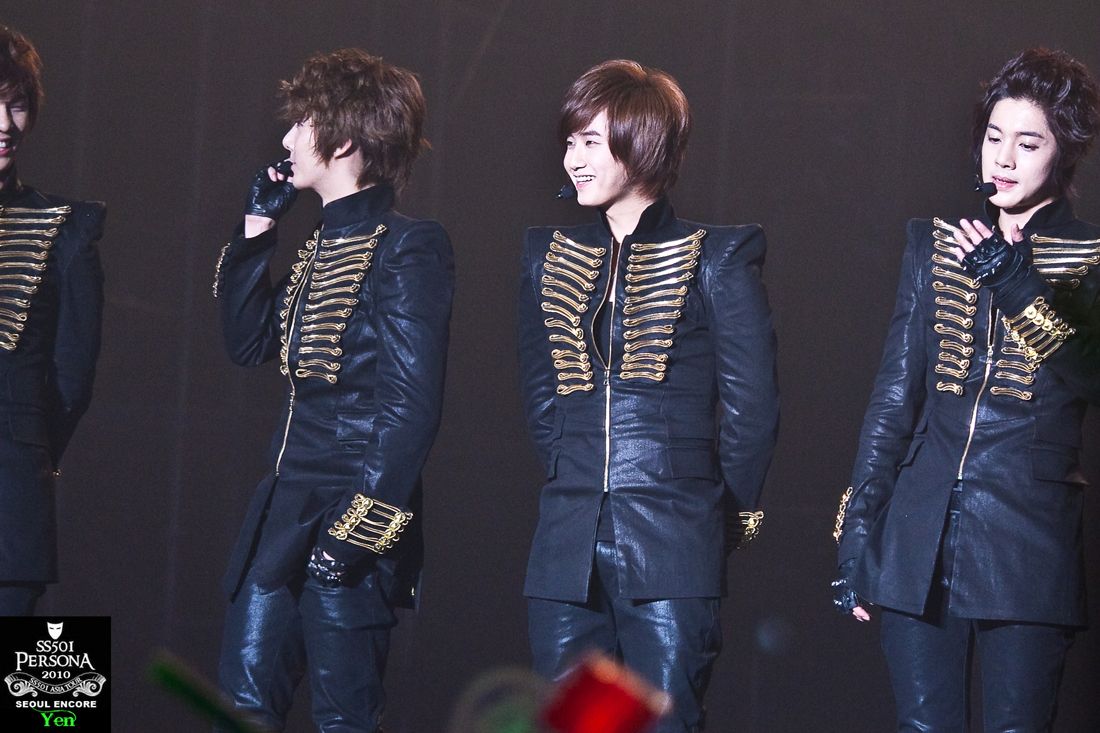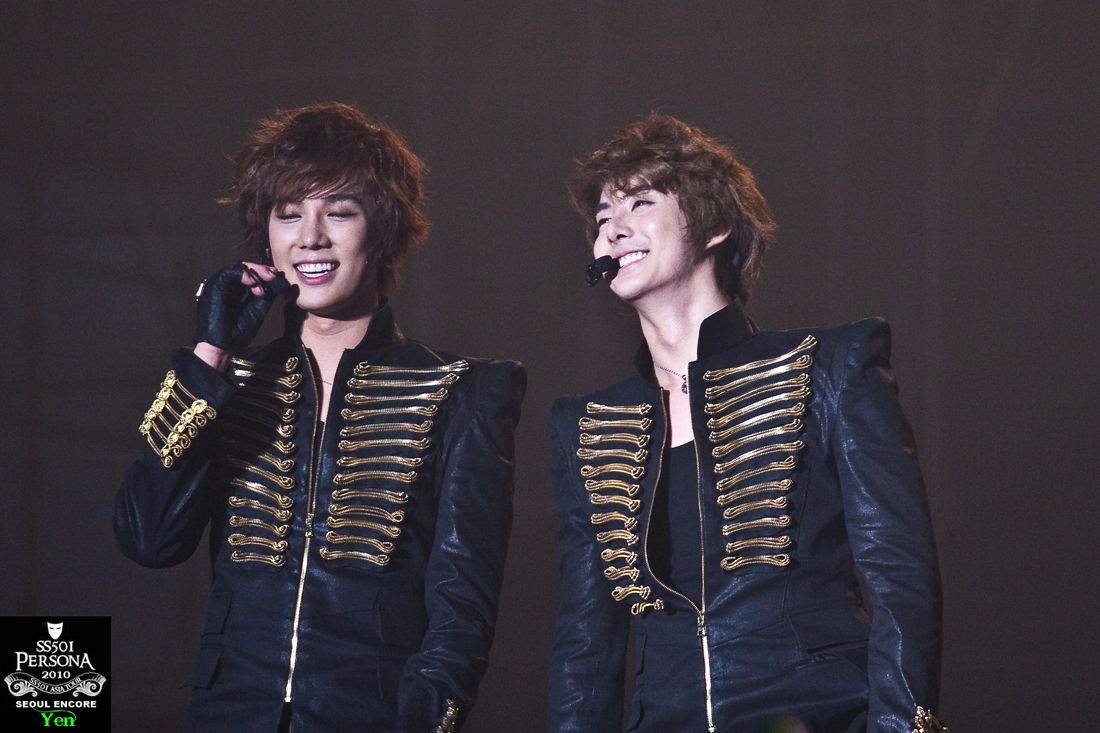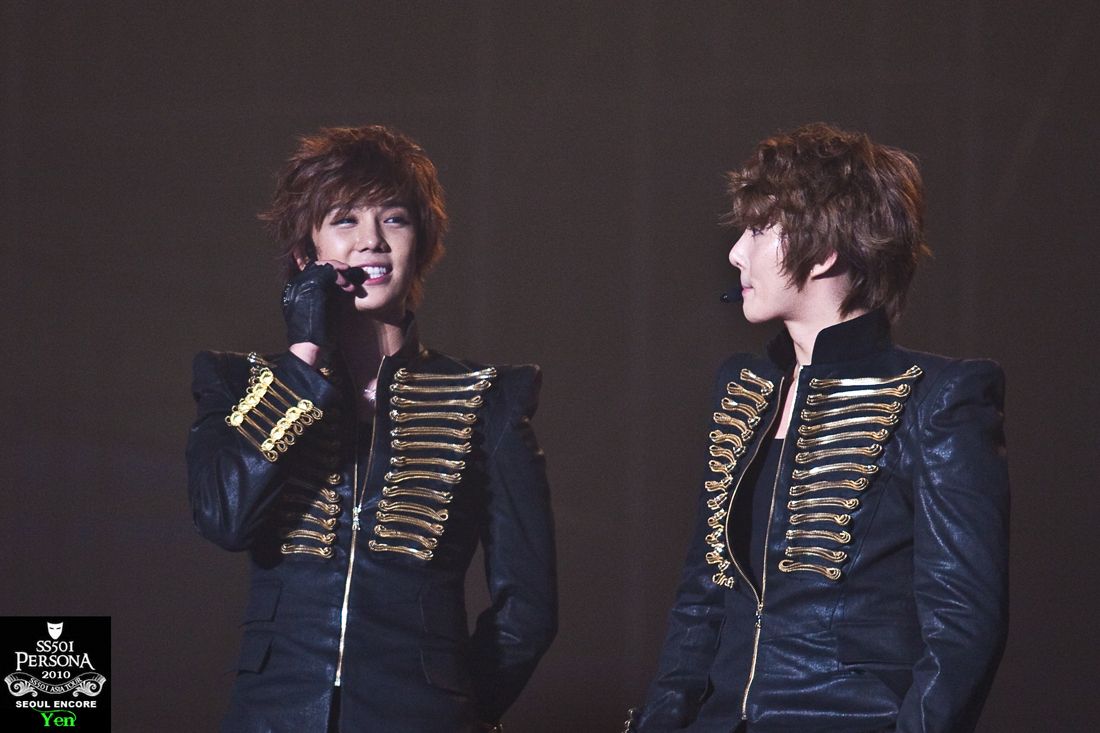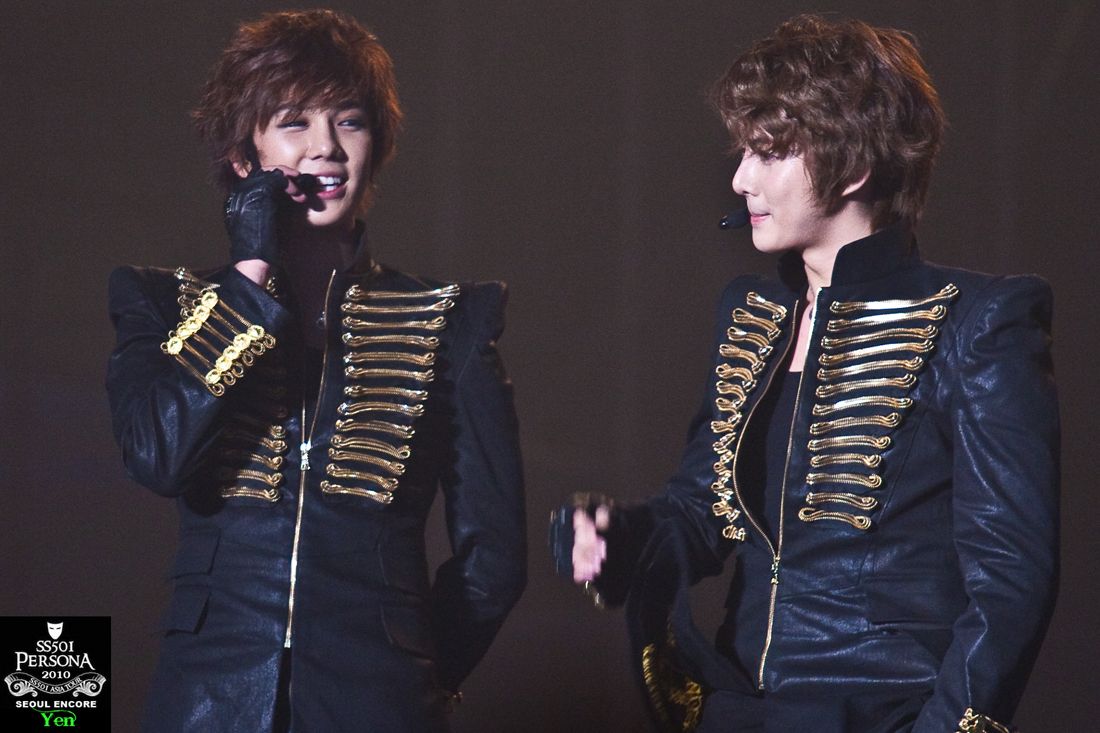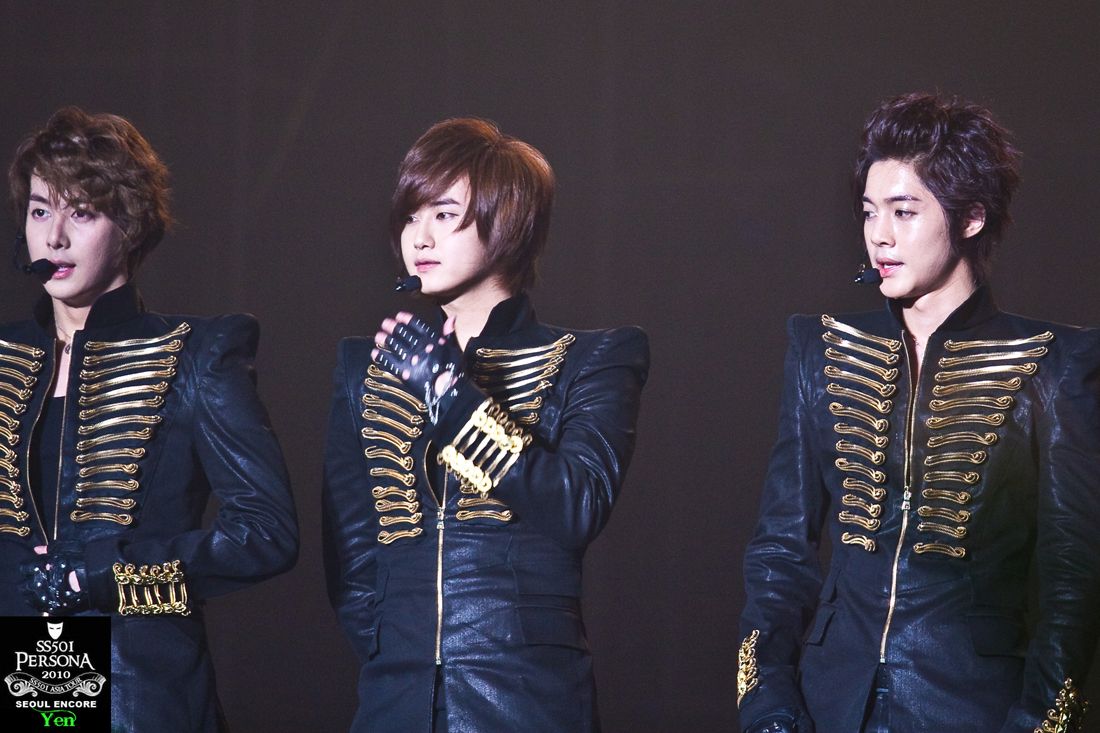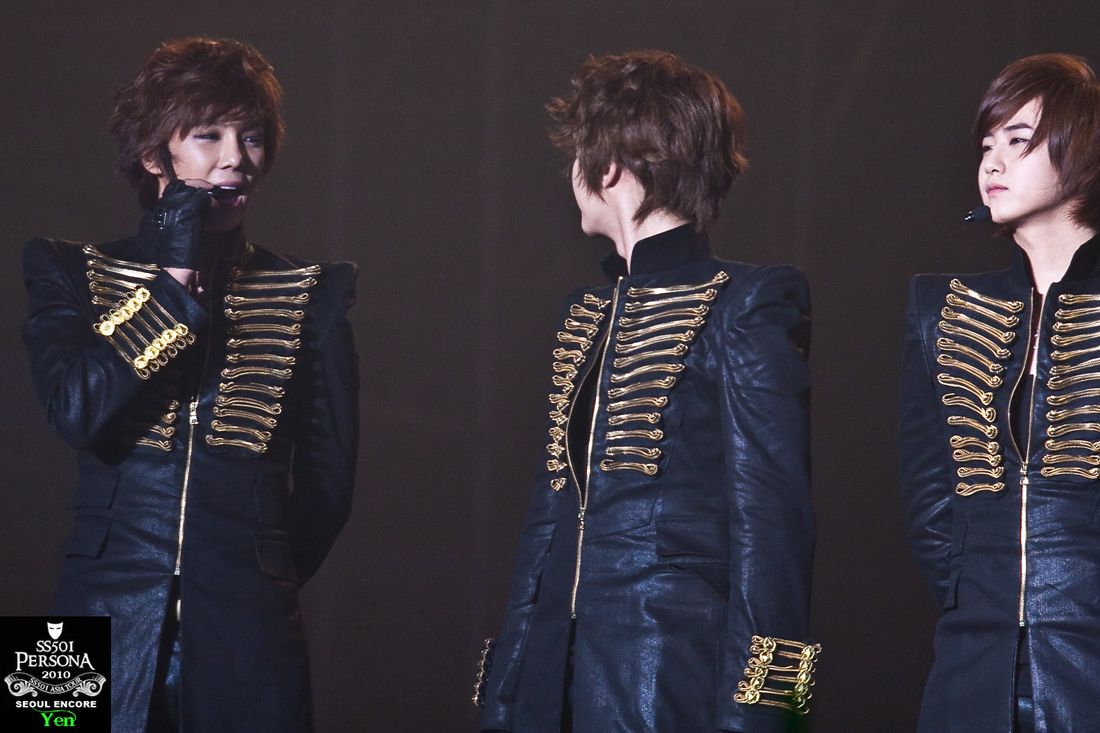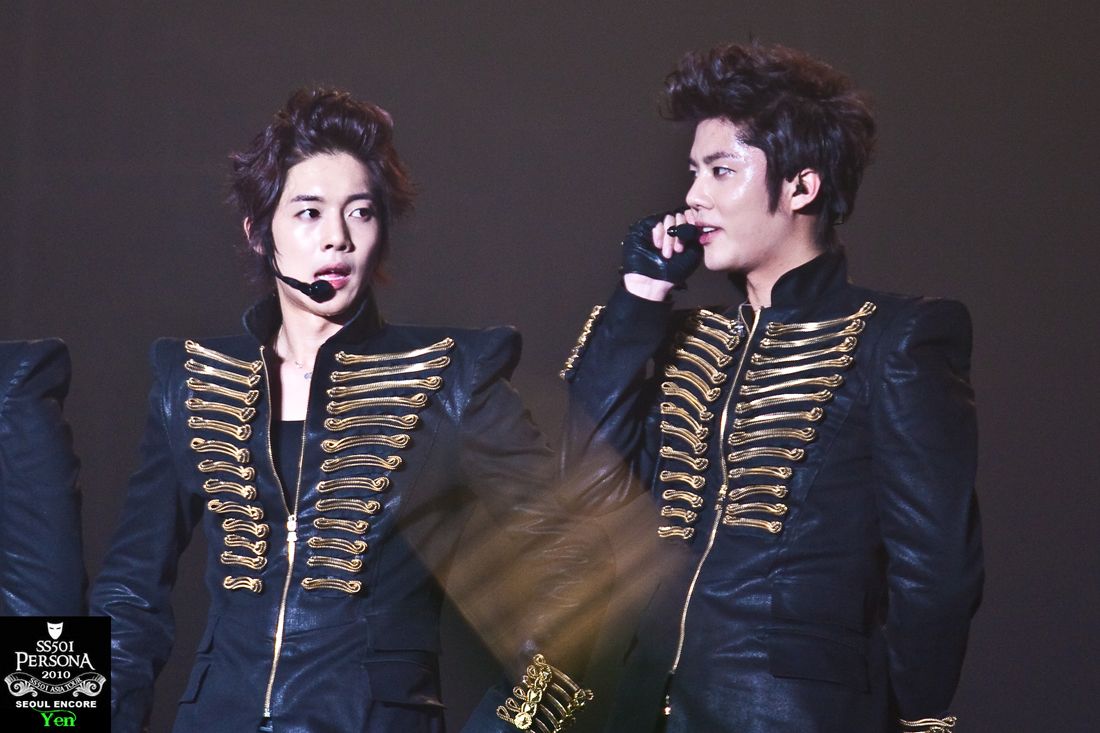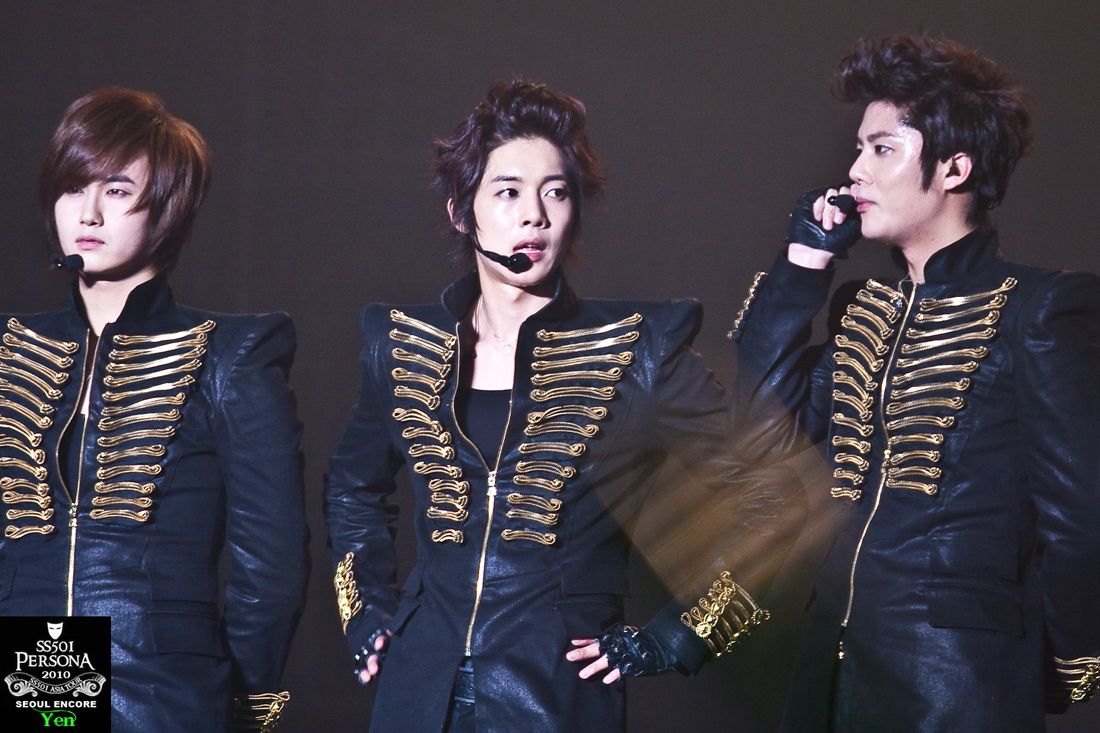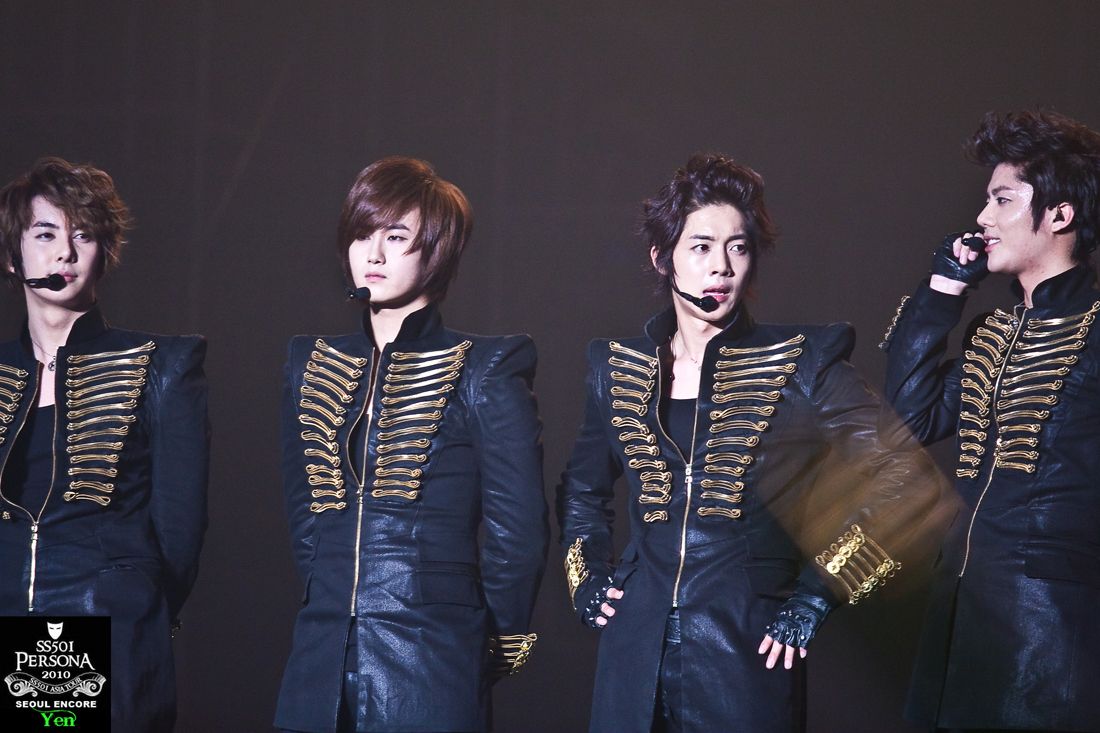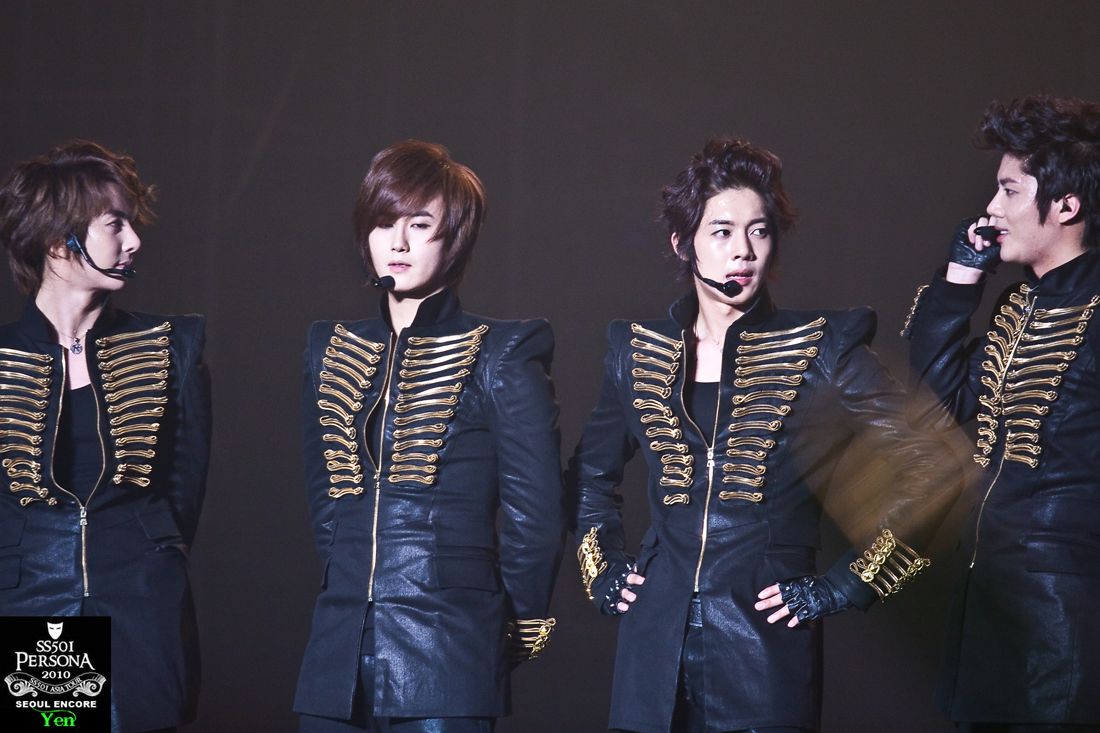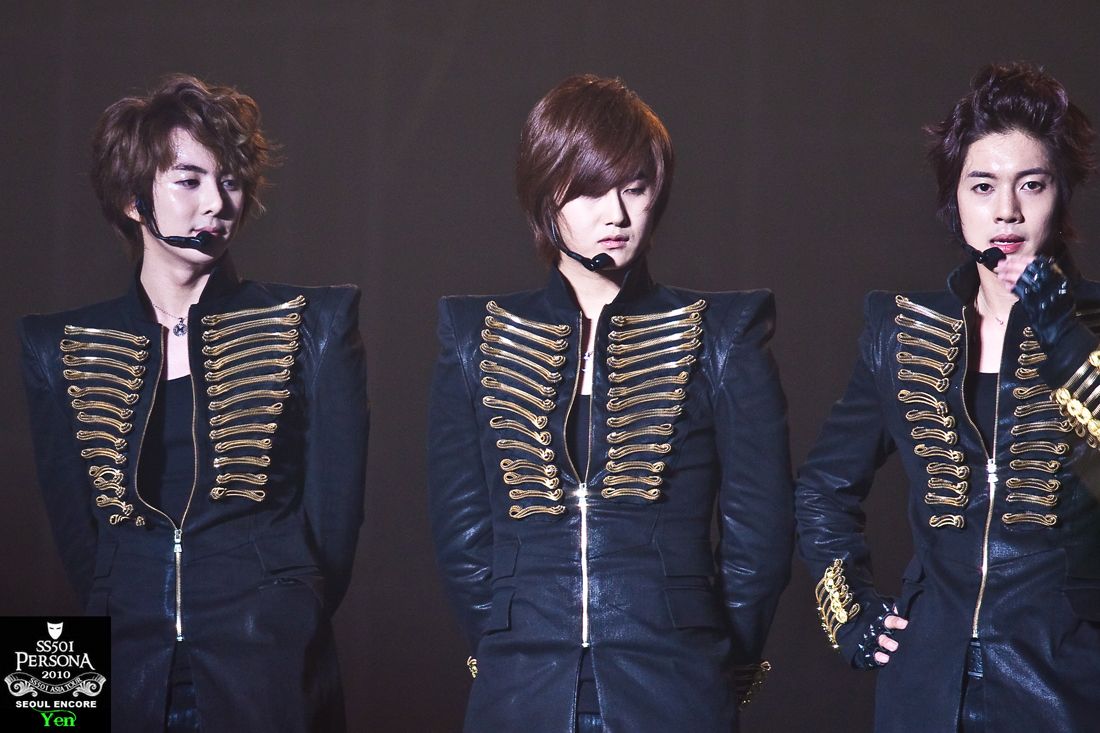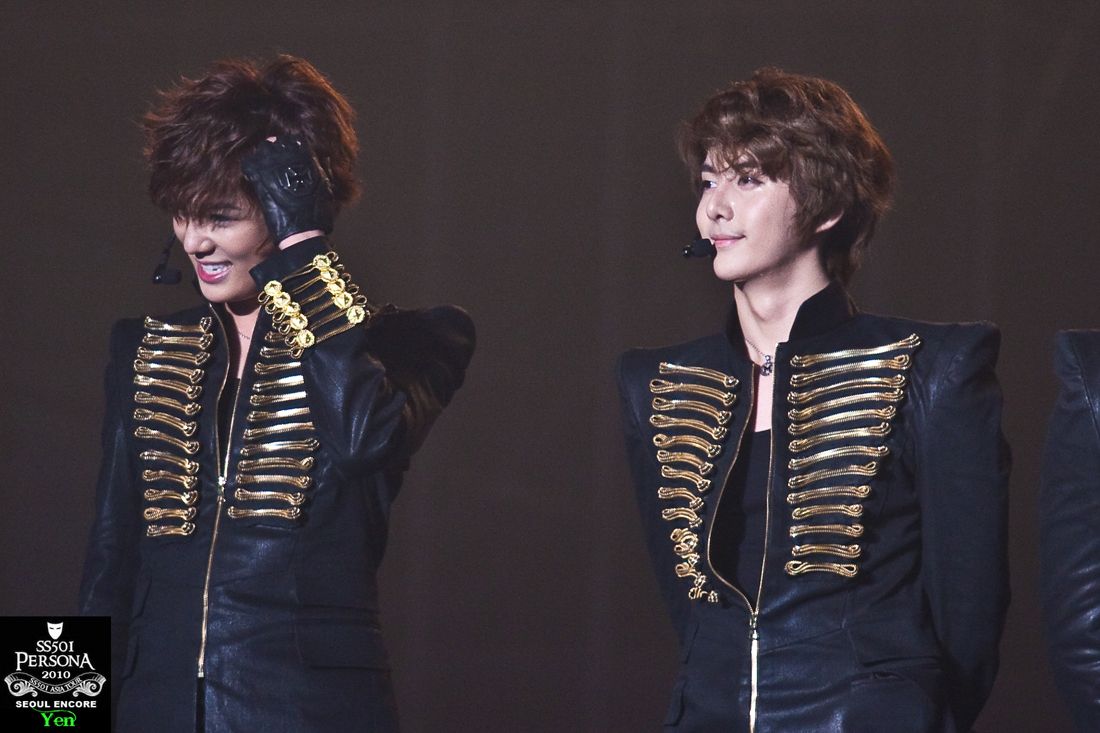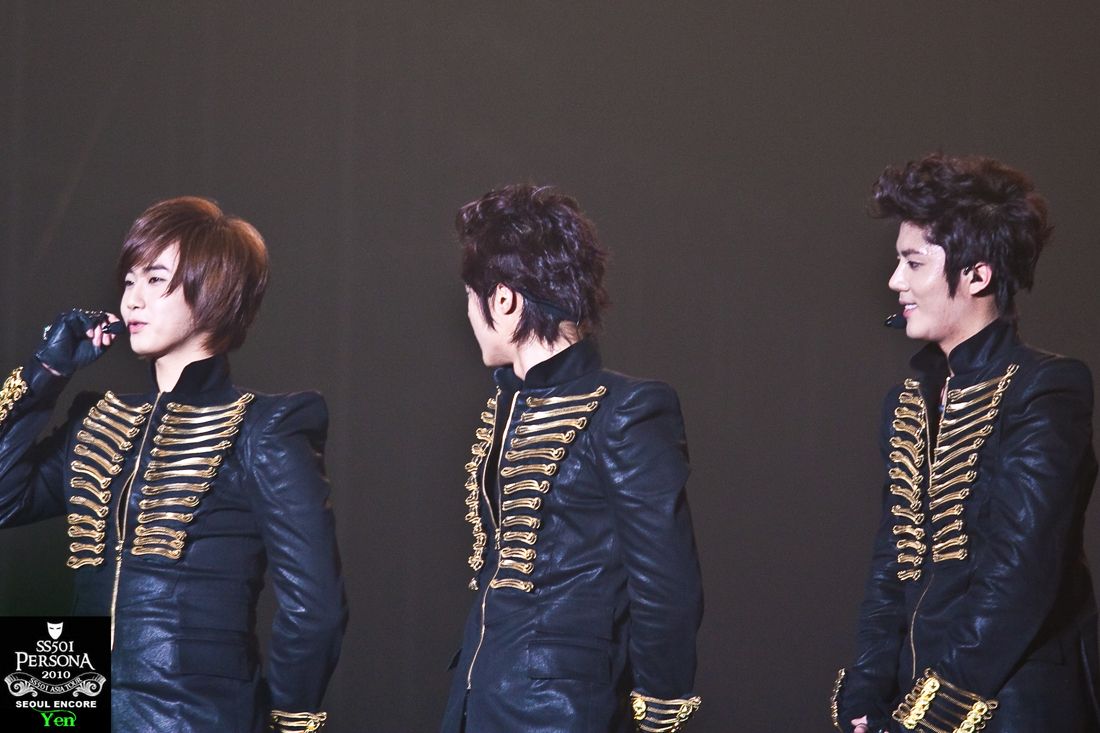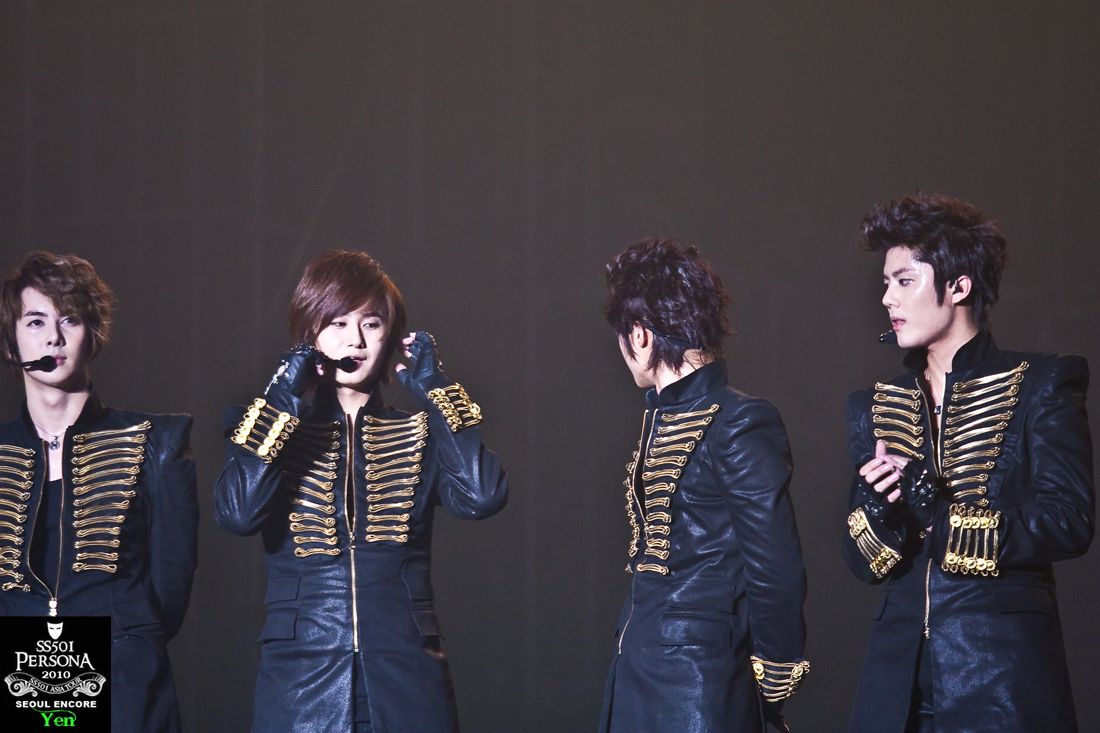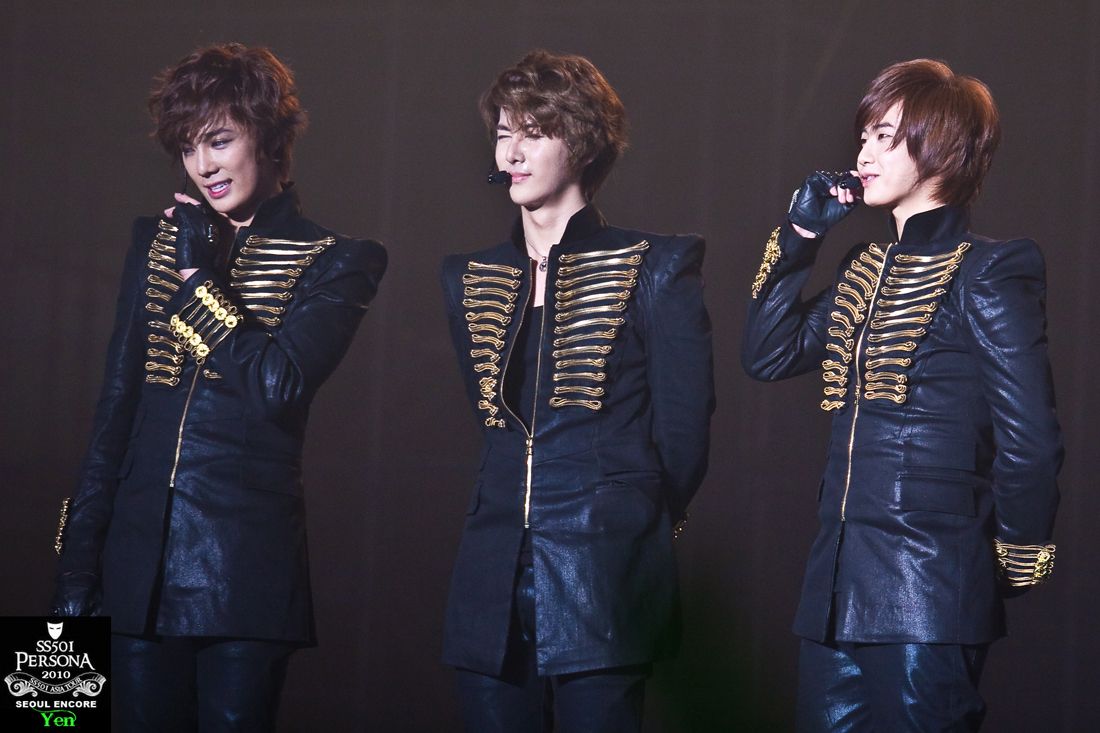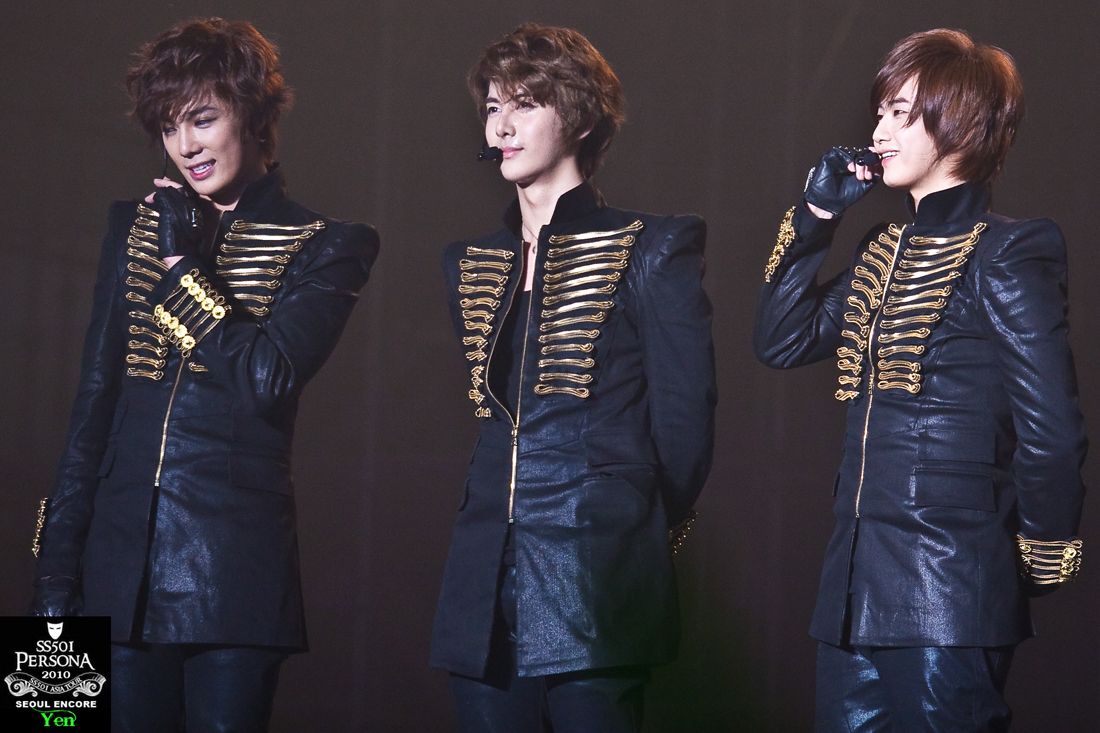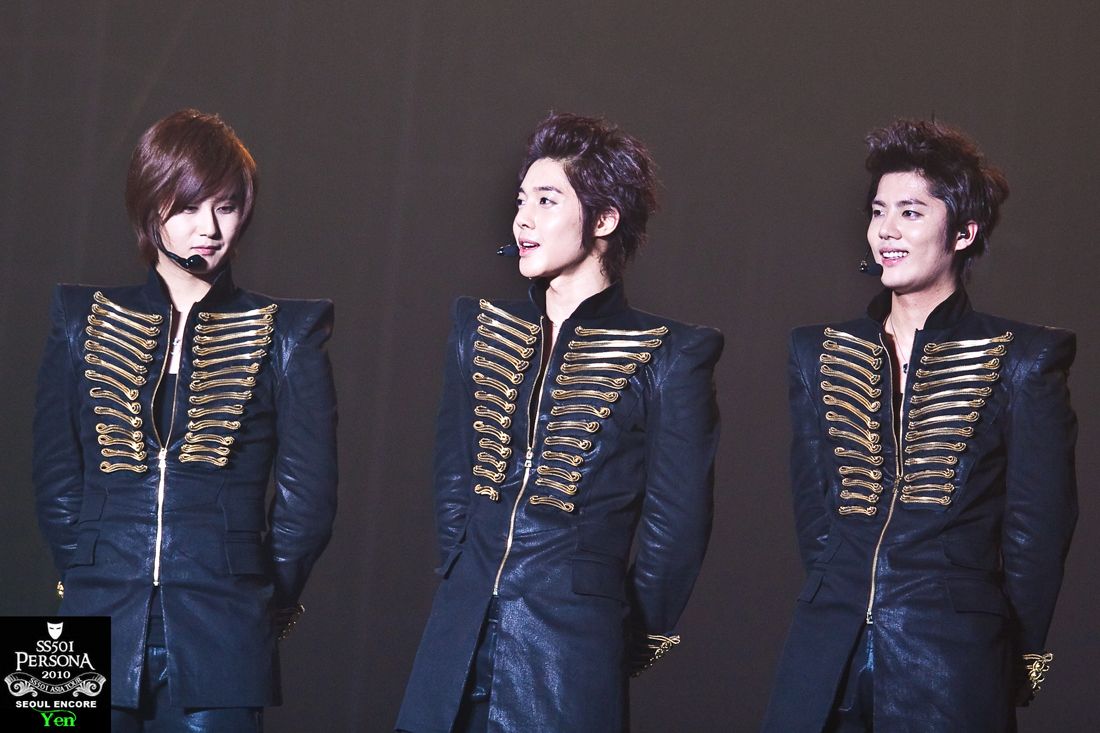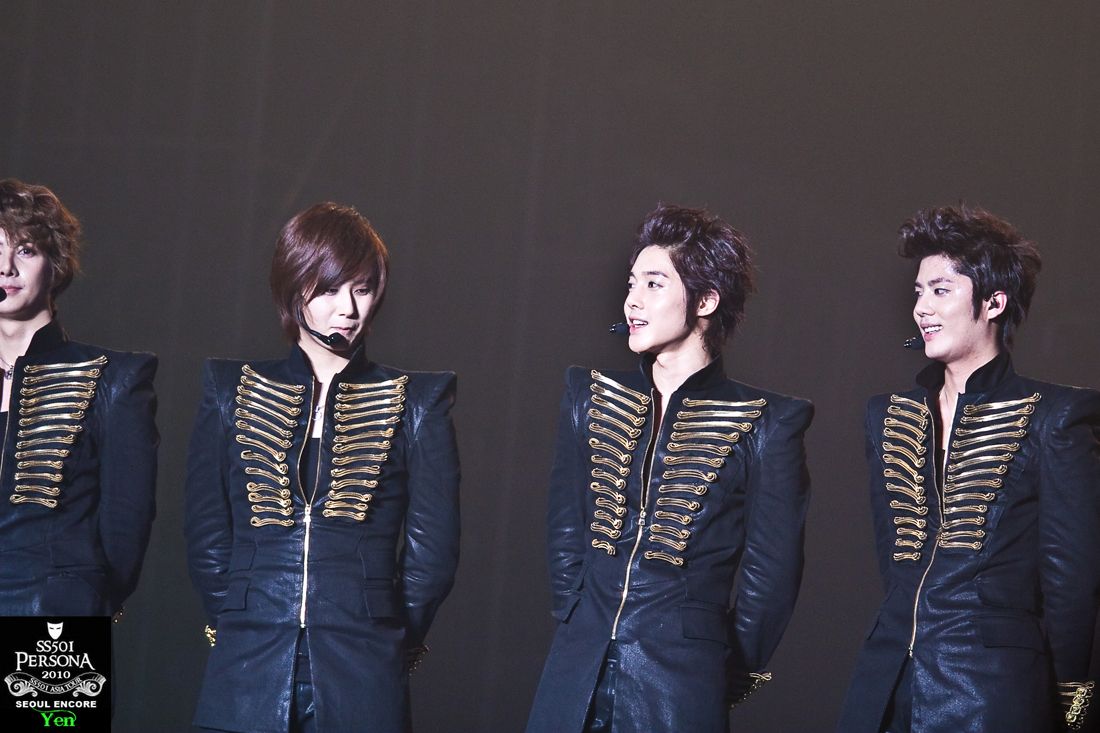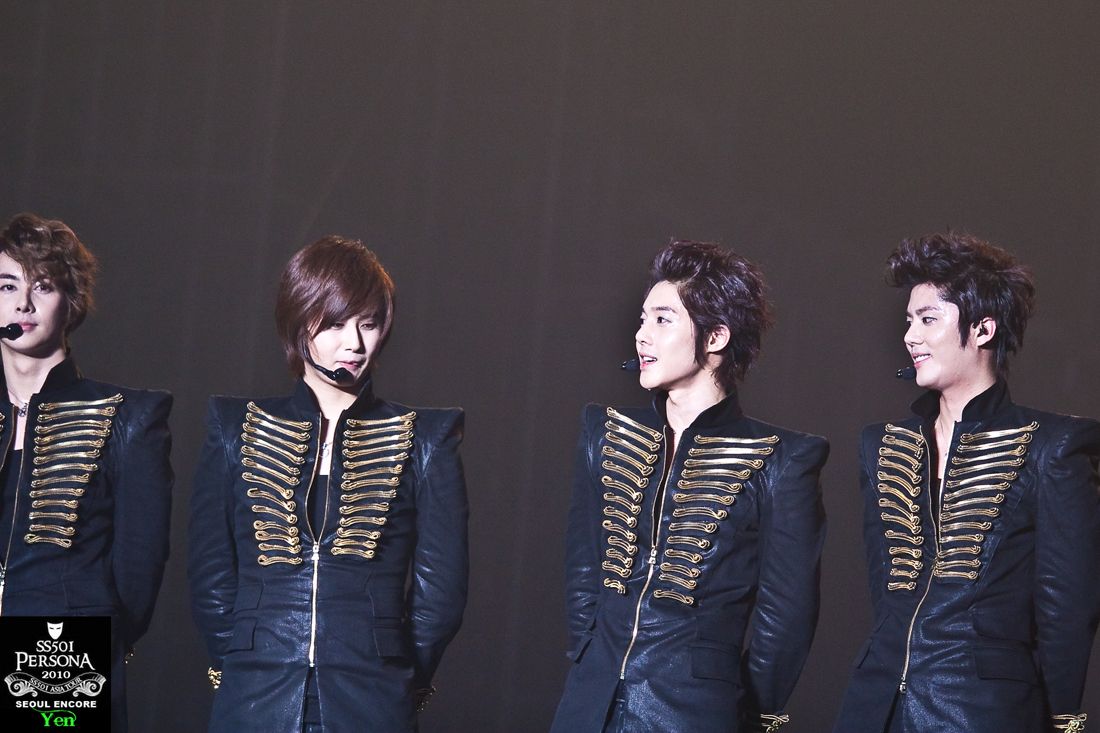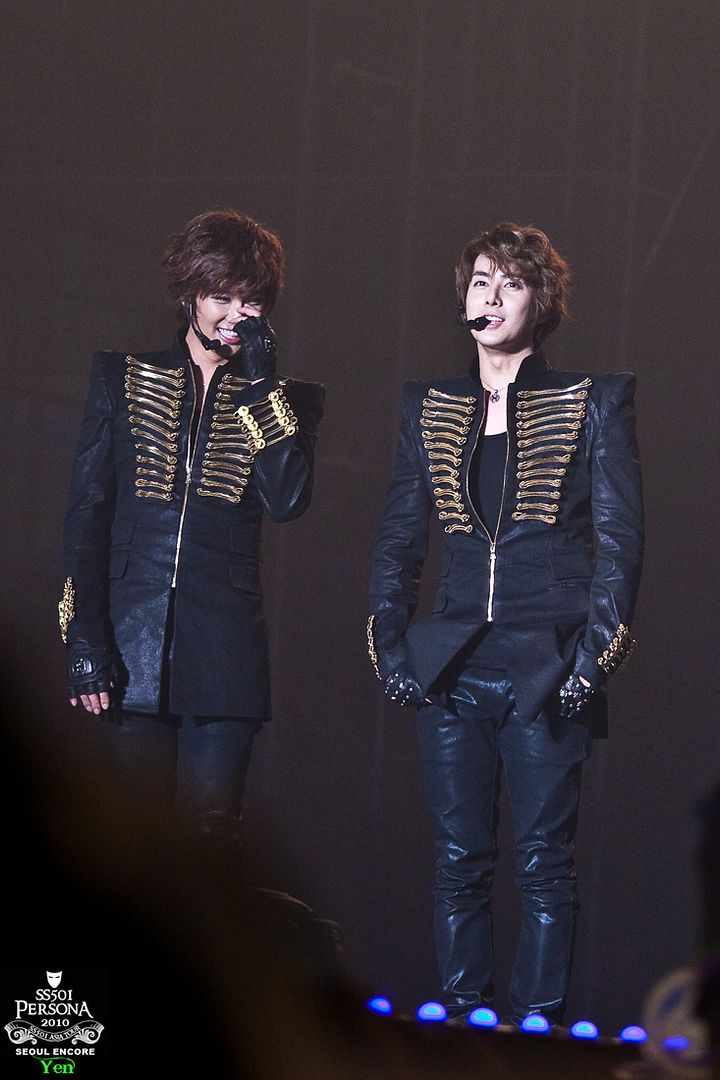 I will post the rest of the photos without any narrations or interruptions later. For now please bear with me on my thoughts and observations during the concert. I pretty much have an inkling that this concert would be pretty much different from the rest - one of the reasons why I came over. New costumes and new songs! Kadd and I decided that we won't risk taking photos during performance of new songs because security was even tighter during those parts.
Hyun Joong doesn't look so much delighted on their very first speaking break. Could it be because of a little disappointment in terms of the number of the concert goers? Days before the actual concert news were spreading that there are still a lot of ticket seats unsold. Remember those plans to boycott the boys' concerts and not to support any DSP related activities? But then I noticed that he was panting heavily, too. It could be because he was way too tired after that three power dance songs. Leader looks out of shape - too much drinking sessions?
First up for solo was Maknae Hyung Joon, He was standing way up high hi Kyu Jong in the previous concerts and started on a new song. After the ballad, the screen showed photos of him and fans started to chant his name and then he came out and blurted and a new fast song. I like it and though it was way better that Hey G! Up next was Kyu in a remixed Never Let You Go number and he pretty much looked like those American rappers trying to look so suave in a hat, coat and a cane. Okay, I think it was cool 'cause he was all in white. Similar to Baby, after his first song was another collage of his photos and fan chanting his name. Now I started wondering what could be Leader's other song.
During Because I'm Stupid, Hyung Joon was standing near our place and he actually stopped right in front of us. He even knelt down to wave. We thought that this is a good opportunity to give some gifts. Kadd has prepared this Singaporean Girl doll and since I was taller than her, I jumped and threw the doll on his feet. He was about to pick it up, but then the rest decided to throw in some more gifts and out of confusion, he didn't picked any at all.
For the first night, Jung Min sang If you Cannot with Gyuri of Kara and his rendition of Kiss was such a delight to watch. Well, after that we had the Kara intermission and they performed their new hit Lupin and of course the butt dance Mister. I didn't bother take any photos of them performing. I'd rather not risk it and get caught - totally not worth it. I also did took any photos during Young Saeng's solo because "the man" is way too near. Watching the clip with Saengie's narration, it felt like a farewell concert to me. Add the fact photo collages of each of the boys are pretty much nostalgic. I have this thing in my throat and a heavy heart that night - I simply don't feel that good. It was like I was waiting for them to say something and the crowd will cry in an uproar.
Baby did something funny during their speaking part after UR Man. He felt like there's something wrong with his pants or maybe that his fly was open. So naturally, he turned around to fix it forgetting that fact that they were standing at the middle stage and there are fans behind them who could see him, too. kekeke Leader tapped him probably to tell him that it was useless to turn around.
Then wuri Hyun Joong's solo came. They showed the usual intro clip of him sorta riding a motorcycle and lo and behold there was a red motorcycle on the mainstay with Leader on it. Everybody screamed and he rode on it to go the the aisle stage. I thought that was scary - what if he overshot and crashed? I was not disappointed that it was not a full jittjoong like the very first Persona, because I thought that was actually a tad tacky. He's wearing a new shirt, though and the buttons were way undone that we got to see some nipple slips. After Joongie drove off with his bike, there was no photo collage of him and thus no chanting of his name. He didn't even have a second song either. Strange. As Leader was turning with his bike there was some kind of narration from him. I noticed that he was speaking in English but it was so soft and sounded like he's mumbling or eating his words that it was so hard to really decipher what he was talking about. All I heard clearly was "farewell my love." Wah! I felt like he is saying his goodbye to me - to us. I kept muttering to myself that something isn't right and that this concert feels so wrong and so I dreaded Wan.Du.Kong song. I don't want it to come.
To my big surprise, the boys came back with Wasteland! I've been wanting to hear them sing this song live since I've heard it in my Rebirth album - okay I've heard it before my album came. But this is like everyone's favorite. I even tweeted two days before I flew to Seoul that the biggest surprise in the Encore concert would be Wasteland. I even got replies from followers thinking that I knew the song list. kekeke Anyway, the boys finally sang Love Like This and waved good bye. Leader even joked around that there wouldn't be an encore set. Well, we waited and to the surprise of those in the seating sections, they came down from their place to start off the encore part.
Leader looked so happy and mischievous during that time. If it was Kyu who splashed water on our side and hit my camera during the Hong Kong concert, it was Hyun Joong's water splashing that caught my camera this time. Can you ever get mad at Leader? Leader can pour water on me anytime. He even did try to pour a bucket half-filled with water to section D. You've all seen the videos. And Young Saeng did his own version of jitt near our place, such a pity that he is facing the seating section.
The concert was a blast! And I am so happy that this night did not bring any sad news… I guess my fears were unfounded after all.