Credits to Fans Magazine + (scan) annieyang + (English translation) Only Jun (kimhyungjun.net)
KIM HYUNG JUN LEFT HUG RIGHT HUG
A DAY OF CRAZY FAN MEETING
Kim Hyung Jun came to Taiwan for 3 days 2 nights, on October 24, Sunday, 7.30pm, he held his fan meeting at Taiwan NUS Sports Center, attracting over a thousand fans. This time round, Kim Hyung Jun came to Taiwan alone, not only did he perform 3 songs, he also lives up to his name of being a MC for the way he interacted with fans and his ability to response quickly and spontaneously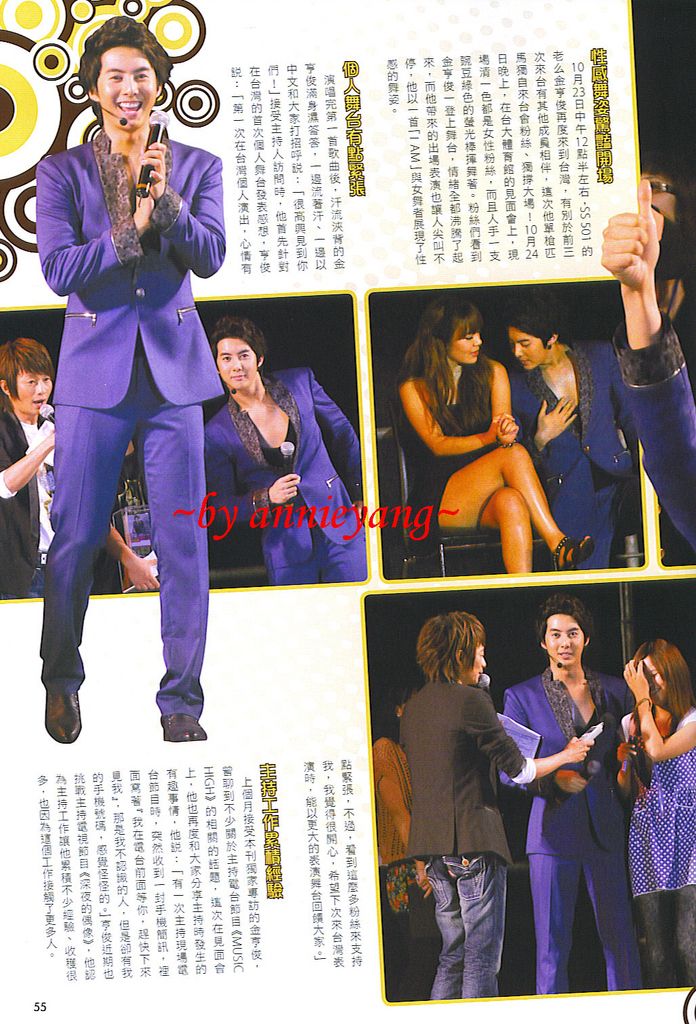 Opening with sexy dance choreography
On 23 October, at around 12 noon, SS501 Magnae Kim Hyung Jun visited Taiwan again, different from the previous 3 times when he was accompanied by other members, this time round he came alone to meet fans, holding the stage by all by himself! On 24 October evening, the fan meeting at NUS Sports Center is filled totally with female fans, and they were waving their pearl green light-stick which they each held in their hands. Once fans saw that Kim Hyung Jun has appeared on the stage, emotions ran high, and his opening performance also caused many to keep screaming. He performed I AM with a female dancer and demonstrated sexy dance choreography.
A little nervous about solo stage
After the first song, Kim Hyung Jun who was perspiring profusely, used Mandarin to greet everyone while wiping dry his perspiration, "Very happy to see all of you!" When he was accepting the interview from the host, he first expressed his thoughts about coming to Taiwan to have his first solo stage. Hyung Jun said, "First time having a solo performance in Taiwan, I'm a little nervous, but when I see that there are so many fans who have come to support me, I'm very happy, hope that next time when I visit Taiwan, I am able to perform on an even bigger stage to thank everyone."
Taking up hosting role to gain experience
When he accepted our exclusive interview last month, Kim Hyung Jun had talked a lot about stuff related to the radio show MUSIC HIGH, at the fan meeting this time, he once again shared funny anecdotes of his experience as host, he said, "There was once when I was hosting the live broadcast, and suddenly I received a short text message on my handphone, with the message 'I'm waiting for you in front of the broadcasting station, please come down hurriedly to meet me.' That is someone that I don't know, yet he has my handphone number, so it is kind of strange." Hyung Jun recently has also took up the challenge to a host for the TV show Midnight Idols, he feels that hosting shows have enable him many experiences, very rewarding, and because of this job, is able to come into contact with even more people.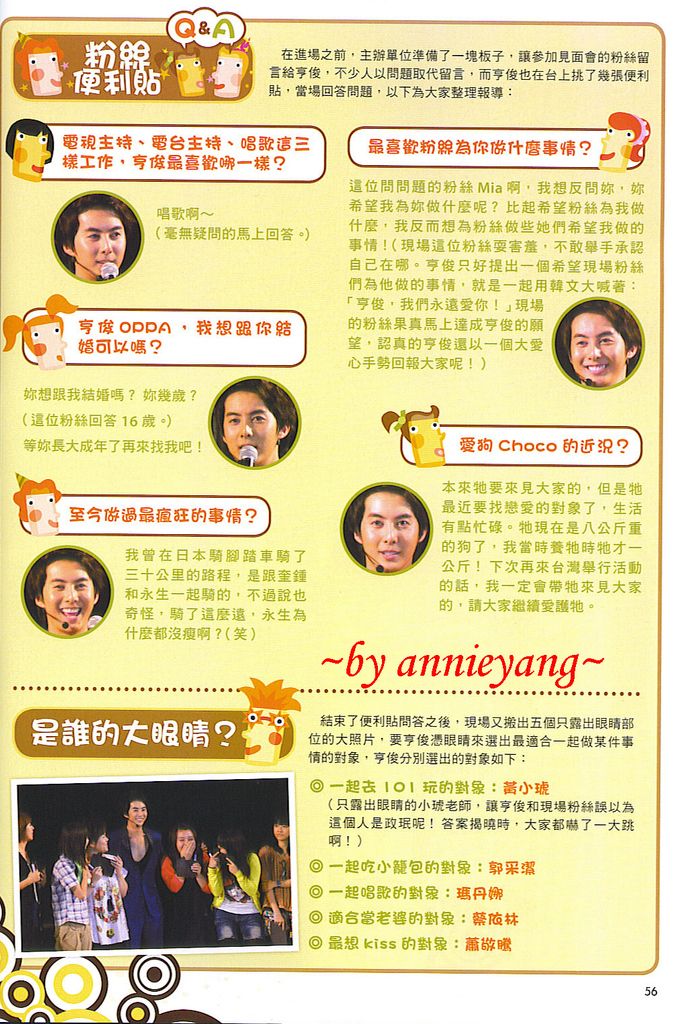 Fans' Post-Its
Before entering the venue, the organiser has prepared a board to allow fans who came to the fan meeting to leave messages for Hyung Jun. Many left messages in the form of questions, and Hyung Jun also picked a few post-its and answered these questions. Below is the collated report for everyone:
TV host, Radio host, singing, these 3 area of work, Hyung Jun like which one the most?
Singing~ (Answered right away without hesitation)
Hyung Jun oppa, can I marry you?
You want to get married with me? How old are you? (This fan replied 16years old.) Come and find me again when you become an adult!
The craziest thing you have done so far?
I once rode a bicycle for 30km in Japan, it was together with Kyu Jong and Young Saeng, but it was quite strange, after riding for so far, why didn't Young Saeng slim down? (laughs)
Whose big eyes are those?
After the post-its Question&Answer, 5 big pictures showing only the eyes are brought up to the stage in order for Hyung Jun to choose one as the most appropriate partner to do something together. Hyung Jun's choices are as follows:
Partner to go to 101 together: Huang Xiao Hu
(Xiao Hu who has only shown her eyes has misled Hyung Jun and fans present into thinking that she is Jung Min! When the answer was revealed, everyone got a shock!)
Partner to eat Xiao Long Bao with: Guo Cai Jie (Amber)
Partner to sing duet with: Madonna
Partner who is suitable as wife: Jolin Tsai
Partner whom you wish to kiss the most: Jam Hsiao
Giving out hugs to fans
For the first fans interaction segment, 10 fans went up to stage to compete who could scream [Hyung Jun I love you] with the highest decibel. The person with the highest decibel would receive a chance to share a hug with Hyung Jun. There were fans who were a little shy, hence only shouted mildly, but there were also fans who went all out to scream loudly; Hyung Jun also demonstrated his amiable side, when he saw that there were fans who were a little shy, he would go up to them to pat their shoulders to give them encouragement, or would demonstrate personally to show them the right way to scream in order to stand a better chance. Lastly, the fan who won eventually was very fortunate, Hyung Jun personally called out her name "Meng Ting", and also gave her a big hug that made all the fans offstage very envious.
Chinese improved, interaction was therefore better
This time when Hyung Jun visited Taiwan, he learned quite a lot of Chinese, and even had a Chinese Test. He learned a few greetings in Chinese, such as "Hello Everyone", "I am Kim Hyung Jun", "I love you all", "Very happy to come to Taiwan", "Welcome all of you to my fan meeting", "I'm hungry (Hokkien Dialect)"; When he was saying his last Hokkien phrase, Hyung Jun couldn't say it clearly, therefore creating laughters for all fans present including himself. Additionally, a wide array of activities was planned to allow interactions with fans, including fans' post-its, listen to Hyung Jun sing Chinese songs and guess the song titles, shop and eat night market's snacks with Hyung Jun on stage, etc., therefore giving Hyung Jun and his fans a time to spend enjoyably, and a happy memory. A day after the fan meeting at 1.30pm, Hyung Jun ended his 3days2nights schedule, and returned to Korea in order to prepare for his upcoming musical performance.