Credits to Play Magazine + (scan) annieyang + (English translation) Only Jun (kimhyungjun.net)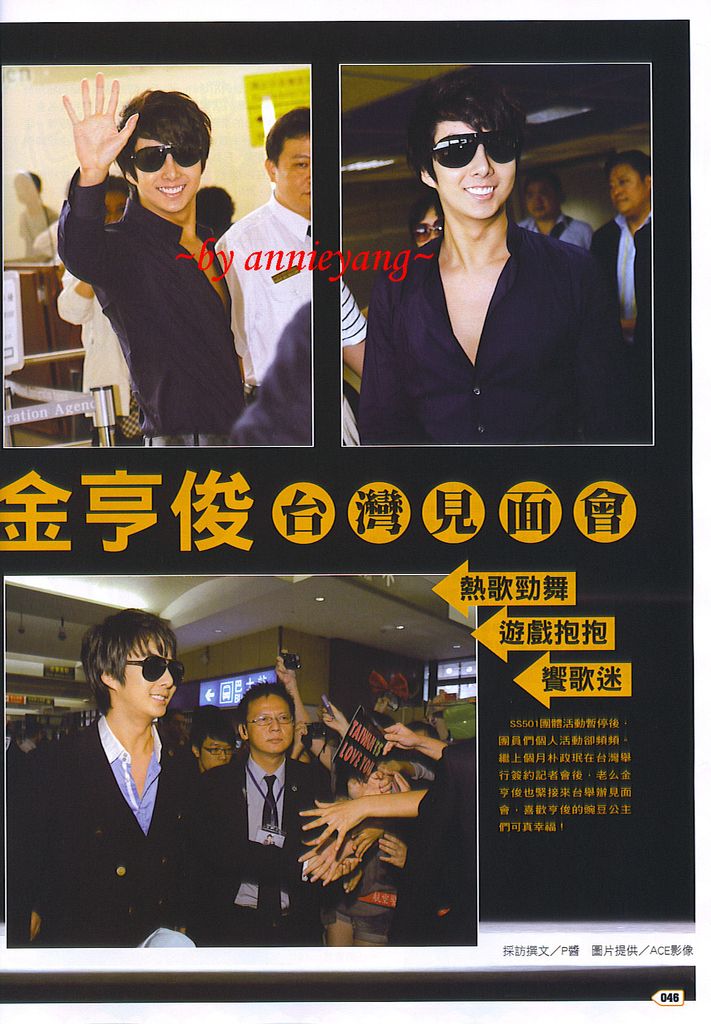 Kim Hyung Jun's Taiwan Fan Meeting
Hot Song Energized Dance
Games and Hugs
To Reward Fans
After SS501 group activities come to a halt, members' individual activities instead increased. Right after Park Jung Min held his contract signing press conference in Taiwan last month, Magnae Kim Hyung Jun followed up closely with a visit to Taiwan for a fan meeting, so pea princesses who like Hyung Jun are really fortunate!
Considerately satisfying fans at zero (close) distance, demonstrating his Chinese ability with [ I LOVE YOU]
A day before his official activity, around 300 pea princesses have already prepared all sorts of cheer goods and were waiting at the airport to welcome Hyung Jun. Once Hyung Jun appeared and saw these passionate fans, he did not even bother about the staff surrounding him, and went straight up to the fans to greet them, received the gifts from everyone, and shook hands with fans, hence making pea princess extremely happy. Hyung Jun, too, was smiling happily. He expressed that, "Coming to Taiwan to hold fan meeting, objective is to interact more with fans!" Therefore, not only is he friendly, he is also being considerate to his fans, so this is really "heart-warming".
For his first appearance at his fan meeting, Kim Hyung Jun has already stirred the hearts of his fans with a self-composed song [I AM]. He wore a navy blue suit, and appeared to be handsome and stylish, and his hot dance with the female dancers made fans super jealous until they kept screaming, probably deep within their hearts, each fan was hoping to be that dancer instead, in order to have such a close distance contact with Hyung Jun.
The fan meeting was hosted by Mr. Good Man — Ken Wu. This is the first time Hyung Jun arrived for his solo activities, that was why he said he was a little nervous, but upon seeing that there are so many fans supporting him, he is really happy. He talked about his midnight radio show, as well as the TV variety show [Midnight Idols] that he would be hosting with Hwang Bo and Eun Ji Won. Hyung Jun jokingly addressed himself as [Midnight Man], and also said that he learned a lot of things from being a radio host and a variety show host, hence allowing him to grow quite a bit.
Of course, since he was in Taiwan, it is unavoidable for him to greet fans in Mandarin. Hyung Jun also proclaimed sweetly to all his fans, "I love you all" (Mandarin), and also learned a Hokkien phrase "Ba Tok Yao" (I'm hungry), and fans present instantly replied with "So cute." To fans that were picked to go on stage, Hyung Jun kept congratulating them in a comedic manner with "Gong Xi! Gong Xi!" In order for fans to exchange for a [Love Hug] with him, they had to compete to see who could scream "Hyung Jun, I love you!" with the highest decibel. The lucky winner with the highest decibel in the end had a satisfying hug with Hyung Jun, making all other fans so envious that they kept screaming loudly that could break the decibel measuring device!
The more you "Hum" the more "Handsome" you get SS501
*Playing with Hyung Jun's Chinese Name. Hyung = 亨 which sounds exactly like 哼 which means humming a song. Jun = 俊 which translates to handsome.
Little fan boldly asked for marriage, Hyung Jun smilingly asked her to wait until she is grown up.
Finally got hold of a chance to meet their ideal Idol, naturally fans have many questions they would like to ask Hyung Jun. Fans have all written their well wishes and questions on Post-It notes to be passed to Hyung Jun, and he also sincerely looked at the messages that fans have written for him, and also sincerely answered the questions raised by the pea princesses. There are some cute questions that have put on a smile on Hyung Jun's face, PLAY have collated these interesting snippets in order to share with other fans who also adore Hyung Jun!
Q. Among being a DJ, singing song, or being a TV host, which one do you like the most?
A. (Without any hesitation) Of course it's singing.
Q. What do you like your fans to do for you the most?
A. Instead of accepting what fans would do for me, I actually would like to know what fans would like me to do for them or what fans would want the most. (In the end the answer to this question was……Hyung Jun only wished that all pea princesses would tell him "Hyung Jun, we love you forever!" He is such a thoughtful person!)
Q. Hyung Jun oppa, please marry me! (Fans let out another round of scream again!)
A. (Searching for the fan who asked the question……) May I know how old are you? (Fan..16 years old) Then please wait until you are grown up then come and find me again (Laughs).
Q. The craziest thing that you have done so far?
A. In Japan, once rode a bicycle for 30km.. That time was with Kyu Jong and Young Saeng, but Young Saeng hyung didn't slim down after riding for 30km (OS..Hyung Jun you are taking the opportunity to see revenge right?)
Of course, Hyung Jun also understood that everyone is very concerned about Choco, hence updated fans about Choco. Hyung Jun said, "Choco is in love, I'm currently helping her to find a boyfriend. She is now 8kg, next time if there is a chance to visit Taiwan again for another fan meeting, I will definitely bring Choco along."
Park Jung Min, Huang Xiao Hu, Hyung Jun foolishly cannot tell apart
Upon learning that Hyung Jun usually looks at the other person's eyes first when meeting a person, therefore organizer prepared pictures of 5 artistes with only their eyes revealed, asking Hyung Jun to pick person whom he "wish to shop at 101 with", "to eat Xiao Long Bao with", "to sing song with", "future wife" and "to KISS with". Kim Hyung Jun, judging only from the eyes, first picked Huang Xiao Hu as the person whom he wants to shop at 101 with; when the answers were finally revealed, Hyung Jun could not contain his laughter and stated, "Why does her eyes resemble so much of Park Jung Min's"
After a short break, Hyung Jun performed yet another song [Mars Men, Venus Women], and this time he appeared at the audience seats, hence leading to yet another round of scream from fans. Because he wished to become closer to fans, hence Hyung Jun kept trying to satisfy his fans thoughtfully, thereby making people touched by his actions.
This was followed by the humming song, guess song title game, lucky fans were able to take photos together with Hyung Jun. And because Mr Good Man wished to fulfill Hyung Jun's desire to shop at the night market, he brought the snacks and games available from the night market to the fan meeting stage, including flying dart balloon game, Shandong ducks' tongue, pigs' blood cake, and bitter tea, hence making Hyung Jun happy. Fans were picked to go up the stage and fans were personally fed snacks by Hyung Jun. (OS..Reading up till here, pea princess must have all gone crazy right?) Lastly, Hyung Jun also made a promise to have a fan meeting at the night market if there is a chance! Hyung Jun later also transformed into an artist, and started drawing portraits for fans. Could only say that pea princesses are really fortunate!
Fans prepared kind gifts, Hyung Jun touched to tears
Pea princesses also prepared a VCR as present for Hyung Jun in order to cheer Hyung Jun on. Hyung Jun was so touched that his eyes turned red, sobbingly thanked his fans, "Really grateful to everyone, actually deep inside I'm a little worried…… Now I'm doing solo activities, so the pressure is pretty great, but I'm very thankful to everyone. In the past even during 501 period, each member also have their own activities, so hope that everyone would view the situation now in a similar manner as in the past, placing the love you have for 501 onto each member, and continue to support us. We will continue to work hard, hope that you could also support us forever."
Next, the organiser also gave out 4 huge posters printed with the handsome face of Hyung Jun, which were hanging on the stage and also the opportunity to take pictures with Hyung Jun.Hyung Jun mentioned that he would next take up the male lead role in the musical <
>. Lastly, he ended this touching fan meeting with the song [GIRLS] and also picked 30 lucky fans that would be able to take photos with him after the fan meeting.

This time, Hyung Jun really touched the hearts of the pea princesses, everything from taking photos together, to autographs and hugs, fulfilling the wishes of the pea princesses. Princesses also do not have to worry, 501 activities would still continue, so please look forward, and also please support every member!