Credits to thestar.chosun.com + (English translation) ss501ode.blogspot.com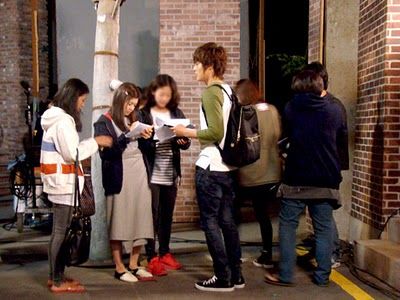 Kim HyunJoong's fiery passion for acting burns wild and hot as he stars across in MBC Wed-Thurs mini series 'Playful Kiss'.
Last 27th morning at somewhere in Kyunggi-do where Playful Kiss carried out its shooting at, a photo of this day's behind the scene is now revealed as it captivates the enthusiastic interest of netizens.
Kim Hyun Joong portrays the gradual change in arrogant guy Baek Seung Jo due to the influence of Oh Ha Ni, and this role of his is gradually captivating the fondness of female audiences.
As Kim Hyun Joong throws aside his previous Yoon Jihoo from Boys over Flowers and now challenges a cold and aloof Baek Seung Jo aptly, he gains the recognition of a successful change as an actor. Playful Kiss that has now passed a certain turning point officially transforms the love line relationship between Baek Seungjo and Oh Hani into a somewhat solid stage.
According to a related personnel who reveals, "Kim Hyun Joong ssi is very much more hardworking than any others. When he has a shooting ahead, he will always put in a lot of effort to analyse that scene thoroughly, not just that but at the shooting location, he never leaves the script in his hands at all. He really worked very hard for this, and he always never fails to create an amiable ambience at the shooting location with his bright smile as always".
In addition, "Despite not having any time at all to sleep in this very tightly packed shooting schedule every single day, Kim Hyun Joong is still very much grateful to fans' support for him as he promises to do his very best", "As far as to how fans showed support for Playful Kiss, everybody including Kim Hyun Joong and all actors and staff will continue to work hard as we ask for all of you guys' interest and love in upcoming content that we will show to you".
On the other hand, drama Playful Kiss that is garnering much interest for the future relationship development of the Seungjo-Hani couple will continue to grab the attention of audiences with its more intense excitement in the story.