Pls credit the sources and all translators/sites when reposting. Do not re-edit or hotlink the graphics.
Tomo, a member of the now defunct group A'st1 - also from DSP - met up with his sunbae Jung Min at CEO Park's Royal Avenue office. He posted a photo of them together taken during the visit. So Jung Min really spends time in his office. Look at the photos in the blog entry at Lapin Carrot and he's wearing the same shirt since these were taken on the same day.
Credits to Tomo's blog + (English translation) hiromi@MinMal days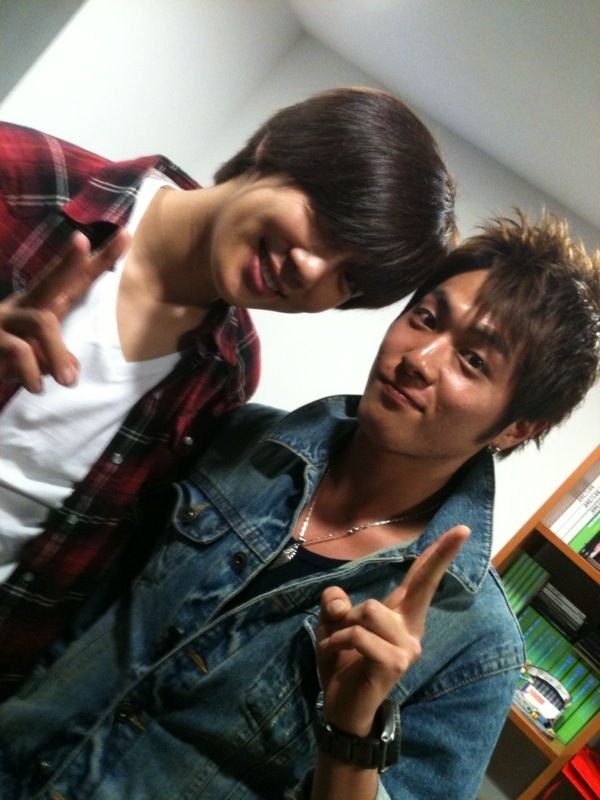 2010-05-13 23:18:25
Mr'VIP
今日、超ウルトラVIPと会いました!!
写真も撮りました、ブログUPもOKです。
家帰ってパソコンからブログ書きます!!
皆さんビビり過ぎて泡ふかない下さいね(☆o☆)
English Translation:
I met super ultra VIP man today!!
took photo too, n ok for up to blog.
I'll write blog when arrive home.
All of u, dun chatter too much foam shark(☆o☆)
2010-05-13 23:45:23
あざーーーっす!
マジで、びっくりしないでくださいね^^笑
今日、友達のインターネットショッピングの会社に遊びに行ったら先輩に会いました!
会社辞めてから、初めて会いましたがいつものように先輩らしく色々助言してくれました>-<
先輩、あざーーーーーーーっす!!!!!!Y(>_<、)Y
English Translation:
Thanksssssssss!
dun be surprised indeed^^LOL
I've saw my senior when I went to friend's internet shopping company.
its 1st time to see him after retire of company,
but he got lots advise to me as a senior like always>-<
senior, thanksssssssssssss!!!!!!Y(>_<、)Y