Credits to 10.asiae.co.kr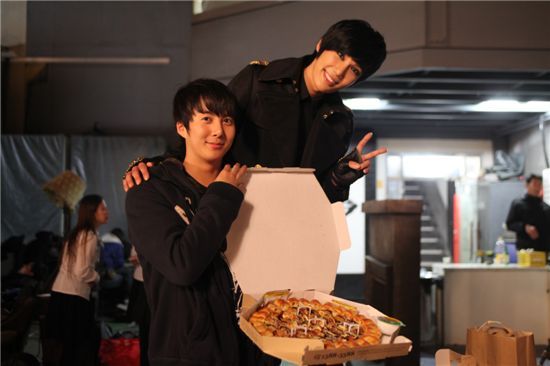 SS501 member Kim Hyung-joon paid a surprise visit to the set of fellow bandmate Park Jung-min's music video shoot yesterday, according to Park's agency CNR Media on Tuesday.
"Kim surprised Park by visiting the set with his hands full of food after hearing from his manager that Park's producer said he was filming the video," explained an official with CNR through a press release.
Park and Kim both debuted through their five-member boy band in 2005 but found new nests after their contract with DPS Media expired in June this year; Kim with S-Plus Entertainment, Kim Hyun-joong with KEYEAST and Kim Kyu-jong and Heo Young-saeng with B2M Entertainment.
While the five have started to pursue individual careers, not only in singing but also acting, all five singers have assured fans that SS501 will not disband.
Most recently, Park has been busy preparing for his solo music career in Korea which kicks off with the release of his album on November 25.
Jessica Kim jesskim@
ⓒ10Asia All rights reserved