Credits to nocutnews.co.kr (omj@cbs.co.kr) + (English Translation) xiaochu @ Quainte501.com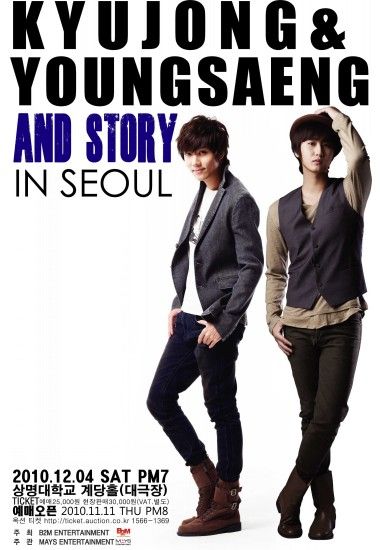 Group SS501 members Kim KyuJong and Heo YoungSaeng's fan meeting 'KyuJong & YoungSaeng AND Story in Seoul' received enthusiastic response from fans.
Agency B2M Entertainment said on 16-Nov "The tickets for the 2,000 audience Seoul fan meeting to be held on 4-Dec in GyeDang Hall, SangMyeong University, was released on Thursday last week and was sold out after 10 minutes, so we added 1 more session on the same day. However, the pre-sale for this which started on 15-Nov was also sold-out after 10 minutes after it started.
Agency said "This is the very first time they are meeting with fans after moving over to a new agency. We were taken aback by the enthusiastic response as this is the first time they are standing on stage performing together with just two of them and not with all members of SS501. Through this event, two of them will show a side of them which was never seen before in the past."