Credits to Japan Official Fansite (kimhyungjun.jp) + Cafe In Official site + Only Jun (kimhyungjun.net)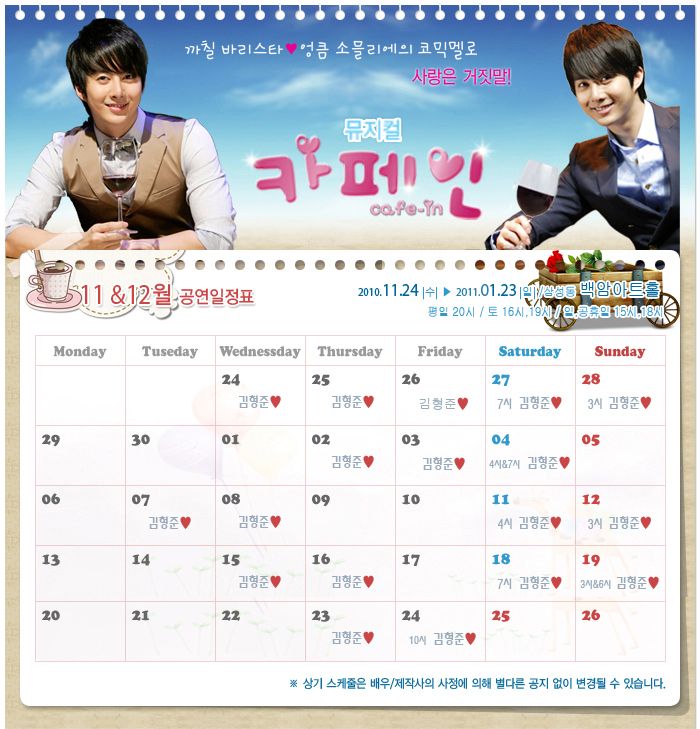 Hyung Jun's Performance Dates for 2010
November: 24-28
December: 2-5, 7, 8, 11, 12, 15, 16, 18, 19, 23, 24
Disclaimer: Subject to changes, Not responsible if they decide to change schedule ok!
Credits to http://www.musicalcafein.com/ + SS601.com + (English Translation) xiaochu @ Quainte501.com
Hello. This is Musical Café-In.
Here is a simple summary of the play which will start on 24-Nov in Baekam Art Hall.
Venue : Baekam Art Hall
Period : 2010-11-24 (Wed) ~ 2011-01-23 (Sun)
Time : Weekdays 8pm / Saturdays 4pm & 7pm / Sundays Public Holidays 3pm, 6pm / Except Mondays
Ticket Pricing : R-seats 66,000won / S-seats 55,000won
Actors/Actress : HyungJun (SS501), Shin EuiJung
Enquiry Hotline : 02)3273-2223
Thank you.
Check out the official website for this musical
http://www.musicalcafein.com/
And their twitter :
http://twtkr.com/@musicalcafein
Seating map :
http://www.musicalcafein.com/sub/sub4_1.asp
Schedule :
http://www.musicalcafein.com/sub/sub4_3.asp
Baekam Art Hall location map :
http://www.musicalcafein.com/sub/sub4_2.asp