Pls credit the sources and all translators/sites when reposting. Do not re-edit or hotlink the graphics.
No, this place hasn't turned into a kpop site and has completely forgotten about SS501 - two consecutive posts showing other idol bands. I am posting this bit of news out of frustration. Granted C.N. Blue's 'Bluetory' album topped the Taiwan charts on its first week of release and SS501 has dropped down (Kokoro is a very old album), still SS501 clout and popularity is still there. Then have you seen this?
The reason I am frustrated is because, this group SS501 has a popularity that is still high and is one potential or already is a money-making machine and yet they are now a group that is a white elephant with no agency and no future activities to speak off. Indeed, Hyun Joong has signed on with Keyeast and Jung Min with Roy Media, yet still these two are still insinuating that they are still open to join SS501 activities in the future. How come there is no agency brazen enough to take on the challenge of getting this group back on its feet and take on Asia if not the the world?
Oh well, I know no nuts about how the Korean entertainment industry works, so I'd just pout and muddle things over and wait.
Credits to (photo) Newsen + TVDaily + (English translation) sookyeong.wordpress.com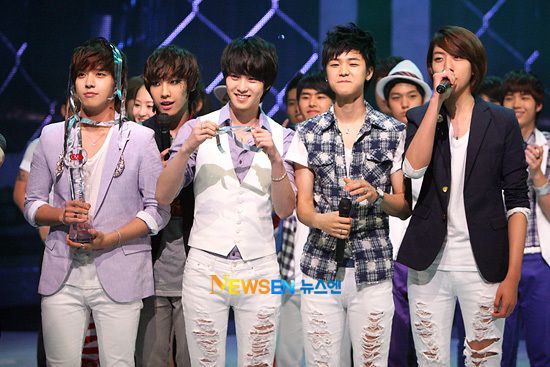 C.N Blue has risen up as the new Hallyu icon.
C.N Blue is known to have surpassed SS501 to be #1 for Taiwanese G-Music weekly music chart for their 1st week of August (6th~12th August) with 'Bluetory'. Super Junior and SS501 are at #2 and #3 with 'Bona Mana' and 'Kokoro'
'Bluetory' is also doing very well up on Five Music Chart for their same period. A FNC Music representative said, "Being able to go up to the #1 spot and also surpassing popular groups like SS501 and Super Junior, is not only C.N Blue's wish but also proof that they will be able to achieve possibly better results in the Chinese music market as a Hallyu star to come."
C.N Blue plans to do tours to 7 cities in the region including Singapore, Hong Kong, Taiwan, Japan, Thailand etc.