Pls credit the sources and all translators/sites when reposting. Do not re-edit or hotlink the graphics.
Okay my very lucky unnie got in to Music Core recording again. I'm supposed to tweet about this live update but then again I'm in lalala land dreaming about angels with bare backs and hip thrusting. I tried my best to convert all the shortcuts from the SMS sent. If there are words still in shortcut, it meant I missed it or I totally don't know how to translate 'coz I don't understand it.
I also removed some R18 comments (kekeke). If you want to see the unadulterated report, go here.
Credits to Happiebb & kadd @ lovekimhyunjoong.com
Keke, we are inside studio. Wow, great seats 2day!
We are quite close to the stage, & totally centered
TS now seated. MBC hall bigger than KBS.
KBS capacity at 350-400, MBC about 600-650.
Fanclub gave out green balloons to TS to wave during performance.
Keke, me blew my 1st balloon!
Wow! Stage super nice 2day!
Crew just brought up a humogous dblsS logo with crown on top!
Wow!
Security very strict, hard to take pix.
Besides we are sitting at 1st row of 2nd section, very easily spotted
They are bringing more props out onstage.
Looks like a rather elaborate set.
Sorry about the pic quality. Very hard to take.
Stage very very nice, very grand. Golden theme, me likes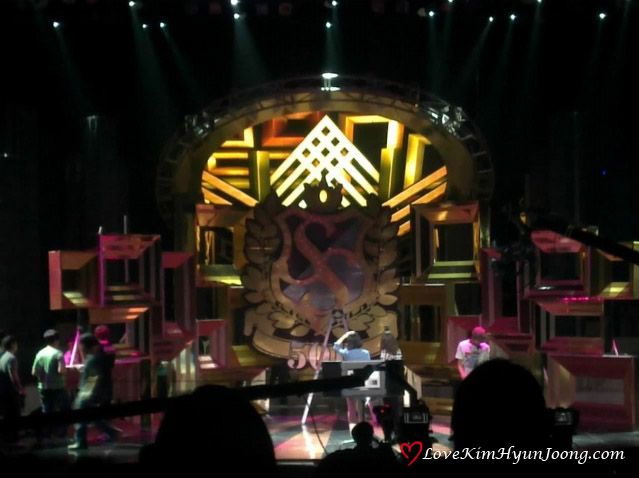 11:15am (KST) Final touchup 2 set, I think.
They also mopped the floor.
Think anytime now.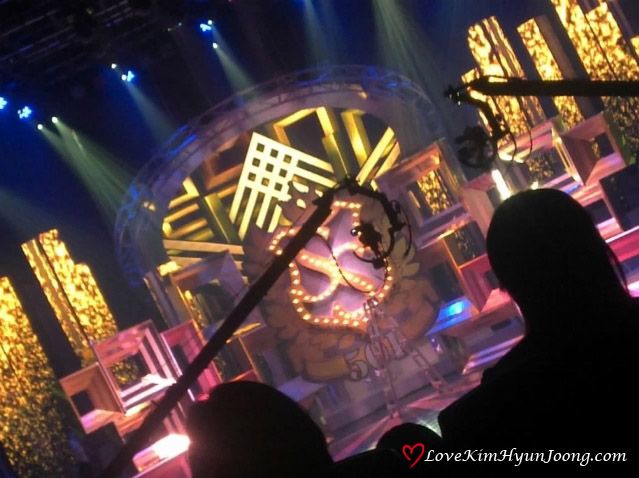 11:20am (KST) Dancers are out.
Got a glimpse. White!
11:23am (KST) Baby out, so cute. He half flipped half jumped on the stage.
Now ahh-ahhíng testing vocals.
Can hear Young Saeng 'teasing' fans abit...
Singing, testing vocals backstage.
Some fans are screaming like mad.
Boys are at the side, not completely out.
Think it's white, but different outfits from yesterday.
Huh?? You had to ask me if they are hot?
Shirt style, instead of jacket, but same 'strappy' design at the back.
Boys out. Omg.
No jackets, shirt tucked in.
So can see ..., haha!
1st round starts now.
11:28am (KST) Major hot!
Today's the extended version! Fans just went wild!
11:30am (KST) 1st run done.
Young Saeng major hyper and good mood again.
Now fixing hair, makeup, some practising.
Maknae just thanked us.
Leader too. 2nd run now.
11:37am (KST) I can breathe nw.
Wow. So exhilaratingly hot!
Major feast for eyes. Love love the way they move!
Me especially love the jump! They have perfected it!
Young Saeng now just standing at edge of stage watching the fans.
Should have 3rd run.
11:40am (KST) Fans' screaming is the 'worst' I've heard since 4th june.
Boys and staff now watching the recording to review.
Fans screaming like mad.
Think there are more kids fans today.
Oh, leader onstage now, keke, ttul.
Leader was being 'fixed', he seems to sweat than than the rest.
(I noticed this too during the concert, Kyu is next when it comes to sweating lots)
All the boys are onstage now, 3rd run.
11.43am (KST) Jung Min jut did little dance, such a tease!
By the way, Leader has cute butt.
Nicely rounded & (in emz' word) 'lifted'.
3rd run, 2nd recording now.
11.48am (KST) Over. Wow.
Wished you gals all have a chance to see it live.
Powerful dance, such sexy charisma!
Leader dancing is the best amongst the boys, I think. Unbiased view.
12:03pm (KST) They are making us stay backk.
Now they are fixing up the stage set for next performing group Sistar.
Aigoo, don't tell me we have to pretend to be Sistar fans
Yea, they are making us 'stand in' as fans for gal group Sistar.
Keke, the gals just came out.
So cute, there are some fanboys at the front, shouting 'hwaiting'!
Their voices so low, so different from girls shrieking
So funny! Sistar performing song, push push.
But they sang it like it's 'puss puss, omg
12:30pm (KST) We are out!