Pls credit the sources and all translators/sites when reposting. Do not re-edit or hotlink the graphics.
Credits to www.dailyesports.com + SS601.com + (English Translation) xiaochu @ Quainte501.com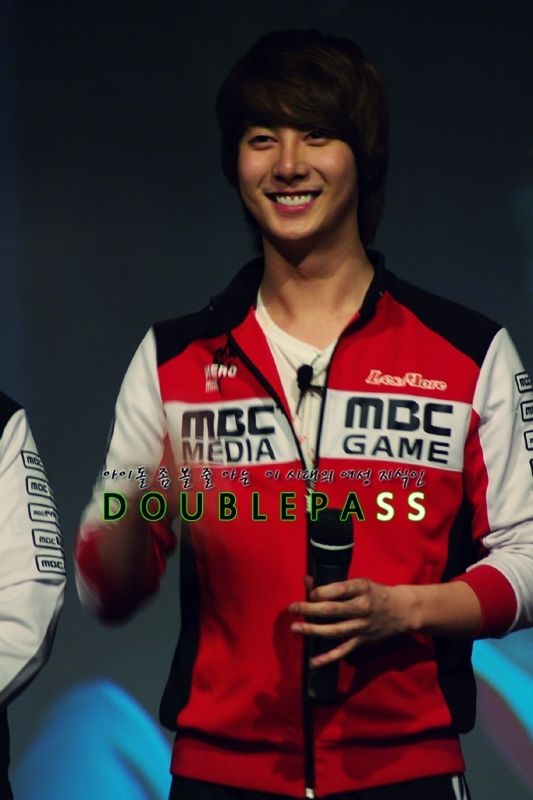 MBC Game variety program 'SS501 HyungJoon, To Be A Pro-Gamer' shows SS501 Kim HyungJoon, who transformed into a trainee to become a pro-gamer, having sad tears at the last filming venue for the program.
To become a pro-gamer, Kim HyungJoon struggled by himself to pass the 2nd selection match for pro-gamer and MBC Game Hero self warm-up match. Players in MBC Game Hero prepared their sincere farewell messages to Kim HyungJoon. Kim HyungJoon was totally ignorant of the special event, he went to the dorm alone and was tearful after checking on the videos, he could not hold back anymore and finally burst into tears.
Kim HyungJoon said "I am always worried if I am a hindrance to the player's practices, and I am sorry about that. Through this opportunity, I understand how difficult this occupation is and how much effort one pro-gamer has to put in to get the title of 'pro'." He also expressed his gratefulness "Though I have devoted generous practice time for myself, I want to specially say my thanks and sorry to player Seo KyungJong who helped with my practice every day in order to improve the lacking in my skills."
Kim HyungJoon gave Players of MBC Game Hero a little gift of memories in return for their farewell event. In the short period of 3 months, Kim HyungJoon shared joys and sorrows with players of MBC Game HERO, Seo KyungJong, Yeom BoSung, Kim JaeHoon, Kim DongHyun, Lee JungHoon, etc, and has prepared a commemoration photo shooting in one studio to keep their memories.
Having met the players at 2pm on 28-Mar, Kim HyunJoong encourages Yeom BoSung, who led the team to the finals in ShinHan Bank Winners League 09-10 Playoff, and congratulates player 'JjakDong' Kim DongHyun who takes the roaster seat for the first time, showing his deep affection and concern for the players.
On this day of filming, all members were wearing MBC Game HERO's uniform where they had a group photo shoot as well as solo photo shoot, and they flaunt their charisma with their hidden talents. Kim HyungJoon went up to each and every one of the players and enthusiastically made various poses that matches each one of them. His image of working hard in order to leave good gifts for them caught a lot of attention.
In this day's broadcast, Kim HyungJoon visited HWASEUNG OZ practice room and met with idol player Lee JaeDong. He will show his unique image by dancing to Techtonik with Lee JaeDong and of course, practicing 'Binggeul Binggeul (U-KISS)' for 2010 MSL Selection Ceremony,
MBC Game's representative program 'SS501 HyungJoon, To Be A Pro-Gamer' last episode will be on 31-Mar at 4pm.